Skip to content
Q&A with new trauma director Selwyn Rogers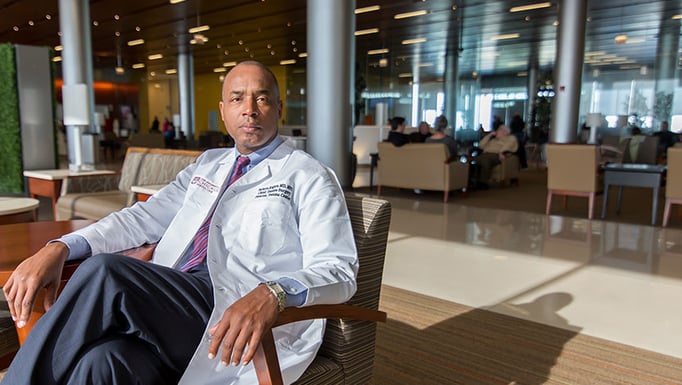 As the newly announced founding director of the University of Chicago Medicine's new Level 1 adult trauma center, Selwyn Rogers, Jr, MD, MPH, reflected on his mission to provide trauma care for victims of violence and how he plans to approach his work. Slated to open early 2018, the trauma center would be the South Side's only facility of its kind.

Q: Do you think UChicago Medicine should have a role in preventing violence in Chicago in addition to providing the trauma care for victims of violence?

A: Absolutely. The trauma center will provide the same access and quality of care for which UChicago Medicine is well known. However, our work cannot stop in the emergency room or on the operating table. We have to understand what our role is in prevention, intervention, and helping victims of violence reintegrate into society by addressing risk factors and healing. Most importantly, we have to maintain trust and continue to advocate for and resource the community health needs of the South Side. Additionally, we must address violence prevention from a public health perspective — prevention, intervention, collaboration and community building. It requires targeting populations that include the incarcerated, formerly incarcerated, victims of violence and their families, offenders and families of offenders.

Q: Chicago's homicide rate was up 57 percent in 2016 from the previous year. If this trend continues, is there a concern that the trauma center won't be big enough to accommodate the rise in violence we are experiencing?
A: We must set expectations and take caution. The trauma center cannot be viewed as the magical solution, but as an opportunity to add intensity and incorporate an integrated approach to solving problems. The violence that the community is experiencing is systemic and requires all hands on deck. No one can sit out. That's why UChicago Medicine is making a strategic investment and bringing our experience to bear in providing access to quality care, engaging with the community, and using a holistic approach to solving complex problems.
Q: What is the philosophy of care for patients receiving trauma care services?

A: We will treat each and every patient who comes into our trauma center as if they were our family member with high quality care and compassion.
Read more about Rogers' arrival here.
Trauma and Violence Recovery Articles