Skip to content
Community Advisory Council provides advice on trauma center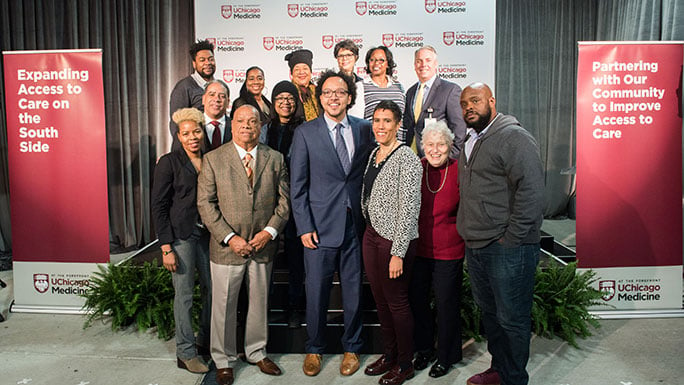 The University of Chicago Medicine Community Advisory Council is engaging with UChicago Medicine leadership to shape the establishment of the Medical Center's adult trauma services, scheduled to launch May 1, 2018.
"The voice of the community is critical to the university's plan for trauma care," said Damon Arnold, MD, chairman of the Trauma Care and Violence Prevention work group and former director of the Illinois Department of Public Health. "Our dialogue with the hospital's leaders has been good, and we look forward to helping create a great trauma center."
UChicago Medicine leaders, including Trauma Center Director Selwyn Rogers, MD, and Brenda Battle, Vice President of the Urban Health Initiative, asked the council for its recommendations on additional services that the Medical Center can provide to victims of intentional violence and their families.
The council's Trauma Care and Violence Prevention work group, which is one of three such work groups, provided input concerning partnership opportunities, existing community-based violence prevention efforts, and potential models for hospital-based violence recovery programming.
Established last fall, the council serves as an essential partner in advising UChicago Medicine on health issues of interest to the broader community, including access to care, community benefit strategies, and trauma center initiatives. Its Trauma Care and Violence Prevention work group is employing a "Collective Impact" model to align resources and efforts to confront violence on the South Side.
Rogers said the council's input is vital to establishment of the trauma center.
"Our ideal trauma center is one that prevents injury, not simply repairs broken blood vessels and damaged bowels," he said. "We can't get there without meaningful community engagement and partnerships."
Trauma and Violence Recovery Articles