Skip to content
Ceremony for new adult ED marks milestone for UChicago Medicine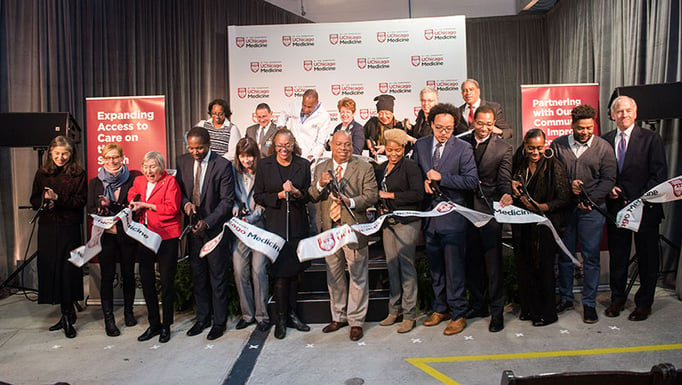 The University of Chicago Medicine celebrated the completion of what will be the city's newest and most advanced adult emergency department when the $39 million facility opens to patients in late December.
More than 150 people — including public officials, community representatives and faith leaders — were on hand for today's celebration that included a ribbon-cutting ceremony and community tours of the new state-of-the-art ED. The bigger facility not only increases access to urgent treatment for acute illnesses and injuries for the community, but it also brings the academic health system one essential step closer toward offering adult trauma care on the South Side of Chicago, pending state regulatory approval.
"The new ED is essential to offering adult trauma care, since it is the primary entry point for trauma patients, who must be stabilized before being moved to other areas of the Medical Center for additional medical care," said Kenneth Polonsky, MD, dean and executive vice president of medical affairs at the University of Chicago. "This facility is central to UChicago Medicine's bold plan, which we announced in February 2016, to ensure the community has access to high quality health care, including adult trauma services."
The broader $269 million plan, later unanimously approved by the state regulatory board in May 2016, comprises three key components:
A larger adult ED with greater capacity to see critically ill patients, including those who suffer a stroke or heart attack, and features that seek to reduce wait times and accommodate growing demand. The new facility will open to patients Friday, December 29, 2017.
A Level 1 adult trauma center for the South Side, which will be equipped with resuscitation bays to treat victims of trauma. Adult trauma care is scheduled to begin in May 2018, pending approval by the Illinois Department of Public Health.
Redevelopment of Mitchell Hospital as a dedicated cancer-care facility. This part of the project also allows UChicago Medicine to add 188 inpatient hospital beds, which are critically needed. In recent years, the medical center has been operating near or at its capacity limits. These beds will help UChicago Medicine to accommodate the high demand for its services and to continue to accept transfers from other hospitals when more specialized or advanced care is needed. Completion is expected by early 2022.
"Our commitment to patient care and the community is embodied in this new Emergency Department. To this point, our frontline staff spent about 300 hours on a design that not only improves medical care but also the patient experience," said Sharon O'Keefe, president of the University of Chicago Medical Center, at the ribbon-cutting ceremony. "Now that the ED project is complete, we wanted to celebrate with our friends, colleagues, public officials, and the community and give thanks to those who've helped or supported us on this journey."
Hospital leaders also noted the economic impact of construction of the new facility. Based on contracts awarded and paid, certified minority- and woman-owned firms received nearly $5.8 million in economic benefit from this project. Minority and women trade workers earned $1.9 million in wages.
The last time the South Side had adult trauma care was in 1991, when the now-closed Michael Reese Hospital shut down its trauma center and a few years after the University of Chicago stopped offering adult trauma care in 1988. Now, in about five months, UChicago Medicine will become an integrated trauma-care facility, with the adult program supplementing the existing Level 1 pediatric trauma center and the Burn and Complex Wound Center.
"We hope to receive Level 1 adult trauma center certification within the next few months so that we can begin treating trauma patients on May 1, 2018," Polonsky said. "Our faculty and staff have been laser-focused on that timeframe, and you will hear more about our progress in the coming months."
UChicago Medicine celebrates new adult emergency department
Trauma and Violence Recovery Articles