Skip to content
Blood transfusion process sees improvements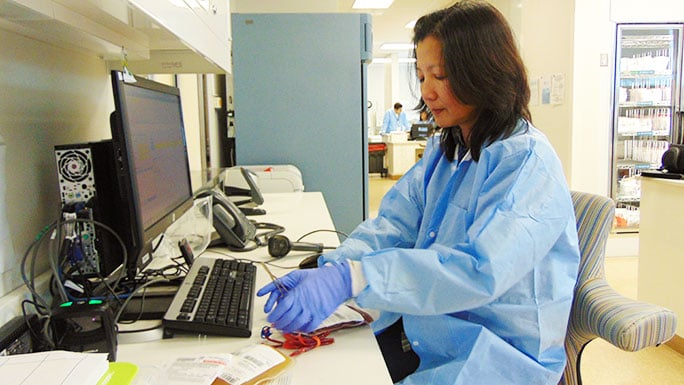 In an effort to improve the speed with which medical staff are able to respond to critically injured patients in need of blood transfusion, UChicago Medicine has invested resources to revamp a system that will enhance the reliability of blood product pack delivery and improve critical care response times.
This system, called a Massive Transfusion Protocol (MTP), is a clinical workflow that quickly provides large amounts of blood products to hemorrhaging patients. The MTP has recently been updated with new technology and processes that will enable the UChicago Medicine blood bank and doctors to meet the high transfusion demands of adult trauma care.
"As UChicago Medicine prepares to provide adult trauma services, it is more important than ever to implement technologies that can help us deliver better and faster care to our patients," explained Ariana King, coordinator, clinical quality of blood use.
UChicago Medicine ensures that every available life-saving procedure is offered to patients now, and this will continue when adult trauma services begin in May 2018.
Physicians, nurses, and medical technologists are currently receiving training for the improved MTP process, which is being incrementally rolled out in November 2017 and January 2018.
The recently improved MTP workflow will rely on a network of advanced technology and human runners delivering blood directly to the care team, a change from the existing pneumatic tube system in which blood is picked up from tube stations throughout the hospital.
This enhanced network will involve designated staff members from each clinical care area who will be trained extensively in the safe and reliable delivery of MTP packs to the point of care. These ready-made packs consist of red blood cells, fresh frozen plasma, and platelets. They are crucial to meeting the needs of critically injured patients.
The improved MTP includes a sophisticated software system, Haemonetics® BloodTrack®. BloodTrack is important technology that will improve the ability of the blood bank staff to provide safe, life-saving blood products with minimal delay. Functioning as an extension of the blood bank, BloodTrack® monitors blood stored remotely, tracks blood product usage, and alerts staff when blood products that are stored remotely need to be re-stocked. BloodTrack® will enable UChicago Medicine to integrate a system of blood refrigerators to safely store and dispense emergency blood products in emergency departments and operating rooms, improving patient care response times and giving hospital staff immediate access to blood products.