Skip to content
What happens after an organ transplant?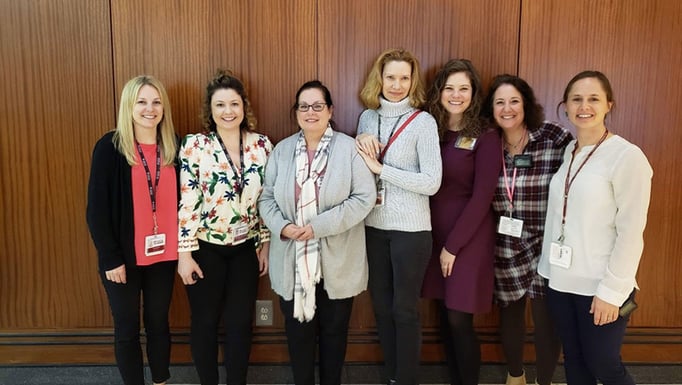 UChicago Medicine's team of transplant social workers: (from left to right) Megan Fitzpatrick, Michaela Wilkeson, Fran Hammon, Christien Demos, Nancy Russell, Laura Holzinger and Katie Dowling.
After a donor organ is found, and a successful transplant surgery is done, what happens next?
At the University of Chicago Medicine, a team of caring, problem-solving support staff springs into action. They help patients recover physically and emotionally from surgery and reach important milestones so they can return to their normal lives.
What to Expect after Transplant Surgery
Members of the post-transplant team — including a social worker, specialized pharmacist and dietitian — work collaboratively to help make each patient's recovery as smooth as possible. They assist with financial matters, like dealing with insurance companies and enrolling patients in programs that reduce their prescription drug costs. They also help with administrative tasks, like coordinating care with out-of-state hospitals and stacking appointments to minimize travel to the medical center. On an emotional level, they celebrate milestones with the patient and get to know their family and friends.
"There's so much that goes into this," said Nancy Russell, a UChicago Medicine transplant social worker. "If there's something going wrong, or the patient needs something, it's all hands on deck to make sure they're supported."
What is the recovery like after transplant surgery?
Some of the milestones a patient reaches in the weeks and months following a transplant include:
Sitting up in a chair
Walking a lap around their unit in the hospital
Moving out of the intensive care unit
Taking a shower
Going home and sleeping in their own bed
Driving
Eating their favorite meal
Seeing their kids play sports
Going back to the gym
Having their first birthday after transplant
Celebrating a holiday, graduation, wedding, birth of a child or some other event they weren't sure they were going to be alive for
Returning to work
What to Expect the First Year after Transplant Surgery
It's a challenging first year after surgery. But even after patients hit all those milestones, UChicago Medicine's post-transplant coordinators stay connected to their patients for life. They're on call 24/7 to troubleshoot problems, tweak diets, adjust medications, arrange tests and appointments, or help when a patient calls to say, "I'm not feeling well."
"Patients should know there's a big safety net of people behind them, taking care of them. They can trust us because we're here for the long run," said JoDel Powers, MSN, RN, a post-transplant coordinator and nurse practitioner.
UChicago Medicine, home to some of the leading transplant doctors in the country, saw a rise in kidney, liver and pancreas transplants this year. The hospital performed at least 165 transplant surgeries this year. That includes many complex surgeries, such as six patients who received triple-organ transplants between December 2018 and December 2019, and transplants for a few patients who are Jehovah's Witnesses and, for religious reasons, do not accept blood transfusions. Performing a transplant without donor blood is extremely challenging, and UChicago Medicine is one of only a few centers with expertise in the procedure.
Whether it's a common or complicated transplant, each patient has a support staff who advocates for them.
Lifestyle Changes after Transplant Surgery
"Transplants can give people a second lease on life, but it's not without issues," says post-transplant coordinator and nurse practitioner Tiana Riley, MSN, RN. "Their lives are going to be different, and it takes some adjustment."
Their lifelong changes will include daily medication, a new diet and healthy lifestyle, frequent follow-up tests and maybe an occasional setback. That's why having well-coordinated post-transplant care is so vital to patients.
"The post-transplant team is such an important team, because they help keep the patient and someone else's memory alive," said transplant social worker Laura Holzinger, recognizing the organ donors.
Transplant Support Team
Besides the doctors, University of Chicago Medicine offers transplant patients a team of support staff. Here's a rundown of each member of the support team.