Skip to content
Spinal cord stimulator helps patient back on her feet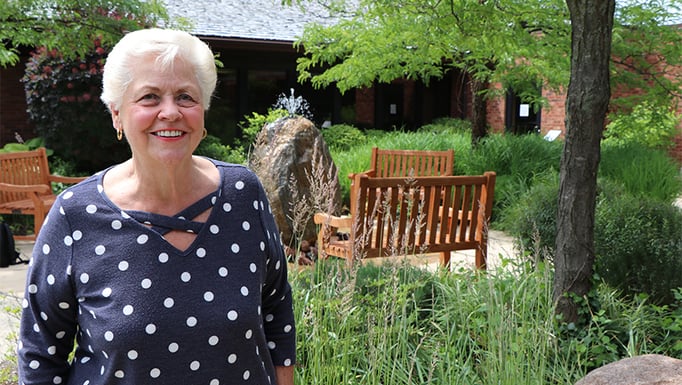 Anita Veronese
Relentless back pain after a previous surgery kept 77-year-old Anita Veronese from living an active lifestyle, but a minimally invasive procedure to implant a spinal cord stimulator at University of Chicago Medicine Ingalls Memorial Same Day Surgery Center put her back on her feet.
Orland Park resident Veronese had surgery to fuse her lower spine about four years ago, and after undergoing numerous epidurals and physical therapy, she was still in severe pain. After learning a friend's sister had a successful stimulator procedure, she decided to see interventional pain management physician Nitin Malholtra, MD* of Expert Pain Physicians for help.
Malhotra said when it comes to more than the occasional neck and back pain, like pain that is persisting or limiting someone from work or social situations, it may be time to seek further care from a primary care doctor or pain management specialist.
He thought Veronese was a candidate for a seven day trial to test a spinal cord stimulator. "We place a temporary epidural catheter, similar to a woman in labor, but instead of medication through the catheter it's connected to a battery that delivers electrical impulses to the spine like a pacemaker," Malhotra said.
He explained how the device worked with the example of hitting your hand on a wall. "Your automatic response would be to start rubbing your hand. Your hand is hurting, but focusing on rubbing your hand is a pleasant sensation. Your focus on that feeling sends inhibitory signals to your brain to slow down pain," Malhotra said.
Malhotra called this minimally invasive surgery an exciting new technique that is gaining traction as a way to manage pain in cases when spine surgeries don't give patients significant relief. It can also be used to lessen pain from neuropathy caused by diabetes or chemotherapy. Recovery can be days to weeks, without full exertion for one to three months while the stimulator begins working.
He said patients are often scared to undergo another procedure after having major back surgery, but going through the trial is worth discovering if the stimulator could relieve debilitating pain. "You can test-drive the device and find out if it's a life-saver or not," Malhotra said. "Even though you've had surgery and you're still having pain, this could be an option for you."
"I knew I felt better during the trial, but I didn't know how good I felt until he removed the trial stimulator and I realized how much pain I was really in," Veronese said.
After seeing an improvement in Veronese's pain level and her ability to do activities more easily during the trial, Malhotra said it was reasonable to go forward with permanent implantation of the stimulator.
Veronese has had the device for just over a year, after having surgery at Ingalls Same Day Surgery Center in Tinley Park, and she said it's made an incredible difference in her quality of life. "I'm able to get up and down, I can reach and bend and do more around the house. My pain level went from an eight to a two or three," Veronese said. The surgery also allowed her to become more active. Veronese started doing water aerobics five times a week and has lost 40 pounds.
"Before my first back surgery they told me I could end up in a wheelchair," Veronese said. "I'm very happy when I look back. Getting the stimulator surgery is one of the better things I've done in my life. I feel blessed and I'm very fortunate to have had the opportunity to get this surgery."
*Dr. Nitin Malhotra is an independent medical practitioner and is not an employee or agent of Ingalls Memorial Hospital or University of Chicago Medical Center ("UChicago Medicine").
Spine Care
The University of Chicago Medicine spine team offers a wide range of non-surgical, minimally invasive and traditional proven surgical techniques for the treatment of back and neck problems.
Read more about our spine services