Skip to content
A 'whole new life' after weight loss surgery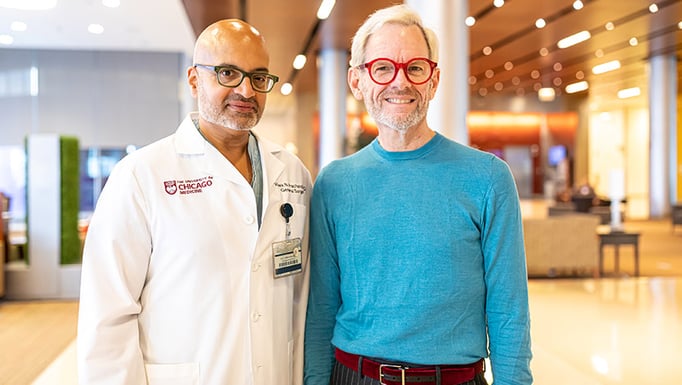 Bariatric surgeon Vivek Prachand, MD, and Brian Bates
Every patient considering obesity surgery at the University of Chicago Medicine first meets with the entire weight loss care team. The visits take a half day, and the goal is to find the right match between the choice of procedure and the patient.
"Each patient has a different amount of weight to lose and different health issues related to obesity," said bariatric surgeon Vivek Prachand, MD. "In addition, the surgeries have different levels of effectiveness and side effects."
UChicago Medicine offers all four types of bariatric surgery — sleeve gastrectomy, gastric bypass, gastric band and duodenal switch. Prachand stresses that there's no one-size-fits-all solution that works for everyone.
In 2017, Brian Bates knew he needed to find a "healthier place in life." The London-based international capital markets lawyer was up to 283 pounds, with a body mass index (BMI) of 39 (30 and higher is considered obese). Although he had worked with a personal trainer and nutritionist for several years, Bates was unable to reach his weight loss goal.
"I developed sleep apnea, pre-hypertension and pain in my legs, hips and feet," Bates said. "I couldn't enjoy the type of lifestyle that I had as a younger person. And traveling internationally, which was necessary for my job, had become increasingly difficult."
Choosing the best option
One of Bates' colleagues, who had undergone obesity surgery 15 years earlier, recommended the duodenal switch, due to her experience with long-term success. She advised him to choose a gastric surgery practice that was highly experienced in the complex procedure.
After researching surgical weight loss programs in the U.S. and London, Bates decided to fly across the Atlantic to meet with the bariatric team at UChicago Medicine.
"In just one stop, I met with the surgeon, nurses, a dietitian and a psychologist," said Bates, a Midwest native with homes in London and in Northwest Indiana. "The conversation was professional, constructive and informative. Because I could speak to them directly and candidly—and due to their vast experience with the duodenal switch — I knew the UChicago Medicine team was for me."
The weight loss surgeons at the University of Chicago Medicine, leaders in the bariatrics field for more than 20 years, have performed hundreds of duodenal switch procedures.
The duodenal switch — also called the biliopancreatic diversion with duodenal switch and commonly referred to as DS — combines a sleeve gastrectomy with an intestinal bypass. Because it reduces how much food a person feels like eating and results in improvement of metabolism, it helps patients lose weight and maintain weight loss.
"Brian's BMI was less than the typical DS patient," said Prachand, noting that the procedure is usually performed when the BMI is over 50, or over 40 if the patient has other health issues, such as severe diabetes. "He didn't need DS from the standpoint of the magnitude of his weight."
Prachand recommended the sleeve gastrectomy. But when Bates pushed back, Prachand listened. Bates wanted the DS not only for its effectiveness at weight loss, but, more importantly, for its durability. "If I was going to have weight loss surgery, I wanted the procedure with the greatest chance of long-term success," he said.
"The conversation we had with Brian about having the more complex procedure was a challenge, not a confrontation," Prachand said. "There are different risks and benefits with the duodenal switch compared to sleeve gastrectomy. We needed to be sure we went into this together, in a clear-eyed way.
"Based on our discussion, I felt very confident that Brian had an excellent understanding of these differences and realistic expectations about surgery. He committed to diligently using DS as a tool to achieve his health goals and understood that surgery was neither a short cut nor an easy way out to weight loss and health improvement."
Surpassing his goal
Bates underwent the DS procedure on December 1, 2017. After recovery, with the help of a nutritionist and a support group, he learned a new way of eating.
Because about two-thirds of his small intestine was now bypassed, there were changes in the way his body absorbed certain nutrients, such as fats and protein, as well as vitamins and minerals. As his body adapted to these changes, Bates adjusted his diet. He regularly takes supplements to meet his nutritional needs.
"I'm still exploring what works, but absolutely none of this has been problematic for me," said Bates. "I eat several small meals each day, focusing on protein from foods such as beans and porridge. And I take several vitamins and nutritional supplements daily. It's become a part of my routine."
Bates has surpassed his goal of losing 100 lbs. "It's been a miracle. I love the new me and the life I now lead, with new interests—particularly having fun in the London fashion scene. I've also developed far greater self-confidence and now speak on issues concerning diversity, inclusion and mental health. I am determined to assist others in finding their path to a better self."
Prachand says Bates is a great example of the individualized care offered to every patient who comes to the bariatric surgery program at UChicago Medicine. "Our team worked together closely with Brian to use the right tool to achieve the best outcome possible."
Brian Bates: Before
Brian Bates was 283 pounds before deciding to have weight loss surgery.
Brian Bates: After
After undergoing the duodenal switch, Brian has lost over 100 pounds and learned a new way of eating.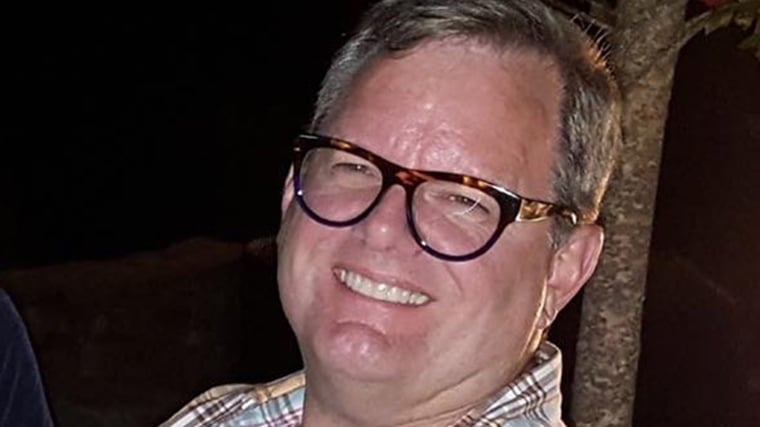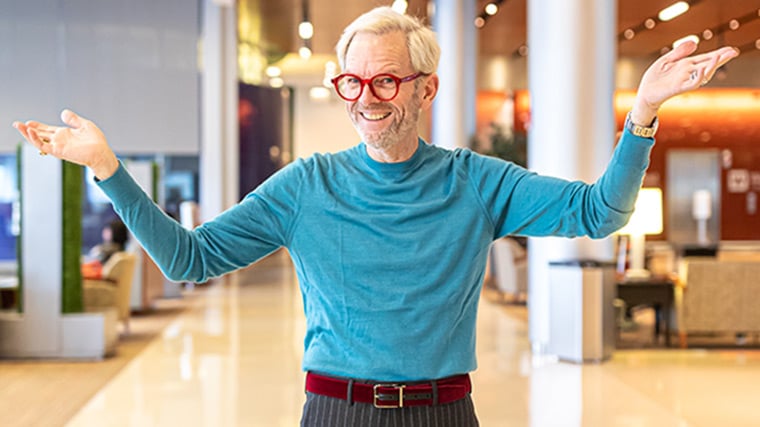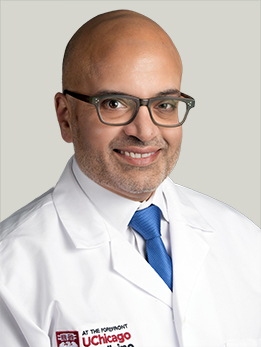 Vivek Prachand, MD
Dr. Prachand is an expert in minimally invasive abdominal surgery. He is one of the only surgeons worldwide who regularly performs the laparoscopic duodenal switch for obese patients.
See Dr. Prachand's Bio
Weight Management Articles