Skip to content
Smoothing the way for medical students who want to do research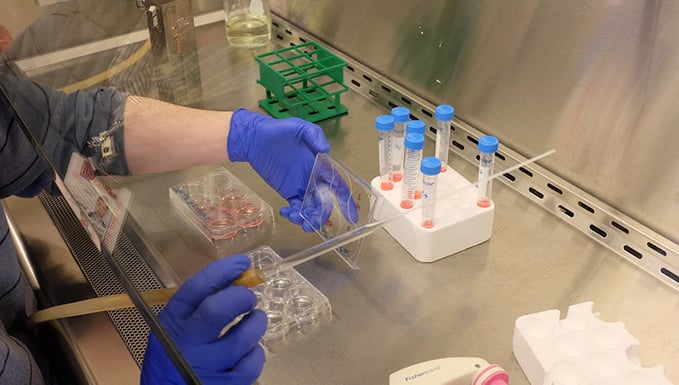 When Megan Prochaska, MD, was a student at the University of Chicago Pritzker School of Medicine a decade ago, she wasn't set on becoming a researcher.
As an undergraduate, she had found a mentor in Vineet Arora, MD, now Pritzker's assistant dean for Scholarship & Discovery. Arora encouraged her to join a research study on care transition outcomes, and the young student found she liked the challenge. When Prochaska started medical school, Arora continued to encourage and support her, and provided a model of what a medical career could be.
"She did research but was also an excellent clinician, and I realized I wanted to do that, too," Prochaska said.
But professors who encourage medical students to conduct research face several barriers. Surveys show that many students report not having enough time to conduct research on top of their busy medical school commitments. Furthermore, conducting research can extend medical education by months or years, meaning careers start later, and debt piles up.
Perhaps more importantly, it can be difficult for medical students to see themselves as successful researchers, especially if they don't see leaders in the field who look like them.
Two new multimillion-dollar grants awarded to Pritzker aim to boost scientific research careers among medical students. A National Institutes of Health grant, led by Arora and Rachel Wolfson, MD, co-director of Scholarship & Discovery, will test the effectiveness of virtual mentor training on mentors of female and underrepresented minority students who wish to pursue research careers in a collaborative of eight medical schools that includes Pritzker.
All research is personal, and if we only have scientific ideas emanating from one segment of our demographic, we will never solve the ills of all people.
Another grant from the Burroughs Wellcome Fund will offer students specifically interested in basic and translational science several opportunities, including stipends and scholarships, to remove barriers to entry into the field. That grant, which also includes Arora and Wolfson, is led by Julian Solway, MD, Walter L. Palmer Distinguished Service Professor of Medicine and Pediatrics and director of the Institute for Translational Medicine.
"We've made progress to diversify our medical student population, but several barriers prevent women and diverse students from choosing research careers," Arora said. "All research is personal, and if we only have scientific ideas emanating from one segment of our demographic, we will never solve the ills of all people."
Training mentors
Arora has seen these issues firsthand. As a researcher and assistant dean, she has mentored many students over the years, and found that many students don't imagine themselves as succeeding in research careers because they don't see people who look like them in the field. That can lead to imposter syndrome: a feeling as though you don't belong.
"Even when I was faculty, I remember starting out and thinking, 'I don't know if I can do this,'" she said.
Arora has made it her goal to help encourage others, and the NIH grant comes on the heels of years of research by Arora, Wolfson and the Scholarly Concentrations Collaborative, a group of medical education leaders who work together to grow opportunities for student research.
That research showed that having a strong mentoring relationship is the most important goal among medical students, and is valued even more by female students. They also found that mentors who invested in the professional development of their students were rated most impactful on students' intent to have research careers.
"We know students enjoy working with a mentor, but they don't necessarily internalize that scientist identity," said Wolfson, who led this research.
With the new grant, which is part of the Diversity Program Consortium (DPC) National Research Mentoring Network (NRMN) initiative, the researchers will conduct a randomized trial of 300 mentors of women and minority students across eight institutions and test whether a set of virtual mentor training tools will increase research outcomes among students.
The researchers hope the training, which addresses issues like bias and imposter syndrome, leads to better self-efficacy for the mentees, as well as in more research publications, awards, and an intent to pursue a research career beyond residency. They will begin enrolling participants this fall.
Reducing financial barriers
Even if students do not pursue research in an MD/PhD program, conducting basic or translational research can help them accelerate progress in medical research through unique insights and points of view, Solway said.
"We want our medical students to understand that there are many pathways to doing basic and early stage translational research, and that they can be successful at it," he said.
That's why Solway is leading the Burroughs Wellcome Fund Early Scientific Training to Prepare for Research Excellence Post-Graduation (BEST-PREP) program. The program will create an enhanced research track for Pritzker students and will offer students six interventions aimed at removing barriers to basic and translational science.
The program includes a seminar series and a funded summer research experience designed to introduce first-year students to the idea of basic and translational research. For those whose interest is piqued, the program offers several ways to decrease the financial burden.
Students in the program will have a dedicated research year (between the third and fourth years of medical school) with a stipend that gives them time and funding to conduct basic and translational research. Students will also receive a full tuition scholarship for the fourth year of medical school to reduce their debt burden. That burden is also reduced by the option of a commitment for preferential consideration in the Match for residencies in internal medicine, pediatrics or obstetrics/gynecology at University of Chicago.
"That way, students don't need to spend time and money traveling around the country interviewing for residencies," Solway said.
Finally, students in the program will receive a certificate in basic/translational science that recognizes the research experience of MD-only students. Solway and his collaborators will begin recruiting for the program this fall. "If those who participate ultimately incorporate science into their careers, that will be the measure of success," he said. "We have such a strong basic and early translational science faculty here that these students will find superb mentors and will be poised for success."
Fostering resilience
That success will only create a more diverse field of medical researchers. After medical school, Prochaska ultimately went on to a research fellowship and earned her MPH. She's now a nephrologist who conducts research on kidney stones at UChicago Medicine.
"Even now I sometimes think, who am I to do this?" she said. "But students should know that everyone has those moments, and everyone has failures as a researcher. But a good mentor can help you understand and be resilient, and eventually the successes come."
Research reported in this article is supported by the National Institute of General Medical Sciences of the National Institutes of Health under award number 1U01GM13237501 and a Physician Scientist Institutional Award from the Burroughs Wellcome Fund. The content is solely the responsibility of the authors and does not necessarily represent the official views of the National Institutes of Health or the Burroughs Wellcome Fund.
News from UChicago Medicine