Skip to content
Think big, start local: Innovative solutions to improve care on the South Side and beyond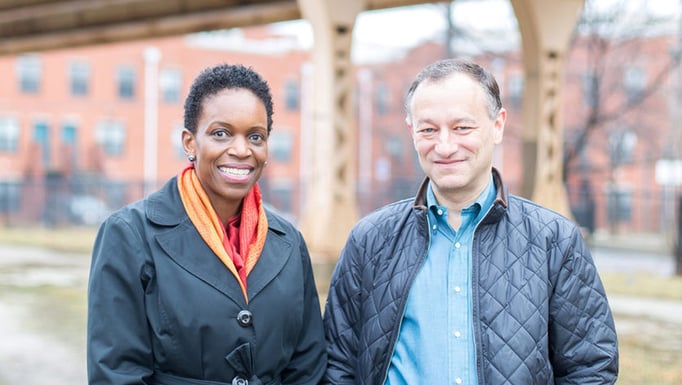 How do you change systems? Strengthen communities? Empower the most vulnerable individuals? For University of Chicago Medicine physicians Melissa Gilliam, MD, MPH, and David Meltzer, PhD'92, MD'93, these big questions are fueling groundbreaking research that aims to transform health care on Chicago's South Side - and in poverty-stricken neighborhoods around the globe.
"Very early on in my career, I realized that medicine had an incredible vantage point, but it didn't have answers for the social issues that were inhibiting peoples' well-being," said Gilliam, the inaugural Ellen H. Block Professor in Health Justice and dean for diversity and inclusion in the Biological Sciences Division. By looking at the broader ecological context surrounding her adolescent patients, she's creating ways to give a voice to youth and challenge threats to their reproductive health.
Meltzer, who is the Fanny L. Pritzker Professor in medicine, economics and public policy, is improving health for Chicago's older adults through an innovative model that strengthens continuity of care between inpatient and outpatient settings. "There is very strong evidence to show how valuable it is to have a doctor who knows you, in terms of trust and ability to communicate," he said. "It's particularly true when you're sick."
For both physicians, the goal of research is action. As head of the University's Center for Interdisciplinary Inquiry and Innovation in Sexual and Reproductive Health (Ci3), Gilliam oversees efforts to create effective community-based interventions, including educational games and digital media projects driven by local teens. Meltzer, a national thought leader in medical cost-effectiveness and quality of care, serves as director of the University's Urban Labs' Health Lab, a research hub to improve health outcomes for urban populations around the world.
"Each of these physician-scientists has an impressive track record of innovative approaches to different clinical, social and economic problems," said Kenneth S. Polonsky, Dean of the Biological Sciences Division and the Pritzker School of Medicine and executive vice president for Medical Affairs at the University of Chicago. "They are talented and caring doctors who are committed to finding better ways to treat disease, reduce discrimination and make the best use of available resources."
This article is part of a five-part series originally published in the Spring 2016 issue of Medicine on the Midway--find more here.
Prevention & Screening Articles