Skip to content
Nigeria: Cleaner fuels could prevent adverse pregnancy outcomes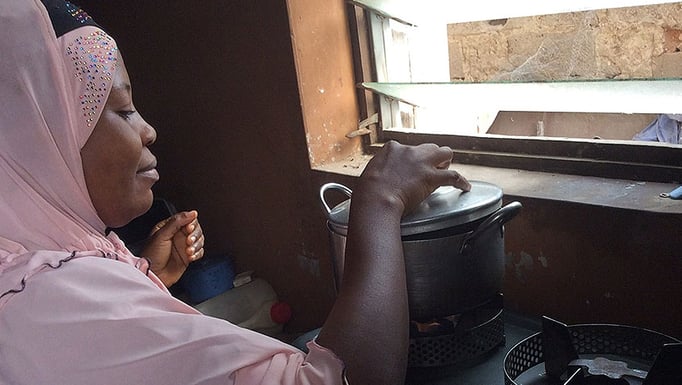 A randomized controlled study of household air pollution found that pregnant Nigerian women who used biomass or kerosene-based cook stoves had a higher risk of pregnancy-related complications and adverse outcomes than women who replaced their traditional cooking fuels with ethanol cookstoves.
In a follow-up pilot study led by researchers from the University of Chicago and the University of Ibadan, Nigeria, 36 healthy pregnant women from Ibadan were recruited to investigate the impact of exposure to household air pollution on placental function.
The women were divided into two groups. One group used traditional biomass-based fuels to cook their meals. The others used ethanol-based cookstoves, supplied by the researchers. The women also agreed to donate placenta samples after birth, for research.
The researchers also compared placenta samples from the Nigerian women to samples obtained from 12 pregnant women from similar racial backgrounds in Chicago. Those women cooked with natural gas.
The findings, published online April 1, 2018 in the journal Science of Total Environment, suggest that switching from biomass to a cleaner ethanol or natural gas-based fuel can dramatically reduce the risk of oxygen deprivation in the placenta for the developing fetus. These less polluting fuels appear to have lowered the risk of pregnancy-related complications such as premature delivery, low birth weight, prenatal morbidity and mortality.
"Every year nearly 4 million premature deaths occur as a result of exposure to household air pollution," said pulmonologist Christopher Olopade, MD, MPH, professor of medicine and director of international programs at the University of Chicago Medicine. "A significant proportion of these deaths occur in children from birth to age five, often from premature birth or acute lower respiratory tract infections."
Chronic hypoxemia — in this case, insufficient oxygen delivery to the placenta of women who cooked with biofuels — can have a devastating impact on cognitive development in early childhood.
"Chronic exposure to these problematic cooking fuels can program the immune system in a pro-inflammatory direction that can promote the development of asthma, allergies and other chronic non-communicable diseases," said Olopade, senior author of the study.
Because of incomplete combustion, biomass-based cooking stoves generate far more particulate matter than natural gas or ethanol-based cooking stoves. Airborne particulate matter with a diameter of 2.5µM (about one-tenth the width of a human hair) or less, can harm the intrauterine environment and disrupt fetal development.
A normal pregnancy requires a healthy placenta, able to supply nutrients and oxygen to the developing fetus. Any disruption in this exchange can lead to developmental defects and even premature death of a fetus. Exposure to household air pollution can lead to a compromised placental barrier leading to birth complications.
This is the first study showing the ability of household air pollution to damage the placenta and reduce fetal oxygen supply. The lack of oxygen can cause lasting fetal damage, and may raise the risk of cardiovascular diseases or diabetes later in life.
An important surrogate measure of the oxygen supply delivered to the fetus is the expression of hypoxia-inducible factor-1 alpha (HIF), an indicator of oxygen deprivation. Olopade and colleagues studied placenta histology and determined HIF levels in three groups of pregnant women: those from Ibadan who used firewood or kerosene, those who cooked with ethanol-based stoves, and the women in Chicago who presumably used natural-gas stoves.
Increased expression of HIF can improve the supply of oxygen to a growing fetus by promoting the production of red blood cells and the generation of new blood vessels to improve the transport of oxygen to the potentially compromised placenta.
The researchers found a whopping 56 percent increase in HIF expression in firewood and kerosene users and a 20 percent increase in ethanol users, compared to only eight percent in natural-gas users. Firewood or kerosene users had seven times the levels of placental oxidative stress in response to inhaled particles from polluting cook stoves.
"To put it in context, HAP exposure kills 5 million people every year, mostly women and children, and we are motivated to stop this," said Olopade.
The Susan and Richard Kiphart family supported the placenta study and the United Nations Foundation funded the original randomized controlled study through its Global Alliance for Clean Cook stoves.
Additional authors of the study were Galina Khramtsova, Katherine Brito, Donee Alexander, Ariel Mueller, Ian Hurley, Olufunmilayo Olopade, Sarosh Rana and Sireesha Chinthala of the University of Chicago, Damilola Adu, Tope Ibigbami and John Olamijilo of Healthy Life for All Foundation, Ibadan, Nigeria; and Oladosu Ojengbede Abayomi Odetunde of the University of Ibadan, Nigeria, Kehinde Adigun of University College Hospital, Ibadan; and Liese Pruitt of the University of Utah.
Prevention & Screening Articles