Skip to content
Keeping a close eye on frailty in old age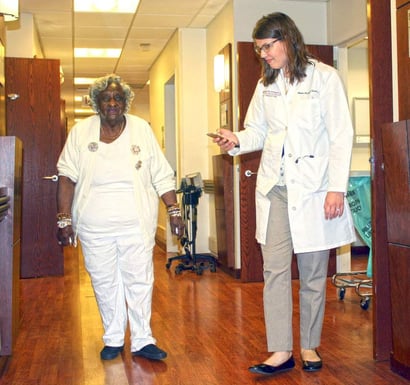 The University of Chicago Medicine's Successful Aging and Frailty Evaluation (SAFE) Clinic, located in the nearby South Shore community on the South Side, cares for some of the most vulnerable patients throughout the city.
They are senior citizens mostly over age 70, who are coping with frailty, a medical syndrome that affects up to 10 percent in this age group, studies show. Frail seniors are often tired, weak with a diminished ability to bounce back from physical challenges such as recovering from a fall and are at a greater risk of becoming dependent and dying earlier than more robust seniors of the same age.
"Someone who is frail doesn't have that reserve to withstand an illness," said Katherine Thompson, MD, Co-Director and Principal Investigator of the SAFE project at the University of Chicago Medicine. She is also Director of the Medicine Residency Geriatrics rotation and Director of the Geriatrics Fellowship Program.
Taking a team-based approach, The SAFE clinic provides assessments and recommendations to help seniors meet the individual challenges of the aging process and to maximize the quality of care based on specific needs and goals.
"We know that a stressor could set them on a downward spiral to be dependent," Thompson said. "We want to keep them as independent as possible. We keep a very close eye on them."
Since the clinic opened its doors in 2011, the need is outstripping resources and manpower. The clinic has relied on word-of-mouth patient referrals, but the word of this rare clinic is spreading. "We tend to see two new and two return patients in a half-day clinic," said colleague Megan Huisingh-Scheetz, also a SAFE clinic Co-Director and SAFE project Co-Investigator. "We spend at least 1.5 hours with every new patient. You can't adequately assess and take care of a frail patient in a short period of time."
As the SAFE clinic positions itself to accommodate more patients, the medical community is watching to learn more about frailty in older adults as more and more Americans are becoming senior citizens. Part of the clinic's mission is to also research the aging process so that providers may establish best practices to help the frail elderly in the future. Both Thompson and Huisingh-Scheetz recently received grants to fund programs for medical education and clinical research.
One of the grant awards from the Geriatrics Workforce Enhancement program, part of the federal Health Resources and Service Administration serving medically underserved populations, will help Thompson to establish the South Side Health Aging Resource Experts Network (SHARE) to bring together healthcare and community based partners to improve care for older adults across the South Side.
Another grant through the National Institute on Aging , a 5-year mentored career development award, will allow Huisingh-Scheetz to focus on identifying predictors of both frailty and healthy aging and will help develop interventions to reverse frailty through clinical research.
For more information, Contact the Safe Clinic, 7101 S. Exchange Ave., at (773) 702-8840, Monday through Friday 8 a.m. to 4 p.m.
Prevention & Screening Articles