Skip to content
CARES program makes strides to increase colorectal cancer screening in Cook County
In 2015, the University of Chicago Medicine's new Center for Asian Health Equity received a $3.5 million grant from the Centers for Disease Control and Prevention to increase colorectal cancer (CRC) screenings in Chicago's Cook County. The grant led to the formation of Cook County CARES (Colorectal Cancer Alliance to Reinforce and Enhance Screening), a partnership between the university and local community health organizations. The partnership's intermediate goals are to achieve a population level of 80 percent CRC screening by 2018 in Cook County by increasing equity and decreasing disparities.
In March of 2016, Science Life spoke with the program's lead investigator Karen Kim, MD, professor of medicine and director of the Center for Asian Health Equity, about the goals of the program. Two years later, we look back at the great strides the Cook County CARES team has made since then for Colorectal Cancer Awareness Month in March.
Improved Screening Rates
In less than one year, the overall CRC screening rates within two federally qualified health centers (FQHCs) – Heartland Health Centers and Asian Human Services Family Health Centers – increased 10 percentage points, raising CRC screening rates to over 50 percent in both health systems. Providers at both FQHCs have been encouraged by the progress at increasing screening rates and place high value on the assessment and implementation efforts provided by the CARES program team.
"In less than two years, we've seen multiple benefits working on this project including a 10 percent increase in CRC screening rates for our at risk patients," said David Freedman, medical director of Heartland Health Systems. "This also benefits our entire health system by enhancing overall quality and leads to increased resources for patients as well." Smaller increases were seen at the University of Chicago, which already has screening rates near 65 percent.
The University of Chicago is an active participant in the update of the Illinois Comprehensive Cancer Control Plan, adding significant new benchmarks and activities for colon and liver cancer screening. The plan now includes a priority focus on colorectal cancer screening, prevention, and quality treatment.
The Cook County CARES program also organized CRC screening and prevention workgroups: Community and Community Clinics; Hospitals; and Policy, Equity, Access to Care. These committees are comprised of local health systems, advocacy groups, and local government. The Cook County CARES team provides leadership for two of the three workgroups, utilizing partner site researchers and affiliated cancer researchers. The workgroups are in partnership with the American Cancer Society and is creating the foundation for the Illinois Colorectal Cancer Roundtable.
Kim, who also directs the Comprehensive Cancer Center's Office of Community Engagement and Cancer Disparities, led the creation of the newly released booklet, "Asian American Communications Companion Guide on Colorectal Cancer Screening."Kim was selected by the National Colorectal Cancer Roundtable team to lead this activity because of her relevant research on effective dissemination models to increase colorectal cancer screening among Asian immigrant communities.
Leaders from Cook County CARES have also presented progress to date and lessons learned from the intervention implementation process at several conferences including the National Association of Community Health Clinics, the Illinois Primary Health Care Association Conference, and the National Colorectal Cancer Roundtable Conference.
Looking Ahead
During the program's fourth and fifth years, implementation and dissemination is expected to broaden to educate, train, and expand relationships with providers, health systems, and other stakeholders. These efforts will be supported, in part, by the Illinois Primary Health Care Association (IPHCA), an advocacy group representing 46 organizations with over 350 sites in Illinois, reaching highly diverse communities in Cook County and the State.
Finally, core to all Cook County CARES efforts is the aim to increase and enhance access to care for all patients with an emphasis on equity and decreasing disparities. CARES is currently working on the development of an innovative, user-friendly website that will provide access to information on free colorectal cancer screenings, as well as follow-up care with a specific focus on the uninsured and underinsured populations. The Cook County CARES team is excited to work with a variety of stakeholders to develop and implement programs to provide access to timely and quality colorectal cancer screening for all Illinois residents.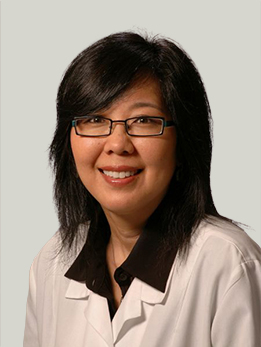 Karen E. Kim, MD
Karen Kim, MD, specializes in the prevention, screening, and early detection of colorectal cancer, hepatitis B and women's health issues.
Learn more about Dr. Kim
Prevention & Screening Articles