Skip to content
University of Chicago Medicine, in partnership with the South Side Pediatric Asthma Center, launches Asthma Resource Line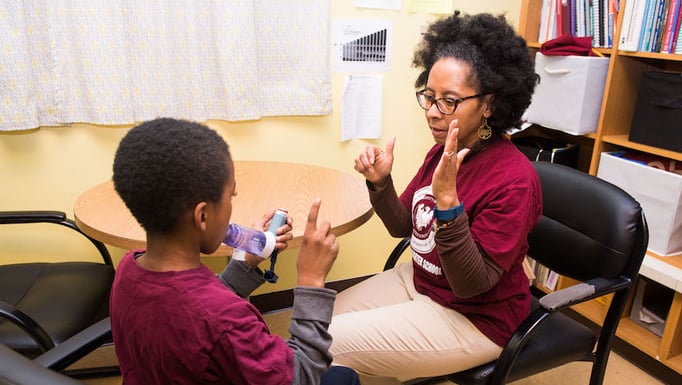 In a continued effort to reduce the burden of asthma on families on the South Side of Chicago, the South Side Pediatric Asthma Center (SSPAC), powered by the University of Chicago Medicine, has launched a toll-free Asthma Resource Line.
Effective immediately, community members looking for asthma information may call 1-833-3ASTHMA (1-833-327-8462) to ask questions, learn about asthma-related community resources, and get help connecting to their primary care physician.
The Asthma Resource Line is operated by the South Side Pediatric Asthma Center, a collaboration involving UChicago Medicine's Urban Health Initiative and Comer Children's Hospital, as well as local health providers La Rabida Children's Hospital, Friend Family Health Center and St. Bernard Hospital. This collaboration is designed to expand the network of providers and caregivers trained to identify and treat asthma.
"The University of Chicago Medicine, along with our valuable partners, is committed to meeting the health needs of our community, where asthma treatment and management is a top concern," said Brenda Battle, vice president of the Urban Health Initiative and chief diversity and inclusion officer at UChicago Medicine. "The Asthma Resource Line is designed to provide a one-stop, convenient and reliable source of information, as well as a pathway for children in the community to receive the care they need."
Launched in June 2017 to combat asthma's disproportionate impact on South Side children, the South Side Pediatric Asthma Center is building a collaborative, innovative and high-quality system of care for pediatric asthma management for the community. In its first year, the SSPAC has focused on identifying children with asthma and connecting them with primary care physicians for treatment. In addition, through provider and community events, the SSPAC has worked to educate patients, their families, school nurses, and teachers on asthma symptoms, triggers and management.
According to Professional Resource Consultants, which conducted the Community Health Needs Assessment for UChicago Medicine, and the Chicago Department of Public Health, approximately 20 percent of children in the academic health system's service area suffer from asthma, compared to 10 percent in Illinois and 12 percent nationally. Children with asthma are more likely to miss school days, be hospitalized and visit the emergency department.
The SSPAC's Asthma Resource Line is available from 10 a.m. until 6 p.m. Monday through Friday. Community members also may reach the Resource Line via email at sspac@uchospitals.edu.
Asthma Resource Line representatives are trained to provide comprehensive information about asthma, including symptoms, triggers, and medications used to manage asthma. Medical advice about asthma is not available through the Asthma Resource Line; however, representatives can help connect callers to asthma-related resources and services in the community, as well as help callers connect to a primary care physician.
Urban Health Initiative
The Urban Health Initiative (UHI) is UChicago Medicine's community health department through which population health and community benefit are administered.
Learn more about the urban health initiative
Pediatric Asthma Related Articles