Skip to content
Program for medical expertise in child abuse evaluations moves back to UChicago Medicine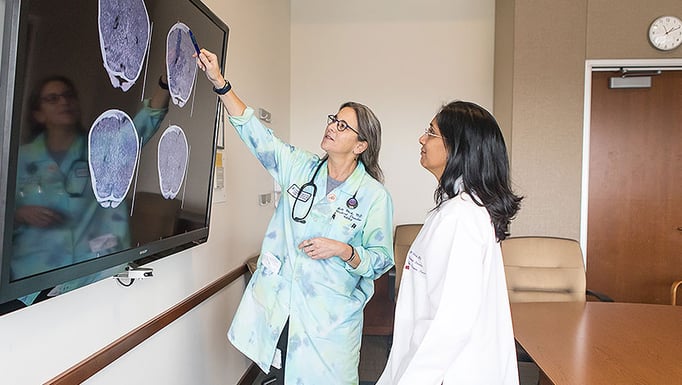 Jill C. Glick, MD, and Veena Ramaiah, MD
It's a homecoming for the Multidisciplinary Pediatric Education and Evaluation Consortium (MPEEC): After a 15-year absence, one of the only programs in the country to mandate medical expertise in child abuse evaluations has returned to the University of Chicago Medicine.
"Having MPEEC managed by medical experts again means that we can provide expertise directly to child welfare, law enforcement and physicians most in need of access to child abuse medical expertise," said Jill Glick, MD, MPEEC's medical director and the director of Child Advocacy and Protective Services at UChicago Medicine Comer Children's Hospital. Glick, who spearheaded MPEEC's founding in 2000, is one of only 16 American Board of Pediatrics-certified child abuse pediatricians in Illinois.
A partnership among Comer, the Illinois Department of Children and Family Services (DCFS), the Chicago Police Department and John H. Stroger, Jr. Hospital of Cook County, MPEEC provides both a process for these agencies to collaborate and offer access to child abuse medical consultation for children under the age of three in Chicago who have been reported for serious physical abuse. The program's goals are providing a medical opinion for children who meet these criteria, as well as a system to obtain second opinions using a real time case management model that is managed by a physician assistant who educates and coordinates inter-agency sharing of vital investigational data.
"MPEEC provides access to child abuse pediatricians for medical providers throughout Illinois who don't have access in their communities but need help identifying and evaluating children with all forms of suspected child maltreatment," Glick said.
Child abuse and violence are major sources of childhood morbidity and mortality, which is why Glick says it's important for physicians to integrate abuse awareness and prevention tools in their practice. When dealing with cases of potential abuse, Glick offers several tips for physicians:
Infants with injuries warrant an evaluation, and clinicians should raise concerns for possible physical abuse. Sentinel injuries, such as bruises or oral injuries, may be (clinically speaking) minor injuries but must be viewed as potential markers for child abuse and warrant a full evaluation. This evaluation should include imaging and laboratory studies, as based on American Academy of Pediatrics guidelines. Clinicians must think about child abuse from a developmental standpoint and provide counseling with regard to potential triggers for abuse and neglect, such as crying infants, unsafe sleep practices, frustration with toilet training and parents with both limited social support AND experience in child rearing.
Establish well-orchestrated procedures at your practice to identify and respond to a child who has symptoms of child abuse and should a child make a disclosure of possible abuse. These procedures should ensure the child's safety as well as evidence collection. Know how to obtain an urgent medical work-up for your patient.
Know how to report potential cases to the DCFS child abuse hotline at 800-25-ABUSE (800-252-2873) or TTY (1-800-358-5117). Identify how to access a child abuse pediatrician in your community for consultation; MPEEC does not take consultations directly from the medical community, but child abuse pediatricians at both Comer Children's and Stroger do provide phone consultation. Contact Comer Child Advocacy and Protective Services at 773-702-4900.
You do not need parental consent to provide medical records to DCFS during an active investigation. You may have to help DCFS investigators understand the concerns of a medical report.
Remember: Doctors play an important role in monitoring and promoting compliance when it comes to a child's medical care, especially when a child has chronic health conditions.
MPEEC's medical providers at both Stroger and Comer Children's provide more than 2,000 consults every year. Glick and her colleagues also provide real-time education to the police and DCFS personnel investigating cases by helping them understand a potential victim's medical records. They also make sure the child receives the appropriate medical work-up, facilitate information sharing between police and DCFS, and draft a report that summarizes the medical, social and investigational findings in a case to determine whether the child was a victim of abuse.
"Judges look for MPEEC reports — these reports are viewed as a high-quality medical consultation to help in the decision making by DCFS, law enforcement and the court systems," Glick said.
In 2003, management of the state-funded program was moved from UChicago Medicine to the non-profit Chicago Children's Advocacy Center.
In 2018, DCFS decided to move most management of the MPEEC program back to UChicago Medicine; last July, UChicago Medicine took over all MPEEC management. Glick has since hired a full-time program manager and increased the number of child abuse evaluation training seminars held for child welfare, law enforcement, states attorneys and medical personnel. She's also hoping to hire another child abuse pediatrician, expand the MPEEC program to include hospitals with medically-directed child protection teams, and help further develop the bridge between child welfare and medicine.
"We're hoping to expand MPEEC throughout the state," Glick said. "But our main goal remains standardizing care and improving medical resources in the community so that these kids get the appropriate work-up."
Pediatric Articles & News