Skip to content
Heart device safety study brings vision of child-specific medical devices closer to reality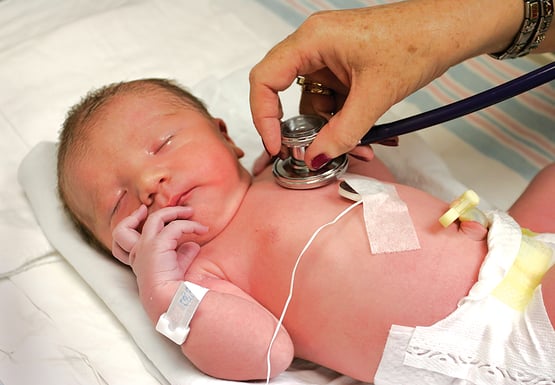 The reduced-size Amplatzer duct occluder II (ADO II), a heart device developed to repair one of the most common congenital heart defects, is safe to use in very small children. That's according to new research published in the May 2017 issue of Catheterization and Cardiovascular Intervention. The device, developed by St. Jude (now Abbott Medical), is used to treat patent ductus arteriosus (PDA) by closing a blood vessel that connects two major heart arteries.
In healthy babies, the ductus arteriosus (DA) closes on its own within days following birth. If untreated, the defect can impair blood flow, leading to serious circulation problems including pulmonary hypertension or heart failure. It is found in roughly 0.02 to 0.006 percent of babies born at term and 20 percent to 60 percent of babies born prematurely. Between August 2008 and April 2011, physicians at 25 investigational sites in the United States implanted the minimally-invasive ADO II in 192 patients.The publication details the results of the procedures and the two-year follow-up.
"This is a big step forward in getting companies to design devices specifically for very small children, which we desperately need in pediatric medicine," said the lead author Daniel Gruenstein, MD, associate professor of pediatrics, section chief of pediatric cardiology and co-director of the Chicago Pediatric Heart Center at the University of Chicago Medicine. An earlier version of the device, the ADO I, was designed for larger ducts. Gruenstein and co-authors were able to implant the ADO II, which is designed for smaller to moderate-sized ducts, in 93 percent of the 192 children in their study.
Gruenstein said this could mean a faster approval for even smaller versions of the device that are currently available outside of the U.S., but have been stalled for FDA approval in the United States. These smaller versions of the device are more suitable for use in premature babies and could spare these tiny patients from undergoing open-chest surgical closure of the ducts.
"This data is helping to push forward less invasive treatments for our tiniest and most vulnerable patients," he said. "They are the ones who are most at risk and who need a wide range of appropriately sized interventional tools."
The study was supported by St. Jude Medical. Co-authors include Makram Ebeid, Wolfgang Radtke, Phillip Moore, Ralf Holzer and Henri Justino. The paper, "Transcatheter closure of patent ductus arteriosus using the AMPLATZER™ duct occluder II (ADO II)," was published in the May print edition of the journal.
Pediatric Articles & News