Skip to content
UChicago Medicine continues suburban expansion with Joliet practice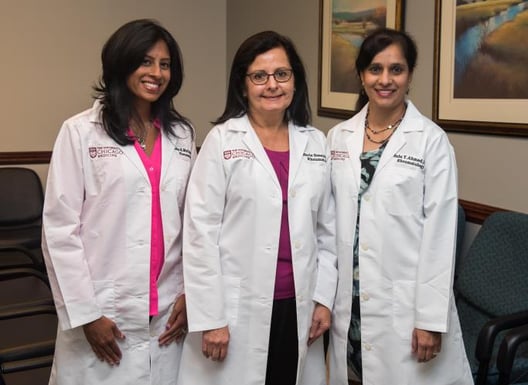 A Joliet medical practice that cares for patients with arthritis and autoimmune disorders is joining the University of Chicago Medicine's expanding network of medical providers.
The practice, formerly known as Prairie Rheumatology, is the latest group to join forces with UChicago Medicine, which is working to expand its medical care beyond its main campus in Chicago's Hyde Park neighborhood.
The practice includes Maria Sosenko, MD, Saba Ahmed, MD, Asha Muthalaly, MD, and nurse practitioner Constance Scholp. All three physicians are board-certified in rheumatology, a specialty that cares for patients with more than 100 diseases including arthritis, lupus, scleroderma and gout.
"We're excited to expand our offerings to include comprehensive rheumatology care for the Joliet community," said Jeffrey Glassroth, MD, physician director of UChicago Medicine's faculty practice plan. "This team of highly skilled, compassionate physicians will provide a full range of care in a community setting while also helping their patients more easily access UChicago Medicine's world-class specialists."
UChicago Medicine has about 850 physicians who provide primary and specialty care across Chicagoland. The South Side academic medical center is in the midst of an expansion effort aimed at treating patients closer to their homes.
In late 2016, UChicago Medicine opened its new Center for Advanced Care at Orland Park, a $61 million outpatient clinic offering primary and specialty care. UChicago Medicine opened its Center for Advanced Care at South Loop in February 2017. UChicago Medicine physicians care for patients two dozen locations across its network.
Patient Care Articles & News