Skip to content
'I'll help you through it': As doctors heal patients' bodies, the spiritual care team heals their spirits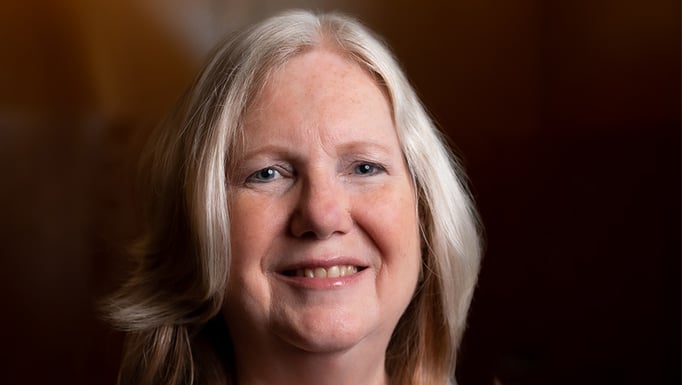 Reverend Marsha Sumner is the new Director of Spiritual Care at the University of Chicago Medicine.
A hospital patient might be up at 3 a.m., feeling distressed and anxious, in need of someone to listen as they vent their fears.
Later in the day, another patient might request a religious prayer or ritual. A family member might be upset about a loved one's poor prognosis. A nurse might have had an emotionally difficult shift. A family could be arguing over a plan of care, causing tension in the room that needs to be de-escalated.
It's situations like these where Rev. Marsha Sumner, M.Div., and the spiritual care team she oversees at University of Chicago Medicine spring into action.
Twenty-four hours a day, 365 days a year, Sumner and her staff of 12 board-certified chaplains provide a unique, critically important and under-the-radar service to UChicago Medicine patients, their families and the staff: They give comfort, hope and a safe space for people to let their feelings out and receive supportive spiritual care.
Religious ceremonies like baptizing babies and administering last rites are part of the job, but most of what the spiritual care team does falls beyond the traditional role of a typical hospital chaplain. UChicago Medicine's chaplains double as non-denominational counselors, life coaches, friends and mediators to people of all religions and genders.
In the first half of 2021, they worked with people from more than 58 different religions, from Roman Catholics to Black Hebrews to Wiccans.
UChicago Medicine's chaplains served people from more than 58 different religions in the first two quarters of 2021, including:
| | | |
| --- | --- | --- |
| Catholic (Roman and Eastern Rite) | Church of God in Christ | Mennonite |
| Christian | Spiritualist | PROS |
| Christian - Pentecostal | Hindu | Reformed Church in American |
| Christian Methodist Episcopal | Buddhist | Episcopalian |
| Christian Science Latter Day Saints | Church of God | Agnostic |
| Christian Churches (Disciples of Christ) | Anglican/Church of England | Coptic |
| Christian Reformed | Nazarene | Seventh Day Adventist |
| Orthodox | Assembly of God | United Church of Christ |
| Orthodox – Russian | Unity | Church of Christ |
| Orthodox - Greek | Pagan | Black Hebrew |
| Baptist | Voodoo | African Methodist Episcopal |
| Jehovah's Witnesses | Taoist | Evangelical |
| Protestant | Wiccan | Mormon |
| Muslim (Sunni and Nation of Islam) | Quaker (Society of Friends) | Unitarian Universalist |
| Methodist | Santeria | Native American Traditional Religions |
| Lutheran | Sikh | Bahai |
| Jewish (Reform, Conservative and Orthodox) | Yoruba | African Methodist Episcopal Zion |
| Apostolic | African Traditional Religions | Spiritual but not religious |
| Presbyterian | Congregational Church | Other |
| Atheist | Jainist | |
"What we do is really not about religion. It's about being present for someone. Telling them, 'I'll help you through it,'" explained staff chaplain Joshua Daniel.
"Hope is universal," added staff chaplain Trina Price.
UChicago Medicine Ingalls Memorial Hospital also offers pastoral care and healing to its patients and staff, but with a different model. Ingalls has one staff chaplain, Rev. Sheila Grant, a registry chaplain who fills in for her and a separate chaplain for hospice care. Grant provides support in the hospital on weekdays and also functions as a community liaison.
Sumner, promoted to Director of Spiritual Care in May 2022, said not many hospitals have the benefit of nonclinical staff who work around the clock to provide "comfort on call." But it's a priority of the leadership at UChicago Medicine to have this service available to staff and patients. The chaplains carry pagers and can be summoned at any time by physicians, nurses, patients and families.
Sometimes Sumner and the chaplains make rounds on their own, popping into staff break areas or patient rooms to say hello, introduce themselves and ask if they can be of service. They might use an icebreaker like, "How do you feel about being in the hospital today?" to start a conversation.
Then they'll listen and determine what would be most helpful. It might be just sitting with someone so they're not lonely. Leading them in some deep breathing exercises. Brainstorming solutions to a problem or helping them reconnect with things that make them feel positive and hopeful.
"We're one of the few teams in the hospital that have the privilege of spending as much time as we need to with people," said staff chaplain Michal Lewon, M.Div.
The conversations are confidential. The chaplains say it's not unusual for people to cry, get angry or share personal things they've never told anyone.
"It's a privilege to provide comfort to people in their lowest times," said Sumner, a sweet, soft-voiced woman whose hospital ID displays her pronouns and hangs on a colorful Pride lanyard. "We get the opportunity to help people when they need it, and in unique and special ways."
A trip to India changes everything
Sumner may now be the leader of UChicago Medicine's spiritual care department, but she didn't find this career until mid-life.
Raised as a conservative Christian in the San Francisco area, she always was interested in how people around the world used religion to find meaning and purpose in life. While raising three children as a single mom and working in different fields, including owning a music shop for a time, she took a life-changing, three-week trip to India when she was in her mid-30s. There, she studied India's religions and people and became fascinated by spirituality and nature's inspiration.
When she returned home, she enrolled in college to study religion. She earned her bachelor's degree at Elmhurst University and a Master of Divinity degree at the Chicago Theological Seminary. It was a Clinical Pastoral Education (CPE) internship that opened her eyes to all of the hospital programs that existed. Her career path became clear.
"There's no richer place than a hospital to think about religion and spirituality. It's where the rubber meets the road, so to speak," she said. "You're constantly going from room to room, challenge to challenge. It really causes you to examine what you believe is real and to see how people find purpose. It's not always religion."
After graduating from the seminary, Sumner completed a 1,600-hour CPE residency at Advocate Christ Medical Center in Oak Lawn. She also worked briefly for a hospice organization before accepting a staff chaplain job at UChicago Medicine Comer Children's Hospital in 2010. She quickly rose through the ranks, being named manager of all of UChicago Medicine's spiritual care in 2013 and the director nine years later.
The COVID-19 pandemic demonstrated just how important the spiritual care department's services are to both the patients and staff. Sumner and her team ramped up their comfort care efforts, often talking with people via Zoom. Sumner also launched a daily email called "A Deep Breath" that contains a one-sentence inspirational, non-denominational quote. More than 2,500 hospital employees subscribed.
It's a privilege to provide comfort to people in their lowest times. We get the opportunity to help people when they need it, and in unique and special ways.
As she begins her role as Director of Spiritual Care, Sumner hopes to expand delivery of — and access to — spiritual services, ensuring they're equitable and inclusive. She would like to see a meditation or prayer space added to UChicago Medicine's new cancer center and to add comfort services at outpatient sites, like chemotherapy infusion rooms and palliative care offices.
Sumner works with several hospital departments and programs, including the Violence Recovery Program, as part of the Diversity, Inclusion and Equity program in the Urban Health Initiative, while bringing back the hospital's CPE Accreditation Program. She also teaches Religious Ethics and Healthcare at Elmhurst University.
"The field of chaplaincy has evolved. It started out as Christian-based. Even the word chaplain is Christian-based. But our culture has evolved. When I started at UChicago Medicine, it was all Christians in this department. My great dream was to have a staff that was diverse."
That dream is now a reality, as she's brought clergy and chaplains of different ethnicities and religions on board. The hospital's three chapels are welcoming to all religions. A Muslim imam now leads Jum'ah prayer (also known as Friday prayer) each week at the hospital, sometimes drawing upwards of 50 people, mostly hospital staff.
The chaplains are now trained to comfort patients of different genders and sexual orientations.
"Organized religion has not been kind to the LGBTQ+ community. We need to be extra welcoming to let them know we're really there for them. They need us," she said. "Any of the chaplains should be able to provide spiritual care to anyone."
Their mission is perhaps best summarized by poet Maya Angelou's famous quote: "A person may forget what you said or what you did, but they will always remember how you made them feel."
Patient Care Articles & News