Skip to content
Obstetrician-gynecologist Iris Romero, MD, sees LGBTQ issues as both a doctor and a patient
When Iris Romero, MD, and her wife struggled to start a family 15 years ago, they weren't warmly welcomed into many doctors' offices.
Some of the infertility doctors they met with weren't willing to help same-sex couples have a baby. Romero and her wife would have their treatment appointments cancelled without notice, incurring significant financial and emotional costs.
A lot has changed since then, and today, many physicians are more comfortable with lesbian, gay, bisexual, transgender and queer (LGBTQ) patients and their health care needs, such as same-sex family planning, hormone therapy or gender-affirming surgery.
The idea is for the hospital to make sure the whole health care system works for the patient.
The University of Chicago Medicine is one of many health care organizations working to educate the country's medical students and caregivers about this group of patients.
It's not a small group. In Illinois, approximately 4.3 percent of the population — roughly 426,000 people — identified as LGBT in 2017, according to the Williams Institute at the UCLA School of Law. Nationwide, an estimated 4.5 percent of adults, or approximately 11 million people, identify as LGBT.
The two-pronged effort involves improving proficiency about LGBTQ health issues and care. For example, pre-treatment prophylaxis (PreP) is now available for anyone at high risk of contracting HIV, such as someone whose sexual partner is HIV-positive, for example.
It's also about sensitivity, so LGBTQ patients will feel safe and welcome. Doctors and staff are taught the importance of not assuming anything about a patient's sexuality or gender identity, welcoming gay partners into an exam or hospital room, using preferred names and pronouns, and avoiding awkward questions, like asking lesbian parents, "Who's the real mom?"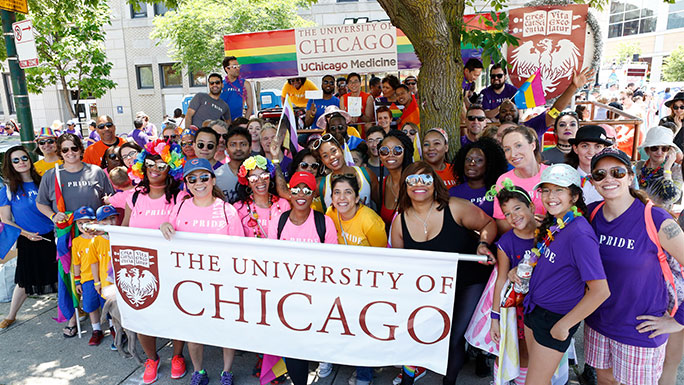 "If the patient doesn't feel comfortable or safe, it breaks down the doctor-patient relationship pretty quickly. They won't want to tell you things about their lifestyle, which can impact their care," said Romero, a UChicago Medicine obstetrician-gynecologist. She and her wife are now the mothers of two children, thanks to help from UChicago Medicine physicians, and Romero is dean of diversity and inclusion for the UChicago Biological Sciences Division.
LGBTQ patients should be treated with dignity for any type of health treatment, whether it's related to their sexuality or not, she said.
"You don't want people to feel like a novelty or a curiosity," Romero said. "You want them to feel welcomed and valued as a patient, and as a family."
UChicago Medicine's efforts and LGBTQ-inclusive policies and practices have helped the academic medical center earn difficult-to-attain national recognition as an LGBTQ Healthcare Equality Leader by the Human Rights Campaign Foundation for four consecutive years.
UChicago Medicine will have a float in Chicago's Pride Parade again this year, and more than 100 faculty, staff and students are expected to participate in the June 30 event.
Most health care treatments are the same regardless of sexual identity, but there's still important training that takes place. At UChicago's Pritzker School of Medicine, a group called OUTPatient focuses on LGBTQ care. LGBTQ issues are covered in the academic medical center's 18-hour cultural competency course for hospital employees.
Some of the institution's other efforts include the LGBT+ Resource Group, made up of about 50 hospital employees focused on community building and professional development. The Office of Diversity and Inclusion works to support an inclusive culture, diversity awareness and education, and the hiring of staff from underrepresented groups.
Additionally, the expanding Chicago Center for HIV Elimination is working toward its goal to end HIV transmission in Chicago by 2041.
Romero recalls a young transgender man who came to UChicago Medicine last summer for a hysterectomy. He was able to easily engage with both the inpatient and outpatient staff in an inclusive and affirming environment, and have a successful surgery.
"There was a significant level of normalization, and that wouldn't have happened 10 years ago," Romero said. "The idea is for the hospital to make sure the whole health care system works for the patient. We pride ourselves on operating at the highest of standards for LGBTQ patients."
Patient Care Articles & News