Skip to content
The road to Tokyo 2020: After hip surgery, volleyball coach Lang Ping is back in the game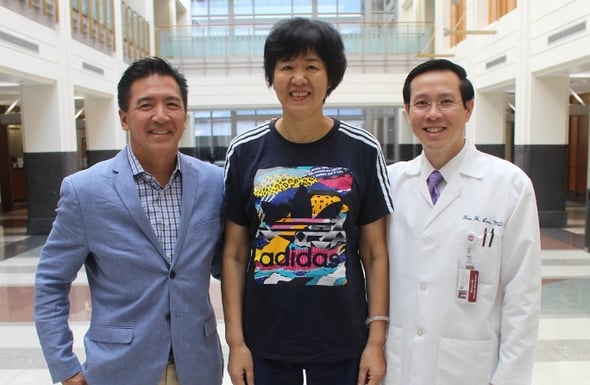 At six feet two inches, China women's national volleyball coach Lang Ping commands respect and attention on the court. The first person to have earned gold at the Olympics both as a player and a coach, she has an impressive track record. But before returning to her courtside post to prepare her players for the 2020 Tokyo Olympics, Ping found out she needed a total hip replacement early this year.
"My hip was really bothering me every day," she said, "so I thought, this is the time to fix it. I could barely walk normally, sit or stand without pain."
Having coached dozens of players as current China and former USA national women's team coach, Ping has seen her fair share of orthopedic injuries. Since the early 2000s, she trusted her players' care with University of Chicago Medicine sports medicine expert Sherwin Ho, MD. And when the gold medalist needed a knee cleanup for herself in 2007, she again trusted Ho for her own care. This year, she had a different type of orthopedic procedure: a minimally-invasive hip replacement performed by orthopedic surgeon Hue Luu, MD, another UChicago Medicine expert who performs hundreds of joint replacements per year. Ho, who is the team physician for the Chinese women's national volleyball team, recommended Luu.
When someone needs a hip replacement, often they will have a surgical procedure performed posteriorly, or through the gluteus muscles. This type of surgery can leave patients with long recovery times, unable to perform simple tasks like tying their shoes or crossing their legs. In contrast, Luu operated anteriorly, meaning he navigated around muscles in the front of the body, rather than the back. This procedure uses a minimal incision and avoids cutting through muscle, causing less harm to the soft tissues around the hip.
"I chose this procedure for her because it offers her the quickest recovery and allows her to maintain the best mobility and function for her after surgery," said Luu. "She's a person that is physically fit, which made her recovery even easier."
Ping was up and walking fairly soon after surgery. Luu said she has since worked hard with therapy to maximize her rehabilitation. The first two weeks after Ping was sent home, she had a physical therapist sent to her house to help with rehabilitation. Even though recovery has taken work, Ping said the detail and attention paid by Luu and all her other caretakers made the journey easier. "I was informed and confident in my choice.
The more you know, the more you feel settled," she said. During her time at UChicago Medicine, Ping was also paired with Yaling Tan, an international patient coordinator with the hospital's International Programs office. Since English isn't Ping's first language, Tan stepped in to help with things like translating medication labels and arranging transportation.
"Often when I have medication labels, I have to ask, 'Yaling, what is this?' She's so calm and very professional," said Ping. "I'm so happy to have her to help me." With recovery going well, Ping is back overseas and recently led her team to victory at the FIVB Volleyball Women's World Grand Champions Cup in Japan.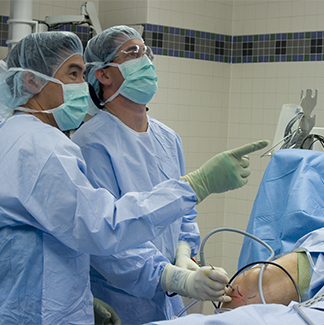 Orthopaedic Surgery
When injury or illness affects the musculoskeletal system, the experienced and skilled orthopaedic team at the University of Chicago Medicine offers the full spectrum of nonsurgical and surgical care.
Read about our orthopaedic services
Lang Ping's Orthopaedic Surgery Team
Learn more about orthopaedic care