Skip to content
How to better protect young athletes from sports injuries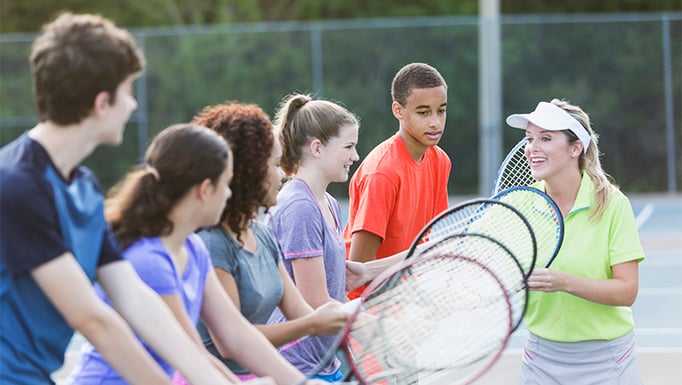 While working up a sweat and building their skills, young athletes run the risk of suffering from the three H's: head injuries (concussions), heat illnesses (heat stroke/illness) and heart problems (cardiac arrest). According to the Centers for Disease Control and Prevention, more than 2.6 million children under the age of 19 are treated in the nation's emergency departments each year for sports- and recreation-related injuries.
As a sports medicine specialist at the University of Chicago Medicine, I treat sports-related injuries for a wide range of patients: teenagers who are pursuing their athletic dreams, weekend warriors and professional athletes, including members of the
WNBA Chicago Sky
, where I'm one of the team's physicians.
The most important things to know as a parent or coach are the risk factors, along with the signs and symptoms, of injuries. Recognize when your child/athlete is off his or her game. As a parent or coach, you know your child/player better than anyone. And, you play an important role in identifying and addressing symptoms in their early stages.
Symptoms of the "Three H's"
Let's start with head injuries and concussions. First, I want to be clear, you do not have to have a loss of consciousness in order to have a concussion. Due to the body's ability to produce adrenaline, symptoms can be masked immediately after a head injury. The most common immediate symptoms include: headaches, neck pain, dizziness, blurry vision, light sensitivity, sound sensitivity, ringing in the ears, disorientation and abnormal balance.
Next, let's look at heart problems, like sudden cardiac arrest. What makes sudden cardiac death in our athletic population so difficult to manage is that there are typically no symptoms prior to the athlete collapsing.
And finally, there's heat stroke/illness. Heat illness represents a spectrum of heat-related medical conditions ranging from heat exhaustion to heat stroke. General signs and symptoms include dehydration, lightheadedness, increased muscle fatigue, nausea, vomiting, headaches, confusion, clumsiness, stumbling and disorientation.
Risk factors for cardiac arrest
The greatest risk factor for sudden cardiac death is having a family history of sudden cardiac death or sudden death of unknown cause in a first-degree relative, which means someone like a father, mother or sibling.
Concussion protection
Proper technique – specifically tackling in football and rugby, and headers in soccer – can help athletes better protect themselves from head injuries. But beyond that, it's really important for the athlete to be upfront and honest about their symptoms after a possible head injury. If they're not, athletes can put themselves at risk for something called second impact syndrome. That occurs when an athlete suffers a second head injury while still recovering (with continued lingering symptoms) from their first head injury. This can cause diffuse cerebral swelling, brain herniation and even death. It's potentially devastating for an otherwise young, healthy athlete.
Eating and hydrating for athletes
General recommendations advise that athletes should eat a meal two to three hours prior to exercise/activities. Meals should be high in carbohydrates with a moderate amount of protein. They should generally be low in fat. A carbohydrate snack like an energy bar, granola bar or fruit can be eaten 30 minutes prior to a workout. After an hour of activity, an athlete should have a carbohydrate snack or drink.
We typically recommend using thirst as a guide for hydration during sports or athletic activities, particularly for our novice athletes. That helps decrease the risk of hyponatremia (low sodium levels) from consuming too much water. These recommendations are important to reduce an athlete's risk of heat-related conditions. It also helps them maximize performance.
Pediatric Sports Medicine
At Comer Children's, our experts offer unique approaches to pediatric sports medicine for children and teens of all ages. We care for young athletes at every level, from seasonal athletes to elite competitors, with a range of orthopaedic conditions and sports-related injuries.
Learn more about our pediatric sports medicine services
Find an Sports Medicine Location Near You
Request an Appointment
The information you provide will enable us to assist you as efficiently as possible. A representative will contact you within one to two business days to help you schedule an appointment.
You can also make an appointment with our providers by:
– Scheduling a virtual video visit to see a provider from the comfort of your home
– Requesting an online second opinion from our specialists
To speak to someone directly, please call 1-773-834-3531. If you have symptoms of an urgent nature, please call your doctor or go to the emergency room immediately.
Orthopaedic Related Articles