Skip to content
Tracy Koogler, MD, tireless advocate for patients, 1966-2022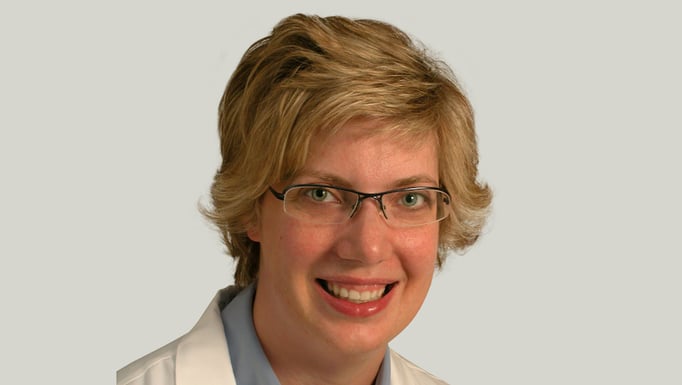 University of Chicago Medicine Comer Children's Hospital pediatrician Tracy K. Koogler, MD, a tireless advocate for patients and research subjects, died December 28, 2022. She was 56.
An Associate Professor of Pediatrics, Anesthesia and Critical Care at the University of Chicago, Koogler's clinical career was dedicated to caring for children in the burn unit and the pediatric intensive care unit (PICU). She was also actively involved with medical ethics, conducting consults and serving as the assistant director of the UChicago MacLean Center for Clinical Medical Ethics.
"She taught everyone the meaning of profound professionalism," said K. Sarah Hoehn, MD, MBe, Clinical Associate of Pediatrics, who worked closely with Koogler. "She was so dedicated to her patients all the time and her commitment was unrivaled."
Koogler graduated from Davidson College in 1988 and received her medical degree from the University of Virginia School of Medicine in 1992. She trained in pediatrics at Cincinnati Children's Hospital and pediatric critical care medicine at Children's Hospital of Philadelphia.
She joined UChicago in 1998, where her work in enhancing pediatric burns care was regarded by many as pioneering. In the PICU, she worked in sedation and had special empathy for children with cancer.
Koogler began a clinical medical ethics fellowship that same year at the MacLean Center, which led to a career in medical ethics, bioethics, and ethics consultations. She worked closely with fellow pediatrician Lainie Ross, MD, PhD, the Carolyn and Matthew Bucksbaum Professor of Clinical Medical Ethics.
They published the 2012 paper "Lethal Language, Lethal Decisions," which heightened awareness about the importance of language when describing children with differences. Judgmental language could potentially impact the way clinicians treated these children, and the treatment plans they offered, they said.
"She was a great clinician, a great ethicist and a great friend," Ross said. "She is greatly missed."
Koogler joined UChicago's Institutional Review Board (IRB) in 2007, where she reviewed protocols to ensure patients who participated in research were informed and protected. She became vice-chair of the board in 2011.
Throughout her nearly 25-year career, she mentored many students, residents and fellows. In 2020, she received the Distinguished Clinician Award, which recognizes highly talented members of the faculty for their clinical excellence.
Koogler was passionate about organ donation, serving on the advisory board of Gift of Hope Organ & Tissue Donor Network, a nonprofit that coordinates organ and tissue donation in Illinois and Northwest Indiana.
"Tracy was a special and unique member of our department," said John M. Cunningham, MD, the George M. Eisenberg Professor and Chair of the Department of Pediatrics. "Her commitment to the critically ill child, her leadership in the pediatric burns care program, her contributions to the University of Chicago IRB, and her clinical ethics scholarship and mentorship will be missed deeply."
Outside of work, Koogler loved cheering for college basketball — especially for her alma maters' teams. In the summer, she enjoyed sailing and sharing her love of the sport with others. (Hoehn and her children often spent time sailing with "Aunt Tracy" on Lake Michigan.)
Koogler also was an active member of the Fourth Presbyterian Church, ultimately becoming a deacon and then an elder.
She was diagnosed with cancer in 2016, which caused her to slow down a bit. Instead of working her usual 16- to 18-hour days, she could only work 10 to 12 hours, she said on a podcast in 2021.
She was passionate about her work with children, she said, especially those ages 3 to 6, because they tell the truth, are "hilarious" and are all around "just super-good kids."
When her colleagues asked why she didn't retire and enjoy life after her diagnosis, she said she couldn't imagine stopping her life's work of helping others.
"Because I really love what I do every day," she said.
She is survived by her mother, retired nurse Linda Rosen Koogler, RN; William Todd (Royanne); nieces, Lindsay Ryan and Madison Bailey; stepnieces, Josephine Emilia Rose Dell and Frances Victoria Brooks Dell; uncles, Melvin E. Rosen, Jr. (Peggie) and Fred P. Rosen, PhD; aunt, Betty Lou Harlow Koogler; several cousins; and a special friend, Mark Schimmelpfennig.
A memorial service will be held at 11 a.m. Saturday, January 14 at Fourth Presbyterian Church, 126 E Chestnut St. in Chicago.
News from UChicago Medicine