Skip to content
UChicago's Pritzker School of Medicine calls for discussion on ratings system as it withdraws from U.S. News rankings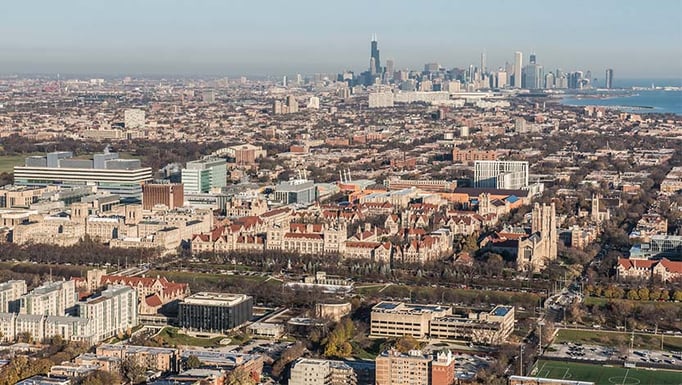 The Pritzker School of Medicine is one of the few medical schools in the U.S. to be located physically on its university campus.
The Pritzker School of Medicine at the University of Chicago announced that it will not participate in U.S. News & World Report's annual "Best Medical Schools" ranking next year due to concerns about the publication's methodology and the impact the ratings system has on ensuring equity in medical education.
In a letter to U.S. News sent Jan. 26, Pritzker School leadership also requested that the publication's school-ranking editors convene a meeting with representative voices to inform a ratings system that more comprehensively helps medical-school applicants and encourages equity in medical education.
"We have notified U.S. News editors that we do not plan to submit data for their medical school rankings next year," said Mark E. Anderson, MD, PhD, Executive Vice President for Medical Affairs and the Dean of the Pritzker School of Medicine and the Biological Sciences Division (BSD) at UChicago. "In addition, we have asked them to convene stakeholders — including medical school applicants, current medical students, and other medical schools — to discuss how best to measure and report what matters most to those applying to become tomorrow's physicians."
"This decision is based on our judgment that the current methodology raises deep concerns about inequity perpetuated by the misuse of metrics that fail to capture the quality or outcomes of medical education for those who most need these data: applicants to medical school."
The Pritzker School of Medicine joins a growing list of medical schools that have announced their withdrawal from U.S. News' ranking system.
Vineet Arora, MD, Dean for Medical Education of the Pritzker School and BSD, said many factors were considered in the decision but the overriding concern was to help address and reduce inequities in medical education. "This is essential as our nation continues to suffer from extreme health disparities and would greatly benefit from a more diverse physician workforce," she added.
"This is also why we are working hard to address health inequities in the predominantly Black community in the South Side of Chicago, through efforts that directly engage our trainees," said Arora. "While we are proud to have one of the most diverse student populations among U.S. medical schools, we also know there is more work to do around advancing diversity and inclusion, as well as health equity."
Applying to medical school is a high-stakes and high-stress process for myriad reasons, many of them specific to medical education and the practice of medicine. The increasing cost of medical education in the U.S., from application preparation to graduation, results in medical students graduating with crushing debt loads. This debt is more likely to be concentrated in the minority of students from backgrounds that are underrepresented in medicine or economically disadvantaged. At the same time, those who successfully matriculate to medical school face an increasingly competitive residency match, such that not all U.S. medical students can secure a spot to complete their physician training upon graduation.
"Aspiring medical students deserve transparent, meaningful, and usable data that reflect both the quality of their educational experience and graduation outcomes to best inform their application strategy and guide their decision making," Arora said. "The U.S. News medical school rankings do not offer this vital level of transparency."
To address the issue of data transparency, Pritzker School leaders pledged to share essential information on its admissions website. They said they are open to reconsidering the decision to withdraw from future rankings based on the outcome of the requested discussions with U.S. News.
"We will take the results of these discussions into account as we consider whether to reassess our current plan not to submit data for next year's rankings deadline," said Anderson. "While U.S. News has signaled that it will rank schools using current methodology regardless of a school's participation in the process, we hope the results of such discussions not only will help medical school applicants but also align with efforts to create the physician workforce that truly addresses the health needs of our nation."
News from UChicago Medicine