Skip to content
Oto named Interim Chair of the Department of Radiology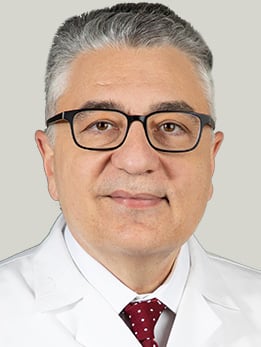 Aytekin Oto, MD, MBA, professor of radiology and surgery, has been named Interim Chair of the University of Chicago Medicine Department of Radiology effective February 1, 2019. Oto assumes this leadership role as an expert researcher, outstanding clinician and committed educator to the Department.
Oto completed medical education and radiology residency training at Hacettepe University Medical School in Ankara, Turkey. After fellowship training at the Cleveland Clinic, he held faculty positions in Turkey and at the University of Texas Medical Branch at Galveston.
He has been a distinguished member of the UChicago Medicine faculty since 2007, holding a number of leadership roles, including serving as Section Chief of Abdominal Imaging and Vice Chair for Business Development in the Department of Radiology, and serving as the Inaugural Director of the Grossman Prostate Imaging and Image Guided Therapy Center. He has also served as an elected member of the Faculty Advisory Committee and was nominated and selected by faculty to receive a Distinguished Clinician award in 2015.
In addition to being an outstanding clinical radiologist, he is also an extremely productive investigator. His research, which is supported by NIH funding, focuses on the detection of prostate cancer using MRI and utilizes new research in image acquisition and interpretation to guide biopsies, thereby discovering prostate cancer earlier and more effectively. He has authored over 170 peer-reviewed publications in distinguished journals.
Oto has a national and international reputation as evidenced by a number of awards, including a 2017 Academy Distinguished Investigator Award from the Academy for Radiology & Biomedical Imaging Research and several Radiology Editor`s Recognition Awards (2004, 2006, 2008, 2010 and 2013). He has also been recognized for his outstanding contributions to education, including receiving the Marc Tetalman Award for outstanding teaching from the Department of Radiology and the RSNA Honored Educator Award (2013 and 2017).
"We are fortunate to have someone with his broad clinical and academic experience to lead the Department towards continued success. I appreciate the valuable guidance and advice I received from faculty within the Department of Radiology," said Kenneth S. Polonsky, MD, Dean and executive vice president for medical affairs at the University of Chicago.
Oto succeeds David Paushter, MD, who has led the department since 2011.
Patient Care Articles & News