Skip to content
Nicholas Vogelzang, MD, oncologist, 1949-2022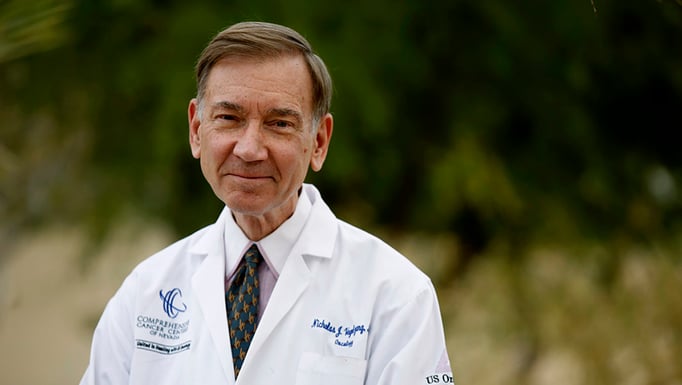 Photo courtesy of Vogelzang Law
Nicholas Vogelzang, MD, an internationally recognized oncologist and former University of Chicago faculty member renowned for his kindness to patients, died on September 20 in Las Vegas. He was 72.
Throughout his more than 20 years at UChicago, Vogelzang treated genitourinary cancers and mesothelioma, served in key leadership positions, and became recognized nationally in the field.
"What really impressed me throughout his career was his incredible energy," said Everett Vokes, MD, John E. Ultmann Professor and Chair of Medicine and Physician-in-Chief of the University of Chicago Medicine.
"He was really proud and happy to be engaged in solid tumor oncology, even back when there were more limitations on the kinds of treatments we could offer. He always drove ideas that he was able to translate into clinical trials in order to advance options for our patients."
Vogelzang was recruited to UChicago in 1982 after receiving his MD from the University of Illinois Chicago, completing a residency at Rush University Medical Center, and finishing medical oncology training at the University of Minnesota.
He joined the faculty in the Section of Hematology/Oncology in the Department of Medicine, where he built a genitourinary oncology program from scratch, treating prostate, kidney, bladder and other urologic cancers. His enthusiasm for improving cancer care and for treating patients with empathy was apparent from the start.
"As he built the program, it was clear he was very good with patients," said Harvey Golomb, MD, Lowell T. Coggeshall Professor of Medicine, who led the section at the time and recruited Vogelzang. "His father had been a minister, and he learned from him how to cater to patients."
Walter Stadler, MD, Fred C. Buffett Professor of Medicine and Surgery and Dean for Clinical Research, became a mentee of Vogelzang's when Stadler arrived at UChicago as a fellow in 1991.
In the 1980s and 1990s, few treatments existed for genitourinary cancers. Yet Vogelzang never tired of coming up with new ideas for therapies, Stadler said. That led him to become known as a leading clinical investigator in genitourinary oncology.
"He always had a thousand and one ideas of what we could do differently for patients, how we could improve care, and what research we should pursue," Stadler said.
Though many ideas ultimately did not work, Stadler was able to select a few novel therapies for renal cancer, which Stadler credits with helping to launch his career in the field.
Not only was Vogelzang full of ideas, he pushed others to reconsider their own. Sonali Smith, MD, Elwood V. Jensen Professor in Medicine and Chief of Hematology/Oncology, was a fellow in the early 2000s when she experienced Vogelzang's larger-than-life presence and "very direct (yet thoughtful) questioning during some of my very first presentations," she said. "He was always at ease with patients, warm, and direct — a true role model."
Amid Vogelzang's energy for transforming cancer research, he always put patients first.
"He was an amazing oncologist," Stadler said. "Even if he didn't see a patient until 7 p.m., and they were angry because they had been waiting, within 10 minutes they would do anything he said. He had this incredible ability to give patients hope, even when our options were extremely limited."
His empathy may have been due in part to his own experience with cancer. In the 1980s, he was diagnosed with Hodgkin's disease, requiring radiation to his chest. "He became a cancer patient himself, but we got him through that, and he continued to practice medicine," Golomb said.
At UChicago, Vogelzang was honored with the inaugural Fred C. Buffett Professorship and served as director of the University of Chicago Cancer Research Center (now the UChicago Medicine Comprehensive Cancer Center) from 1999 to 2003.
He was nationally recognized within the oncology community, serving as president of the Illinois Division of the American Cancer Society from 1988 to 1991 and serving on the board of directors for the American Society of Clinical Oncology from 1993 to 1996. He was the principal investigator of the University of Chicago for Cancer and Leukemia Group B (CALGB) grant from 1988 to 1999, and chair of the CALGB Prostate Committee from 1993 to 1999.
He was a founding board member of the Mesothelioma Applied Research Foundation, helped found the Kidney Cancer Association, and was a member of the American Association for Cancer Research, the American Urological Association, the Society of Urologic Oncology, and the European Society for Medical Oncology.
In addition to treating prostate and renal cancers, he discovered the first life-extending treatment for mesothelioma: a chemotherapy drug combination of pemetrexed and cisplatin.
Vogelzang left UChicago in 2004 to serve as director and executive vice president for academic affairs at the Nevada Cancer Institute. He joined the Comprehensive Cancer Centers of Nevada, a US Oncology practice, in 2009. Ultimately, he published more than 600 scientific publications and was named as a Giant of Cancer Care by OncLive in 2018.
Golomb visited Vogelzang in Las Vegas a few months before his death and was glad to be able to see his former colleague one last time. "He lived a good life, and anybody who had him as a physician remembered him as kind and caring," Golomb said. "I'm glad I recruited him in the 1980s, and I'm glad I got to see him before he died."
Stadler, too, connected with Vogelzang before his death. "He called me and said, 'I wanted to call and thank you for everything you did for me.' And all I could think of was, 'I didn't do much for you. You are the one who allowed me to build my career.' It just demonstrated how people-oriented and heartwarming he was."
Vogelzang is survived by his wife Diane; children Nicholas Jr., Adam, Timothy, Stephanie Jennings, and Brendan Meyer; grandchildren Chase, Anne, Isaac, Clara, Josiah, Pearl, Molly, Samuel, Rylan, and Reagan Vogelzang; and siblings Robert, Mark, Kathleen Groen, Philip, Michael, and Mary. A memorial service/celebration of life that will be open to all is being planned with details to be announced.
News from UChicago Medicine