Skip to content
UChicago Medicine gets approval to expand services in Orland Park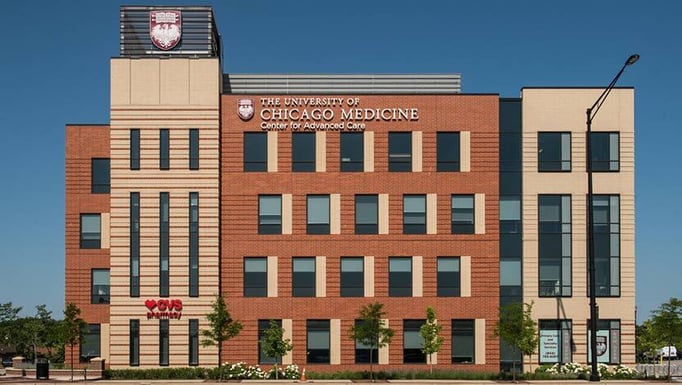 UChicago Medicine Orland Park will add 17 multispecialty examination rooms and expand GI endoscopy, colonoscopy, cardiac/vascular imaging and other services.
The Illinois Health Facilities and Services Review Board (HFSRB) has approved the University of Chicago Medicine's request to expand services at its Orland Park facility to meet the growing needs of patients in the area.
The HFSRB voted unanimously in favor of the proposal on December 14, 2021.
The project will build upon the current suite of primary and specialty care services by adding 17 new multispecialty examination rooms, a procedure suite with two rooms equipped for GI endoscopy and colonoscopy, other office-based procedure rooms and a dedicated space for cardiac and vascular imaging. It will also expand diagnostic imaging services with an additional MRI and a PET scanner.
The $18.5 million expansion project is expected to be completed in the spring of 2023 and will add about 23,000 square feet to the current 108,000 square feet of space.
The Orland Park facility opened in December 2016, bringing specialized medicine to a community setting for patients seeking care closer to home. In the original application to the HFSRB, UChicago Medicine proposed shell space on the fourth floor to accommodate future growth and increased demand for care in the area. Indeed, from October 2018 to September 2021, monthly clinic visits at Orland Park have gone up 80%.
"This is just another example of a successful approach to expansion, as we continue to bring UChicago Medicine closer to where people live and work, with a focus on providing patients high-quality care in their local neighborhoods and access to more complex care if and when they need it," said Theresa Quinn, executive director of regional operations, Ambulatory Services. "This expansion will enable us to better serve the growing communities in Orland Park and neighboring areas who need convenient and quick access to specialty diagnostic and treatment options."
The Orland Park location offers academic-medicine expertise in a community setting, with the added convenience of extended daytime and weekend hours, same-day appointments and a walk-in orthopaedic clinic, along with on-site laboratory and imaging services.
Specialty areas of focus in Orland Park include:
Cancer
Digestive diseases
Heart and vascular
Neurology
Orthopaedics
Otolaryngology (ENT)
Gynecology and obstetrics services