Skip to content
Clinical trials offer hope for patients with multiple sclerosis
Multiple sclerosis (MS) is a chronic autoimmune disease of the brain and spinal cord. MS causes a person's immune system to damage the protective covering (myelin) of nerves. This leads to interruptions of the nerve impulses that travel to and from the brain and spinal cord. Symptoms can be unpredictable and erratic, and range from mild to severe.
Clinical trials have been crucial to developing life-transforming therapies that have slowed progression of the disease and reduced the severity of symptoms.
I am a principal investigator in many multiple sclerosis and neuromyelitis optica (NMO) clinical trials, and my research interests include analyzing brain pathology using new and advanced magnetic resonance imaging) techniques.
When did UChicago Medicine start conducting MS clinical trials?
We have been doing trials for multiple sclerosis and related autoimmune diseases of the central nervous system since the late 1980s. In fact, UChicago Medicine has been a site for testing most of the approved drugs for multiple sclerosis.
What are the benefits of clinical trials?
When a medication has worked in a phase 3 trial, you can tell patients with confidence that it has been proven to be effective and what the magnitude of the effectiveness is. In addition, clinical trials are important for determining side effects. If there are concerns, we know how to follow the laboratory abnormalities and other clinical signs and symptoms of adverse effects.
How safe is a clinical trial?
A placebo-controlled trial has built in protections. For one thing, the randomization is not 50-50. There is usually a two-fold greater chance that someone is getting the drug. If the patient has active disease during the trial, then the blinding is broken and the patient is switched from the placebo to the active arm. We watch trial patients very closely and they can see us very rapidly.
What are some of the latest advances made in treating multiple sclerosis?
There have been a lot of strides in getting better and safer drugs for the inflammatory component of multiple sclerosis. In fact, two drugs — Kesimpta and Zeposia — were approved this year and others are in the pipeline. Repairing the nerves is the next frontier in multiple sclerosis care. We are part of this effort.
Learn more about multiple sclerosis clinical trials offered at UChicago Medicine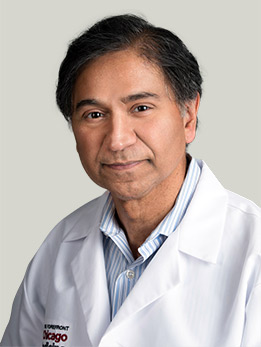 Adil Javed, MD, PhD
Adil Javed, MD, PhD, has expertise in autoimmune diseases of the brain and spine, including multiple sclerosis, lupus, Sjögren's disease, and other related connective tissue diseases.
Learn more about Dr. Javed
Neurology & Neurosurgery Articles