Skip to content
Clinical trial helps young woman manage rare neurological disorder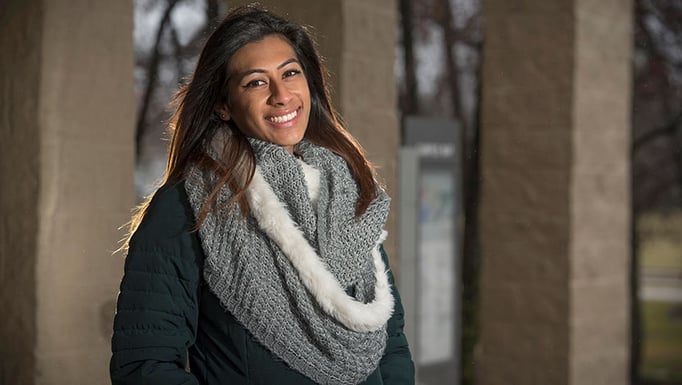 Kitzia Ayala-Avila was a freshman in high school when she started to experience weakness, hot and cold sensations in her hands and feet, and numbness and sensitivity in other parts of her body. The troubling symptoms seemed to come on overnight.
"They got worse and affected my concentration in school and my ability to sleep," said Ayala-Avila, 28, of South Elgin. "My whole life changed."
She was diagnosed with a central nervous system disorder called neuromyelitis optica (NMO). The rare disease occurs when the body's own immune system (autoimmune) attacks the spinal cord and the optic nerves of the eyes, in most cases. Some of the symptoms can be reversible, but most flare-ups are severe, often leading to significant visual impairment and weakness of the limbs, or even blindness and paralysis.
Only a handful of neurologists in this country have experience and expertise in treating patients with NMO. More than 90% of NMO patients are women, and the autoimmune disorder disproportionately affects Black, Asian and Latinx populations.
Ayala-Avila's diligent and determined mother's research eventually led her to University of Chicago Medicine neurologist Adil Javed, MD, PhD, an expert in autoimmune diseases of the brain and spine, including NMO and multiple sclerosis (MS).
"The inflammation in NMO is very intense, more so than in other autoimmune inflammatory diseases, like MS," Javed said. "We don't know the cause of NMO. There is an interplay between genetically programmed autoreactive immune cells and some environmental trigger — the exact nature of the latter remains elusive at this time."
Once the disease is triggered, it usually progresses fairly quickly. A patient can go from having blurred vision to blindness in a few days, or sometimes in as little as a few hours.
Ayala-Avila's symptoms progressed more slowly, which can happen occasionally. "When she first came to me, she was not responding to any standard treatments," Javed said. 'So I suggested she participate in a clinical trial testing a new therapy for NMO."
Ayala-Avila agreed and began receiving a monthly injection of a then-experimental drug, a monoclonal antibody called called Enspryng (satralizumab), in 2015.
"The medication works by blocking the inflammatory cascade and quiescing the immune system," Javed explained. "So, there's mitigation of ongoing inflammation, and the potential for future inflammatory attacks is decreased."
Results of the trial showed as much as a 78% reduction in NMO flare-ups. Enspryng was approved by the Food and Drug Administration in August 2020.
"I have not relapsed since 2015," said Ayala-Avila, who works as a patient navigator at a clinic. "It's given me my normal life back, and I am able to live day to day without worrying about getting sick."
Javed praises Ayala-Avila and the other patients in the trial for their role in the successful development of the new drug.
"We owe them a lot of gratitude for participating and making treatment better for future generations," he said.
Learn more about neurology clinical trials offered at UChicago Medicine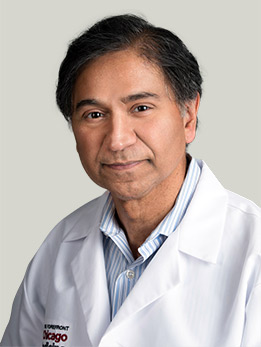 Adil Javed, MD, PhD
Adil Javed, MD, PhD, has expertise in autoimmune diseases of the brain and spine, including multiple sclerosis, lupus, Sjögren's disease, and other related connective tissue diseases.
Learn more about Dr. Javed
Neurology & Neurosurgery Articles