Skip to content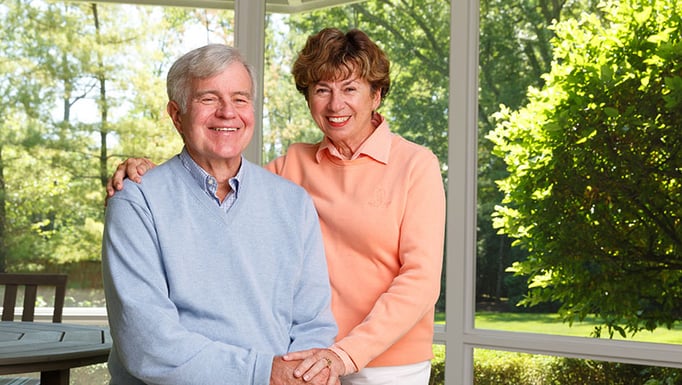 When Winnetka resident Bill Davis learned he had a life-threatening condition, the words of a physician he had yet to meet put him at ease.
Neurosurgeon Issam A. Awad, MD, called the retired executive immediately after reviewing his scans. "He said, 'I am going to help you; we know how to fix this,'" Davis recalled.
Awad, director of neurovascular surgery at the University of Chicago Medicine, is an expert on vascular malformations of the brain. He is co-author of the only medical textbook on dural arteriovenous malformations (DAVM), including abnormal connections, or fistulas (DAVF), between veins and arteries that develop in the covering of the brain. Blood flow through the brain becomes sluggish and congested, and the condition, if untreated, can lead to paralysis or stroke.
"So it's like your sump pump failing, and the brain's blood drainage backing up," Awad said.
To treat Davis, retired chairman, president, and CEO of R.R. Donnelley & Sons Company, Awad teamed with Seon Kyu Lee, MD, PhD, director of interventional neuroradiology. Working through a small hole in the groin, Lee threaded a tiny catheter to the point of the malformation. Then he injected medical "superglue" to block the fistula, successfully shutting down the abnormal connection between arteries and veins.
"Whenever possible, we treat the lesion using this less invasive catheter technique to avoid much riskier open brain surgery," Lee said. "We were extremely pleased that we were able to cure Mr. Davis' fistula."
Davis's condition was so rare that many neurosurgeons do not see a case like it in their entire careers, Awad said.
He suggested further testing, which uncovered a rare blood clotting tendency that may have caused the fistula to develop. This can be treated with medication to prevent future problems, Awad said.
Grateful for the expert care he received, Davis and his wife Judy asked Awad about his research on cerebrovascular malformations. The couple contributed $1 million to establish the Judy and Bill Davis Research Fund in Neurovascular Surgery.
This fund will allow Awad to expand basic and clinical research efforts, leveraging the team's recent discoveries in the laboratory to make a broader impact on patients.
"Bill and Judy's gift is the ultimate recognition of our contribution to his life," adds Awad. "Fate brought us together and we are so happy for this bridge between excellent care and our mission of discovery."