Skip to content
UChicago Medicine surgery team completes 500th cardiac robotic procedure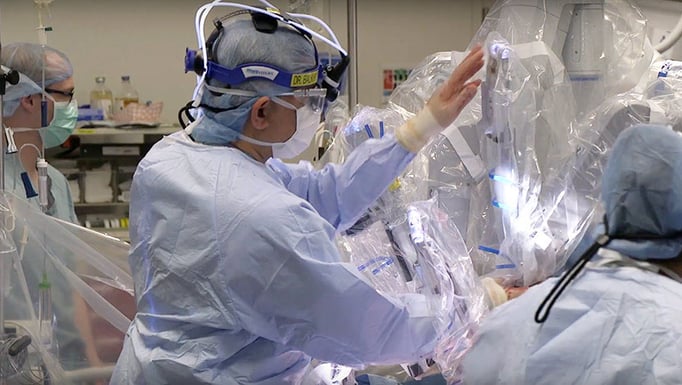 The University of Chicago Medicine's robotic surgery team, led by Husam H. Balkhy, MD, hit a milestone last month when they treated their 500th patient to repair a heart valve and an irregular heartbeat using a robotic totally endoscopic approach. This milestone comes just over 3 and a half years after Balkhy was recruited to join the faculty at UChicago Medicine.
University of Chicago Medicine team performs 500th robotic cardiac procedure
Jennifer Scott, 51, of Rogers Park, was discharged on April 26, two days after Balkhy repaired Scott's mitral valve, which was causing a severe leak and was associated with atrial fibrillation. Scott expects to return back to work soon.
Using the da Vinci surgical robot system, Balkhy and his team performed the complex valve repair and ablation procedure through small holes in the right side of Scott's chest (the largest being only 20 mm). Without the robotic surgery option, surgeons would have had to saw through Scott's sternum in an open-chest procedure. The minimally invasive approach shortened Scott's hospital stay and will decrease her recovery time at home significantly.
"I'm not even 48 hours out of surgery, and I feel remarkably good," Scott said. "My biggest relief was when I woke up and they said they were able to repair it, and I wasn't going to be on a blood thinner the rest of my life. I can't even tell you the amount of relief that's involved in that."
Balkhy has been averaging about 125 robot-assisted heart surgeries a year since he joined UChicago Medicine in July 2013 and in 2016 he and his team completed 165 robotic heart surgeries on patients with a multitude of cardiac problems including coronary artery disease, valve problems, and others. As one of the world's leading robotic heart surgeons, Balkhy has, by his estimation, completed roughly 1,100 of these robotic procedures since he began using the robot in 2007.
"This approach avoids many of the complications of open chest heart surgery," Balkhy said. "An experienced team can have positive results with this technology in the sickest of patients."
Learn more about heart and vascular disease