Skip to content
UChicago Medicine opens heart rhythm treatment "Lab of the Future"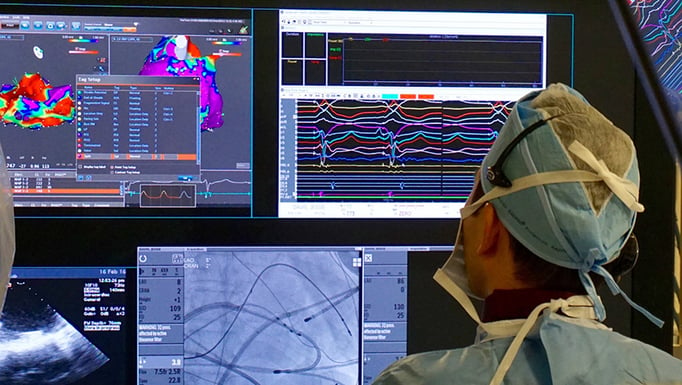 The University of Chicago Medicine opened a new treatment facility in September that will care for patients with life-threatening heart rhythm irregularities and other forms of cardiac disease.
The 1,500-square-foot Arrhythmia Technology Suite combines advanced treatment tools with a team of highly specialized clinicians dedicated to the care of patients with abnormal heart rhythms. It is the one of three electrophysiology laboratories, or EP labs, at the medical center's Hyde Park campus. The lab will provide additional space for clinical research projects as well as education projects for physicians and other health care providers.
Beyond the cutting-edge technology, however, the new suite has other distinguishing features. It is specifically designed to provide patients with a calming, comfortable experience with aesthetic elements such as an illuminated glow wall, wood paneled walls and a soothing color palette.
"We think of the Arrhythmia Technology Suite as our 'Lab of the Future,'" said Roderick Tung, MD, associate professor of medicine and medical director of the Center for Arrhythmia Care at the University of Chicago Medicine's Heart and Vascular Center. "It will allow us to provide exceptional care for patients in an environment that's virtually unparalleled."
The UChicago Medicine suite is designed around the Niobe ES remote navigation system by Stereotaxis Inc., which uses precise imaging and magnetic navigation to guide treatment tools safely through the body and into the precise region of the heart that the cardiologists intend to treat. The catheters are usually inserted through blood vessels in the wrist or groin.
UChicago Medicine is the lead site in the United States evaluating this new technology in patients suffering from ventricular tachycardia. Those patients have a heart that beats so rapidly more than 100 times a minute, even while they rest that it cannot refill fast enough to pump blood efficiently to the body. A smaller, previous study found that patients treated with the magnetically guided system had better long-term success than those treated using a manually guided system.
In the lab, Tung and his team will conduct research to help scientists determine, in part, whether magnetic guidance can help heart specialists gain better access to the difficult-to-reach, complex anatomy where ventricular tachycardia often originates. Tung is the US principal investigator for the Stereotaxis ventricular tachycardia trial.
The equipment lets physicians use magnetic force to gently pull catheters into place, making it easier to get into hard-to-reach locations, while also making it less likely to perforate the heart muscle. The magnetically guided system also exposes patients to less radiation, since it doesn't require as many X-rays during placement. Since physicians operate the device remotely, using a joy stick to guide the catheter tip in another room, they don't have to wear heavy, cumbersome lead shields during the procedures that can often last for up to eight hours.
"In a long complicated case, the avoidance of operator fatigue can make a difference," Tung said.
The robotic system can be used routinely for all types of ablation procedures, including atrial fibrillation, which is the most common arrhythmia worldwide in adults.
The new UChicago Medicine facility also includes a teaching space that allows physicians to view cases from an observation room. Community-based physicians who refer a patient to the arrhythmia team can watch the entire procedure in person or on video transmitted to a computer screen.
Other technologies in the suite are designed to make care safer for patients. They include:
The Rhythmia Mapping System, made by Boston Scientific, which uses closely spaced sensors to quickly chart electrical signals that regulate a heartbeat. These maps guide the team's efforts to reroute signals that are out of place, to restore a consistently efficient heart rhythm.
VantageView, by St. Jude Medical, which pulls together video, X-rays, other images and documents and presents up to eight images at once on a single, 58-inch computer screen.
The NAVX mapping system offers a new automated mapping capability with multi-electrode catheters and allows for visualization of any catheter in real-time to minimize fluoroscopy.
The CARTO Mapping System, made by Biosense Webster, supplies a new platform that allows for rapid automated mapping with multi-electrode catheters and real-time registration and integration with Stereotaxis.
"It has a high-tech, modern aesthetic that is warmed by custom accents that will feel more like a boutique, luxury hotel than a sterile hospital room," Tung said. "We have taken great care in the planning and design of every detail in this new lab. We want our patients to feel uplifted by the bright mood of LED lighting accents on the walls and ceiling that complements modular wall paneling."
Potential patients, or physicians with questions, can schedule appointments with the UChicago Medicine electrophysiology team by calling UCM Connect at 888-824-0200.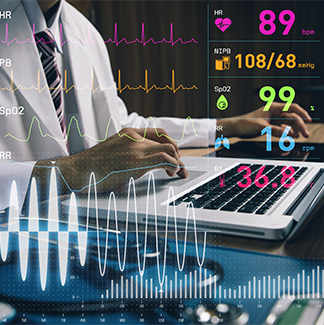 Arrhythmia Care
At the University of Chicago Medicine Center for Arrhythmia Care, we work with each patient to deliver high-quality, personalized care, whether you are seeking a first opinion for your condition or turning to us as a last resort.
Discover more about our arrhythmia program
Learn more about heart and vascular disease