Skip to content
​Cardiologist Angelo Scanu, MD, 1924-2018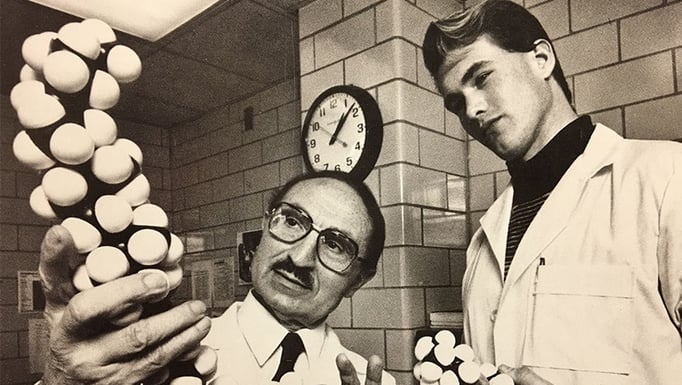 Physician-scientist Angelo M. Scanu, MD, a distinguished service professor emeritus of medicine and biochemistry at the University of Chicago Medicine and one of the world's leading authorities on a risk factor for heart and vascular disease, died after a fall at his home on Jan.12, 2018. He was 93.
Scanu, a renowned expert on lipoprotein(a), was the first to show that the structure of Lp(a) closely resembles plasminogen, an agent involved in dissolving blood clots. This 1987 discovery indicated that Lp(a) can compete with plasminogen, preventing the removal of clots. This led to blocked arteries and heart attacks.
A series of studies led by Scanu gradually persuaded heart and vascular specialists around the world that certain variants of Lp(a) were strongly associated with an increased risk of coronary artery disease. By 2009, more than 20 years after Scanu's team first described the mechanism, data from multiple studies were able to "support a causal role of Lp(a) lipoprotein in coronary disease," according to a study published in the New England Journal of Medicine.
"We discovered something that overnight made the field just go boom," Scanu said in 2009, when he was director of the University of Chicago Lipid Clinic. "It brought together the fields of cardiology and thrombosis."
About one out of six people inherit elevated levels of lipoprotein(a) in the blood. Those who carry specific variations of the Lp(a) gene are two to three times more likely to develop coronary artery disease than those with normal or low levels of Lp(a). The risk is higher still in patients prone to blood clots. There is currently no effective medication that can safely lower blood levels of Lp(a). Diet, exercise, and lifestyle modification have no direct impact.
Scanu's philosophy for treating patients with high levels of Lp(a) was to persuade them to, as he put it, "go around the iceberg." He taught patients how to "correct what is correctable." That meant appropriate balancing of diet and exercise, plus treatment with lipid-lowering agents when necessary.
"His groundbreaking research persuaded heart and vascular specialists around the world that certain variants of Lp(a) are strongly associated with an increased risk of coronary artery disease," stated Sandra Tremulis, founder of the Lipoprotein(a) Foundation, a patient advocacy non-profit organization.
"Dr. Scanu's research first describing the mechanism of action, enabled data from multiple subsequent studies to support a causal role of lipoprotein(a) in coronary disease. This data is paving the way for new therapies currently in development to help 20 percent of the global population living with or at risk of premature cardiovascular disease due to high Lp(a) levels."
Scanu was also known for previous research. In a classic paper, published in 1958 when he was at the Cleveland Clinic, he became the first to characterize the biochemistry of "good cholesterol," known as high-density lipoproteins.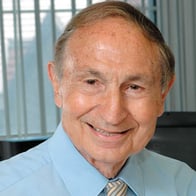 Angelo Maria Scanu was born Dec. 16, 1924 in Sassari, Italy. He earned his bachelor of science degree in 1943, at the age of 18, from the Scientific Lyceum in Sassari, followed by his medical degree from the Sassari University Medical School in June 1949. After completing his residency there in 1950, he did additional research at universities in Spain and Sweden before joining the faculty at the University of Naples in 1953.
In 1955, he was awarded a Fulbright Scholarship to study biochemistry in the United States, at the Cleveland Clinic, where he joined the staff. From 1959 to 1961, he worked as a biochemist at the Brookhaven National Laboratory.
When his work gradually shifted from animal models to humans, he began a second round of residency training in 1961 at the University of Chicago, so he could combine his laboratory research with caring for patients in the U.S. He joined the faculty at the University of Chicago as an assistant professor in 1963 and rose through the ranks to become a professor of medicine and biochemistry in 1970.
A prolific researcher, Scanu published more than 275 papers along with about 100 topic reviews or book chapters during his career. Most of this work focused on lipoproteins. He retired in 2011.
"He was always a pleasure to work with," said Celina Edelstein, a research associate who became his long-time laboratory colleague and subsequent domestic partner. "He was very serious when he went over the data. He saw things that most people would miss and came up with original ideas of how to understand the results."
Scanu received many honors and awards, include a Special Recognition Award from the American Heart Association. He held two patents, served on the editorial boards of eight journals, was a member of 10 study sections at the National Institutes of Health or the American Heart Association and took on multiple committee responsibilities for various health care organizations.
He is survived by his daughter, Gabriella Scanu, his son, Marco, and two grandsons, Niccolo and Matteo.
A memorial service in Bond Chapel, on the University of Chicago campus, is being arranged for April.
Learn more about heart and vascular disease