Skip to content
Cathryn Nagler recognized for outstanding contributions to immunology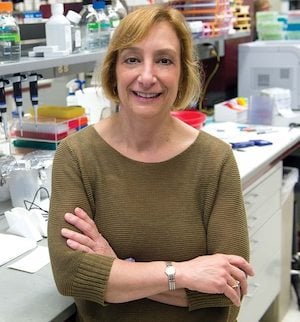 Over 30 years of research, Cathryn Nagler, PhD, says she's still as passionate about her work and the possibility of new discovery as she was when she started graduate school.
Nagler was one of the first to recognize the link between intestinal bacteria and the regulation of immunity, making the connection in 2004, long before "microbiome" was a household word. A leading immunology scholar, she is now working on developing microbiome-modulating therapeutics to prevent or treat food allergy.
For her groundbreaking work in the field of immunology, Nagler, the Bunning Family Professor in the Department of Pathology, Pritzker School of Molecular Engineering (PME) and the College, was recently selected as a distinguished fellow of the American Association of Immunologists (AAI).
The distinction recognizes AAI's active, long-term members (25 or more years) for exceptional careers and scientific contributions. Other recipients of the honor include Nobel laureates like David Baltimore, Susumu Tonegawa, and James P. Allison.
"The membership of the American Association of Immunologists (AAI) encompasses all of the broad field of immunology; this is my most valued peer group," said Nagler. "Recognition as a Distinguished Fellow by my peers in the AAI is therefore enormously gratifying."
"Cathy's exceptional research on the immune system and her contributions to the American Association of Immunologists make this honor well-deserved," said Matthew Tirrell, dean of Pritzker Molecular Engineering. "By leveraging her research to address issues like rising rates of life-threatening allergic responses, she has helped improve the lives of many affected by this issue."
Nagler is co-founder and president of the startup company ClostraBio, Inc., which is dedicated to understanding and treating food allergies and other diseases of the immune system. Over the next ten years Nagler expects ClostraBio, Inc. to be testing multiple microbiome-modulating drugs in clinical trials to treat or prevent food allergy, a disease which now affects 32 million Americans.
"I want the development of a drug to treat food allergy to be the capstone project of my career," said Nagler. "In developing this drug, I want to fully understand the mechanisms by which bacteria regulate allergic responses to food."
Nagler's other recent honors include receiving the Distinguished Faculty Award for Leader in Program Innovation from the University of Chicago in 2017, the American Academy of Allergy, Asthma and Immunology (AAAAI) Foundation and Louis M. Mendelson Award Lectureship, and the Siegel Lectureship at University of California, Los Angeles. She was also listed among Crain's Tech Top 50 Women in 2018and Crain's Notable Women in Healthcare in 2019.
Nagler says the AAI has always played an important role in her professional career, and that she will continue to be actively involved in supporting the society and its activities. She is currently deputy editor of the society's journal, The Journal of Immunology, and teaches in the AAI's Advanced Course in Immunology.
Article originally published by the Pritzker School of Molecular Engineering.
News from UChicago Medicine