Skip to content
Why some foods can help treat the nation's most common chronic liver disease
Medical providers preach about the importance of a healthy diet. But nutrition isn't always one-size-fits-all. For patients with fatty liver disease, a disorder that affects about 100 million Americans and can lead to cirrhosis and cancer, the best dietary advice may sound unusual. UChicago Medicine registered dietitian and nutritionist Annie Guinane, RD, LDN, CNSC, who works at the academic medical center's Metabolic and Fatty Liver Disease Clinic, explains what people with the country's most common chronic liver condition need to know.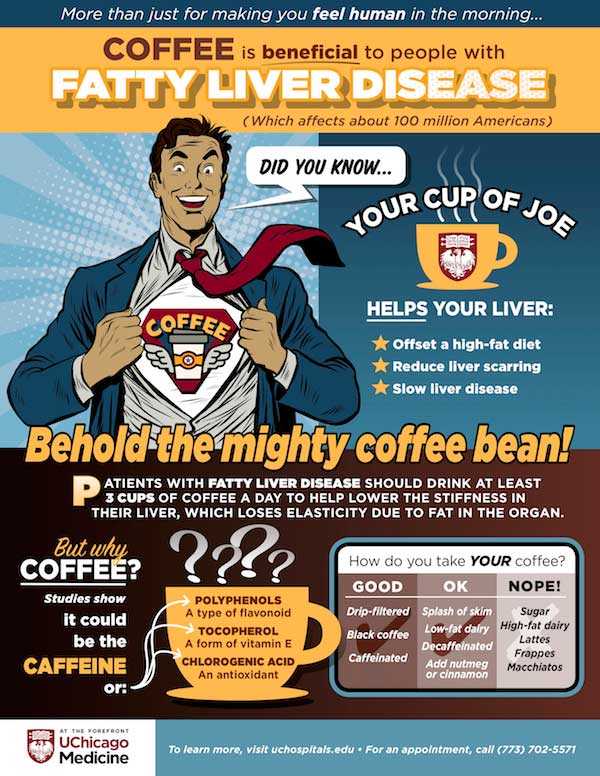 Why is diet and nutrition so important for patients with fatty liver disease?
According to the American Liver Foundation, there are no medical treatments – yet – for non-alcoholic fatty liver disease. So that means that eating a healthy diet and exercising regularly are the best ways to both prevent liver damage from starting or reversing it once it's in the early stages. We know people don't want to feel like they're on a "diet," so we work really hard with our patients to help them focus on lifestyle changes instead, which includes a healthy diet, exercise and getting a lot of quality sleep.
What are your diet recommendations for patients with fatty liver disease?
They might surprise you. We recommend patients with non-alcoholic fatty liver disease drink three cups of coffee per day, eat four tablespoons of olive oil a day and follow a Mediterranean diet, which emphasizes eating primarily plant-based foods and healthy fats.
How do these recommendations differ from general nutrition recommendations around a balanced diet?
They don't! The Mediterranean diet is everything you would expect a dietitian to recommend – more fruits and veggies, more whole grains, more nuts and legumes, lean meats, less red meat and less sweets/added sugars.
What surprises patients the most when you give them this advice?
People usually can't believe we're asking them to add more food like coffee and olive oil to their diet, rather than restrict items or cut things out. I think it's a welcome change for a lot of people!
What's the hardest part of the diet for people?
Adapting a Mediterranean diet is hard for patients because we are surrounded by convenience foods and junk on a daily basis. This diet is focused.
Why is it important that a dietitian help patients with fatty liver disease?
A key role the dietitian plays is individualizing the nutrition plan for each patient. Every patient is unique and everyone has different needs. It is important for patients to be able to sit down and learn about the benefits of the recommended diet and ask questions. Then they can set realistic and attainable goals with a nutrition expert, rather than something that sets them up to fail.
You recommend coffee and olive oil and the Mediterranean diet. Are the recommendations for fatty liver patients more accessible than other diets? Are they just good practice anyway?
The Mediterranean diet is a well-known diet that gained popularity in the 1990s, known more as an eating pattern rather than a structured diet. It emphasizes eating fruits, veggies, whole grains, beans, nuts, legumes, olive oil, and flavorful herbs and spices; fish and seafood at least a couple of times a week; and poultry, eggs, cheese and yogurt in moderation, while saving sweets and red meat for special occasions. In addition to being good for people with non-alcoholic fatty liver disease, the Mediterranean diet has been associated with a decreased risk of heart disease, and it's also been shown to reduce blood pressure and bad LDL cholesterol. And it can be in line with the American Diabetes Association's nutrition guidance. That's important because both heart disease and diabetes are strongly associated risk factors for fatty liver disease.
Fatty Liver Q&A with a World-Renowned Expert
Dr. Michael Charlton answers questions about fatty liver disease. Listed among "America's Top Doctors" and "Best Doctors in America," he has particular expertise in the diagnosis, treatment and management of nonalcoholic fatty liver disease.
Read Dr. Charlton's fatty liver disease Q&A
Gastroenterology Related Articles