Skip to content
Surviving COVID-19 and a ventilator: One patient's story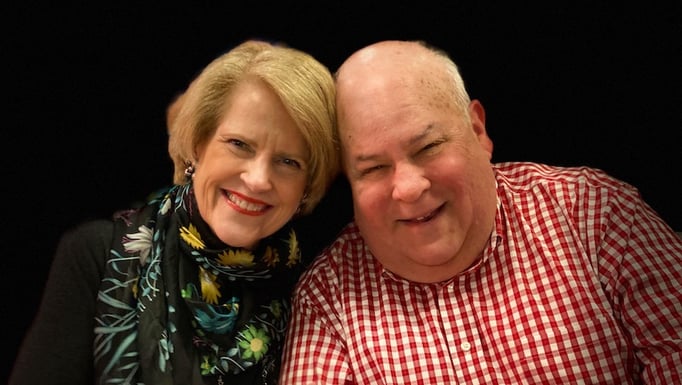 Julie and John Leanse
Retired property manager John Leanse never expected that struggling to breathe would separate him so immediately and frighteningly from his wife of 34 years, Julie.
The 68-year-old had been coughing and increasingly short of breath for roughly a week when his wife finally convinced him to go to the hospital on March 26. Now, moments after being dropped off at the University of Chicago Medicine Emergency Department – with Julie still parking their car – doctors asked if he would agree to be sedated and put on a ventilator. He had minutes to decide.
"When you're faced with a decision like that, it's tough," recalled John quietly from his home in Chicago's South Loop.
For the most serious COVID-19 cases in which patients are not getting enough oxygen, doctors may use ventilators to help a person breathe. Patients are sedated, and a tube inserted into their trachea is then connected to a machine that pumps oxygen into their lungs.
But although ventilators save lives, a sobering reality has emerged during the COVID-19 pandemic: many intubated patients do not survive, and recent research suggests the odds worsen the older and sicker the patient.
John called his wife, who urged him to follow the doctors' recommendation. He doesn't remember much else, until coming off the ventilator four days later.
"He tested positive for COVID-19 and was pretty sick with all of the issues COVID-19 patients have, like difficulty breathing and maintaining oxygen in his blood," said Ari Leonhard, MD, one of John's physicians and an internal medicine resident who has been treating COVID-19 patients since the pandemic began.
What followed was a nine-day roller coaster of events. Researchers have yet to find an effective treatment for COVID-19, and at the time of John's hospitalization – relatively early in the spread of the disease in Chicago – doctors were trying ventilators, hydroxychloroquine and an HIV antiviral drug called lopinavir-ritonavir for the sickest patients.
John was treated with all three.
Shortly after he was intubated, John's blood pressure and heart rate began to drop. Doctors were able to stabilize his heart, but tests then revealed that his kidneys weren't working well.
"The major complication of COVID-19 is pneumonia and respiratory problems, but we're also commonly seeing acute kidney injury," said Samantha Gunning, MD, a nephrologist who also treated John.
Doctors still aren't sure why this happens, but theorize the kidney damage may be caused by the virus itself, or by organ oxygen deprivation or inflammation created by the body's own immune response.
Meanwhile, Julie waited anxiously at home, unable to visit John because of the highly contagious nature of COVID-19. She stayed in contact with John's doctors over the phone and through video chats, and called her sisters and brother-in-law for support.
"You live through 'Am I going to be planning a funeral, am I going to live as a widow, or will he be okay?'" said Julie, who managed UChicago Medicine's hematology laboratory for 27 years before she retired. "All of those things passed through my mind."
John's kidney function eventually recovered, but he also suffered from blood clots, another complication related to the virus. He was treated with blood-thinning medication for a clot in his upper arm.
"It was a tough road," John said.
On March 30, he had recovered enough to breathe without the help of the tube in his windpipe. Finally able to speak, he used humor to cope with the stress of illness and being isolated from his family.
"He had a really good way of discussing non-hospital and non-COVID-19 related things," Leonhard said.
John was eventually discharged from the hospital on April 4, and is relieved to be home and to have survived COVID-19 and being on a ventilator.
"You hear stories on TV about people who didn't make it – I feel really fortunate, and I'm grateful to the team that took care of me," he said.
Since his recovery, UChicago Medicine doctors have had remarkable success in keeping many patients off ventilators by using high-flow nasal cannulas (tubes that deliver oxygen through the nose), but ventilators are still a critical tool for treating the sickest COVID-19 patients. Studies, however, have questioned the effectiveness of both hydroxychloroquine and lopinavir-ritonavir.
"Hopefully we'll soon learn more about other COVID-19 medications, like remdesivir, which has shown promise," said Leonhard. "Currently, the best thing we can do for these patients is to provide excellent critical care when they're in the ICU, followed by excellent general medicine care."
Learn More About COVID-19