Skip to content
Protecting children at risk during the pandemic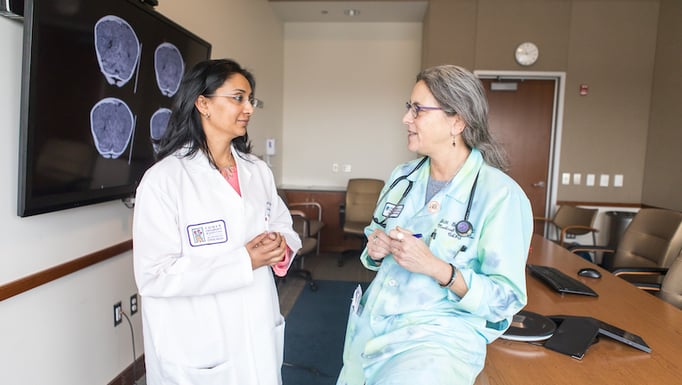 Child abuse pediatricians Veena Ramaiah, MD, left, and Jill C. Glick, MD, Medical Director of Child Advocacy and Protective Services at the University of Chicago Medicine Comer Children's Hospital
The COVID-19 pandemic has laid bare so many of our nation's vulnerabilities.
Across the country, social isolation to stem the spread of the novel coronavirus has sparked a rise in mental health crises, interpersonal violence and, in Chicago, ongoing gun violence. An unfortunate consequence of the necessary stay-at-home orders is the tearing of a social safety net that many families depend on — friends, relatives and others who offer help and guidance.
What happens when that safety net is taken away? What is the consequence of being isolated from those who support you?
For some children, sheltering at home is not a safe environment. Enforced isolation and fear of COVID-19 could keep those without a voice vulnerable and unprotected.
As a child abuse pediatrician and a pediatric emergency medicine physician, I worry about children living in emotionally and financially stressed households. Research has shown that physical abuse and neglect can increase during tough times.
At the University of Chicago Medicine Comer Children's Hospital, the number of child abuse consults has decreased. In Illinois, DCFS hotline calls are down by over 40%. But while Comer's pediatric emergency room volumes are also down by 50%, patients' acuity has increased. Less severe accidental injury presentations have also decreased. It is not known why both accidental and abusive injury presentations have decreased. To be reassured by that is risky. It is possible there is less injury but it is more likely children are being kept at home unless their injuries are too severe to ignore. Children with only bruising are not being seen by family, friends, and mandated reporters so it is easier to keep hidden. They do need protection.
In Illinois, school and social services personnel account for 57% of reports to the state Department of Children and Family Services hotline. But we don't have as many community eyes and ears — teachers, counselors, home healthcare providers — accessible to children. Abuse reports will almost certainly go up when children return to daycare and school.
According to the National Child Abuse and Neglect Data System, there were 2.4 million child abuse and neglect investigations in 2018. Of that number, about 678,000 children were found to have been abused or neglected, with the highest rate of victimization among children under 1. And sadly, 5 children die every day in America from abuse and neglect.
The number one trigger for physical abuse is corporal punishment. Isolation and stress can lower adults' tolerance for frustration, which can more easily escalate to violence. In infants, the number one trigger for abusive head trauma is crying.
In Illinois, pediatricians fear that sexual abuse will rise significantly. Nationally, the organization that runs the National Sexual Assault Hotline reported that March saw a 22% increase in the number of calls coming from children under 18. And 79% of them said they were living with their abuser.
In spite of many uncertainties, we can and must be proactive.
If you know a family with young children at home, here are some suggestions to support them:
Check in. Ask how they are doing and let them express their frustrations.
Encourage self-care – this is difficult with shelter-at home orders but encourage parents to find safe ways to take a break.
Connect with children remotely — it can provide a distraction for restless kid.
If able, offer help with tasks that do not involve contact such as dropping off groceries.
Teachers and medical providers seeing children virtually can do the following:
Ask children how they are doing and how things are going at home now.
If it is possible to speak with them privately, ask if they feel safe at home.
If you are concerned about a child being abused or neglected, please call the Illinois Department of Children and Family Services Hotline at 1-800-25-ABUSE (1-800-252-2873).
Parents and other caregivers, reach out if you need support.
Stay connected to family members and friends by phone, social media, video calls.
Call your pediatrician, even if the office is temporarily closed to on-site visits. On-call staff will respond and many are offering telemedicine visits.
Hospital emergency rooms remain open, especially to those in crisis.
If you feel your frustration building, put your child in a safe space and walk to another room for a few minutes to take a deep breath.
Never hit or shake a child.
You can find coping tips on the websites of various organizations, including the American Academy of Pediatrics' healthychildren.org.
The time will come when the pandemic will ease, shelter-at-home orders will end and families will emerge from their isolation. Life will return to normal, or as normal as it can be.
In the meantime, let's support parents and children. We can call, listen, educate, intervene and protect. In fact, we must.
Support UChicago Medicine's COVID-19 Response Funds
Help support our dedicated healthcare workers on the frontlines of the COVID-19 pandemic, as well as the patients and families who are affected.
Donate Now
Learn More About COVID-19