Skip to content
Protecting children at risk during the pandemic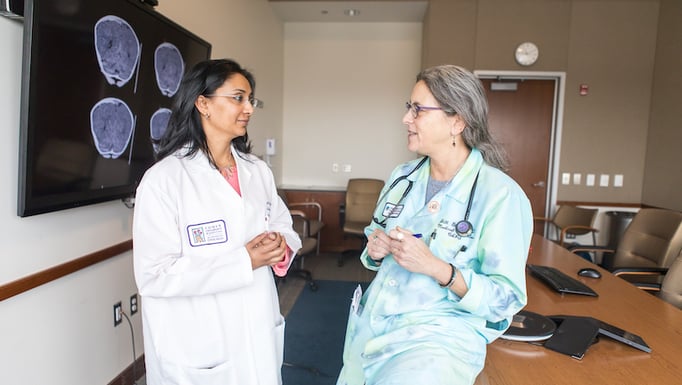 Child abuse pediatricians Veena Ramaiah, MD, left, and Jill C. Glick, MD, Medical Director of Child Advocacy and Protective Services at the University of Chicago Medicine Comer Children's Hospital
Over the past year, the COVID-19 pandemic has laid bare so many of our nation's vulnerabilities.
Across the country, social isolation to curb the spread of the novel coronavirus has sparked a rise in mental health crises, intimate partner violence and, in Chicago, ongoing gun violence. An unfortunate consequence of the necessary stay-at-home orders is the tearing of a social safety net that many families depend on: friends, relatives, and others who offer help, guidance, and safety for children.
What happens when that safety net is taken away? What are the consequences of being isolated from those who support you?
For some children, sheltering at home is not a safe environment. Enforced isolation and fear of COVID-19 could keep those without a voice vulnerable and unprotected. Studies are emerging showing the impact of Covid, isolation, and financial hardship on child maltreatment.
As a child abuse pediatrician and a pediatric emergency medicine physician, I worried about children living in emotionally and financially stressed households. Research has shown that physical abuse and neglect can increase during tough times.
At the University of Chicago Medicine Comer Children's Hospital, the number of child abuse consults initially decreased in the early months of the pandemic, but by summer, consultations to the Child Advocacy and Protective Services (CAPS) team had returned to pre-Covid levels. In Illinois, DCFS hotline calls were initially down by 40 percent. However, the reporting numbers are slowly rising as more families and children are emerging from isolation.
There have been about 130,000 reports to the DCFS hotline so far in fiscal year 2021.
If this trend continues, reporting will still be down by 20% by the end of the year. We could be falsely reassured that abuse and neglect have decreased, but it is far likelier that abuse and neglect are going unrecognized and unreported.
In Illinois, school and social services personnel account for 57% of reports to the state Department of Children and Family Services hotline. Remote learning has removed those extra sets of eyes that might detect signs of abuse or neglect. Abuse and neglect reports will almost certainly go up when children return to daycare and school.
According to the National Child Abuse and Neglect Data System, there were 2.37 million abuse and neglect investigations in 2019. Of that number, about 656,000 children were found to have been abused or neglected, with the highest rate of victimization among children under 1 year of age. In 2019, 1840 fatalities were due to abuse or neglect – about five children died each day.
In Illinois, pediatricians feared that sexual abuse would rise significantly and go unreported. We were horrified, but not surprised, to see sexual abuse caught on virtual learning.
In spite of many uncertainties, we can and must be proactive.
If you know a family with young children at home, here are some suggestions to support them as life slowly returns to normal:
Check in. Ask how they are doing, and let them express their frustrations.
Encourage self-care. This is difficult during a pandemic when childcare resources are limited, but it empowers parents to find safe ways to take a break.
Connect with children remotely. This can provide a distraction for restless kids.
If able, offer help with tasks that minimize unsafe contact, such as dropping off groceries or other necessities.
Teachers and medical providers seeing children virtually can do the following:
Ask children how they are doing and how things are going at home now.
If it is possible to speak with them privately, ask children if they feel safe at home.
If you are concerned about a child being abused or neglected, call the Illinois Department of Children and Family Services Hotline at 1-800-25-ABUSE (1-800-252-2873).
Parents and other caregivers, reach out if you need support:
Stay connected with family members and friends by phone, social media, and video calls.
Call your pediatrician, even if the office is temporarily closed to on-site visits. On-call staff will respond, and many are offering telemedicine visits.
Hospital emergency rooms remain open, especially to those in crisis.
If you feel your frustration building, put your child in a safe space, and walk to another room for a few minutes to take a deep breath.
You can find coping tips on the websites of various organizations, including the American Academy of Pediatrics' healthychildren.org.
April is Child Abuse Prevention month. In a year where nothing has been or seemed normal, some things never change, such as common triggers of abusive events. Prevention efforts include the following:
As vaccination continues, the pandemic will ease, shelter-at-home orders will end, and families will emerge from their isolation. Life will return to normal, or as normal as it can be.
In the meantime, let us do our best to support parents and children. We can call, listen, educate, intervene and protect. In fact, we must.
Learn More About COVID-19