Skip to content
The COVID-19 emergency declaration is ending. What does it mean for you?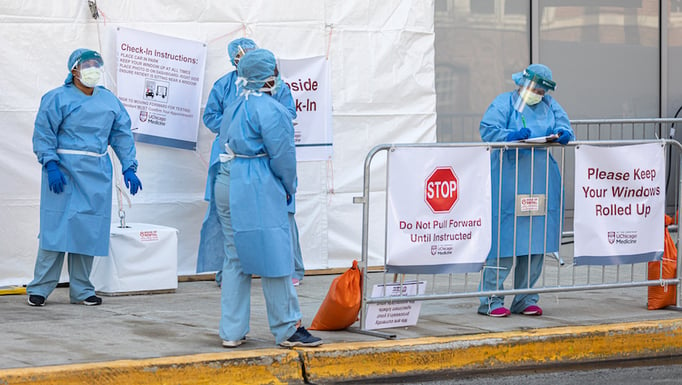 COVID-19 testing sites and labs were set up across the academic health system system for in-clinic, curbside and walk-in patients.
On May 11, the U.S. government will lift the national emergency and public health emergency declarations set in place in 2020 in response to the COVID-19 pandemic.
In a crisis, the government can access funds and take steps to deal with an outbreak. During the pandemic, the government provided free COVID-19 vaccines, booster shots, tests and other healthcare measures nationwide. Now, these measures are ending, impacting how some people receive care.
"I think people will be surprised and disappointed when they learn that the care they've relied on the last few years will suddenly be taken away," said Emily Landon, MD, Associate Professor of Medicine at the University of Chicago and Executive Medical Director of Infection Prevention and Control at the University of Chicago Medicine.
"Tools will still be available, but the way we pay for and access them will change significantly," Landon said.
What will change?
The end of the declarations will affect everything from Medicaid enrollment and telehealth to COVID-19 vaccinations and treatment costs. Here are some changes to expect, as reported by the U.S. Department of Health and Human Services (HHS) and the Kaiser Family Foundation (KFF):
COVID-19 vaccines and tests: Privately insured individuals will continue to have access to free COVID vaccines, booster shots and perhaps free tests. Yet private insurers may only pick up the tab for at-home tests from a smaller group of in-network providers. Individuals will need to check with their insurers to confirm their coverage for vaccines and tests after May 11.
Medicare and Medicaid patients will continue to receive free vaccines. Medicare Part B and Medicaid patients also will still receive free tests if ordered by a doctor. However, at-home tests will be subject to cost-sharing, and amounts will vary by state for Medicaid patients.

Uninsured patients will no longer have access to the free vaccines made available through expanded Medicaid funding. The government may still provide the uninsured with access to at-home tests, depending on national supply and resources.

COVID-19 treatments: Coverage and cost-sharing of treatments for individuals with private insurance will vary depending on their policy. Check with your provider for specifics.
Individuals on Medicare Part D will have full coverage of antiviral treatments until federal supplies run out. Then cost-sharing will apply.
Medicaid will continue to provide full coverage of treatments through September 30, 2024. The amount of cost-sharing will then vary by state.

Telehealth: Some telehealth benefits for Medicaid patients will continue after May 11, including mental health and substance abuse services. Services and coverage for Medicare patients will vary by state.
Individuals with private insurance will need to check with their provider to see if their telehealth benefits will change, as access will depend on state laws and insurance company policies.

Medicaid enrollment: During the pandemic, individuals were continuously reenrolled in Medicaid and states were barred from denying people enrollment. Now, Medicaid patients must self-renew and states regain the right to disenroll individuals who do not meet eligibility requirements.
COVID-19 reporting: States will no longer be required to report COVID-19 data, including infection rates and deaths, to the Centers for Disease Control and Prevention (CDC). This will make it more difficult to track the disease at the national level and identify and respond to surges. The CDC has asked that states continue voluntarily to provide this information. It's likely not all will comply.
"These changes have the biggest impact on our most vulnerable patients and compound the disparities that already exist in our healthcare system," said Landon. "It remains to be seen what removing these safety nets will mean for controlling future outbreaks of the disease."
Why now?
With all the uncertainties surrounding removal of the designations, it's appropriate to wonder why they're being lifted now.
Circumstances have changed dramatically since the federal government declared a public health emergency in January 2020 and a national emergency in March 2020. According to HHS, daily reported COVID-19 cases are down 92% and COVID-19 deaths and new hospitalizations have declined 80%.
"We're not in the same situation we were in three years ago and it's appropriate to evolve over time," said Landon. "We are moving now from an emergency state to a sustainability state. People will have to learn the new policies and procedures for living in a world with COVID."
How can I stay safe?
While access to/payment for COVID vaccines and treatments are changing, recommendations for avoiding infection and minimizing transmission remain the same:
Avoid close contact with those who feel sick
Get tested if you have symptoms and stay home if you feel ill
Cover your nose and mouth when you cough or sneeze
Wash hands frequently
Stay up to date on vaccines and booster shots
Wear a mask if you test positive for COVID, and wear one indoors if you're at high risk for severe disease
"It's important to remember that the end of the public health emergency doesn't mean that COVID is over or that it's any less risky on May 12 than on May 11," Landon said.
"People, especially those who are higher-risk for severe disease, will need to continue to take steps to protect themselves and minimize the rate of transmission."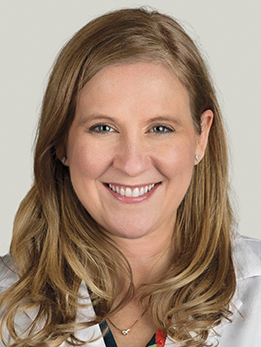 Emily Landon, MD
Dr. Emily Landon specializes in infectious disease, and serves as Executive Medical Director for infection prevention and control.
Learn more about Dr. Landon.
Learn More About COVID-19