Skip to content
AMA recognizes University of Chicago Medicine trainees for making an impact during COVID-19 pandemic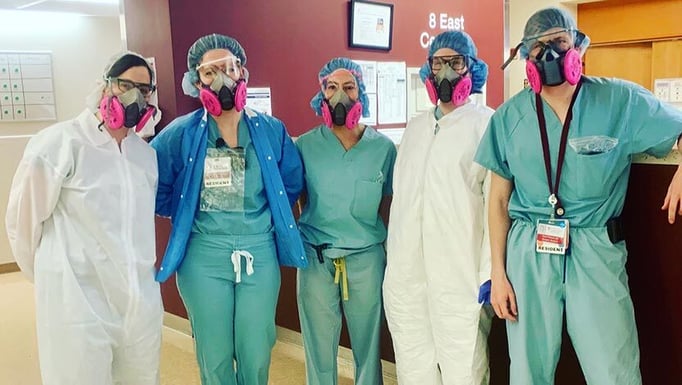 Valerie Press, MD, MPH, Associate Professor of Medicine, left, and residents Alexandra Rojek, MD, Jori Sheade, MD, Albina Tyker, MD, and Kevin Prescott, MD.
When COVID-19 caused significant disruptions in medical education, both in the classroom and in clinical settings, University of Chicago medical students, residents and fellows moved quickly to contribute to the pandemic response.

The American Medical Association launched the 2020 Health Systems Science Student, Resident and Fellow Impact Challenge to acknowledge meaningful activities designed and led by trainees with respect to COVID-19. Eight UChicago projects — the most submissions by any institution — were accepted for recognition in the national competition.
"Given how challenging the pandemic has been for medical trainees, I am particularly proud of the great work of so many of our students, residents and fellows," said Vineet Arora, MD, AM'03, Associate Chief Medical Officer for Clinical Learning Environment. "They persevered and supported innovations in medical education healthcare delivery that benefited patients and the community."
COVID-19 TRAINEE-LED EDUCATIONAL SUPPORT TEAM
Project lead: Gena Lenti, MS4
Project
Medical students, residents and infectious disease fellows collected COVID-19-related queries from busy clinicians on the front lines. With the assistance of hospital librarians, the trainees conducted real-time literature searches on the topics and quickly provided critical, synthesized reviews of the newest findings to the providers.
Impact
The 325 scholarly articles summarized between March and May 2020 helped guide physicians in their clinical decision-making during the rapid onset of the pandemic. The success of the project led to the creation of an elective class for a second cohort of students.
INTERNAL MEDICINE RESIDENCY COVID UNITS
Project lead: Alexandra Rojek, MD, PGY-2 Internal Medicine
Project
Internal medicine residents staffed the new COVID-19 inpatient service on a volunteer basis, improving quality and efficiency of care and implementing evidence-based data as the pandemic evolved. As the primary care providers in the COVID-19 ICUs, they worked to conserve PPE, adapt resuscitation protocols and champion the use of helmet ventilators.
Impact
The residents became key stakeholders in the COVID-19 cohort units, serving as mentors to the faculty and fellows. They contributed ideas for staffing structure and patient care when very little information was available about pathophysiology, infectious risk and recommended treatments for these patients.
A NOVEL TELEHEALTH FOLLOW-UP PROGRAM FOR AMBULATORY COVID-19 PATIENTS SHOWS THE POTENTIAL TO IMPROVE PATIENT CARE AND MEDICAL EDUCATION
Project lead: Sophia Uddin, MS4
Project
Medical students phoned COVID-19 patients recovering at home to monitor symptoms, identify unmet needs and provide education. The students provided clinical, social and emotional assistance to patients during a time of limited access to health care.
Impact
This novel telehealth program supported and triaged more than 400 ambulatory patients and had special applicability in low-resource settings. The students learned important clinical skills during a time when their in-hospital learning education had been paused.
IMPLEMENTATION OF THE H&P360 WITHIN A NOVEL COVID-19 TELEHEALTH SERVICE
Project lead: Ramya Parameswaran, MSTP
Project
Medical student volunteers implemented H&P360 — a history and physical with a biopsychosocial framework — in a telehealth setting for COVID-19 patients. The effort sought to engage patients in co-managing their health and assess the psychosocial factors impacting their ability to do so.
Impact
Students found the adapted H&P360 framework increased understanding of patient goals, facilitated deeper relationships with patients and informed care plans.
TELEMEDICINE DURING COVID-19: CLINICIAN PERSPECTIVES IN PRIMARY CARE
Project Lead: Zi-Yi Choo, MS2
Project
To improve the clinician, trainee and patient telemedicine experience, project members surveyed primary care clinicians to elucidate overall perceptions of telemedicine, identify benefits and barriers, and define training and support needs.
Impact
The team developed training for faculty and students on telemedicine best practices and virtual workflows to support medical education during social distancing.
IMPROVING MULTIDISCIPLINARY ROUNDS IN THE ERA OF COVID-19
Project Lead: Anup Das, MD, PhD; PGY-3 Internal Medicine
Project
Given the need for physical distancing, multidisciplinary rounds (MDR) were transitioned to a virtual format. This added barriers to the succinct communications necessary for a team-based approach.
Impact
The project team implemented a standard structure and process for Zoom MDRs with the goal of improving effectiveness while maintaining high-quality patient care.
MD/APP-IN-ROOM: LEVERAGING TECHNOLOGY TO PROMOTE A SOCIALLY DISTANCED TOUCH BASE DURING THE COVID-19 PANDEMIC
Project Lead: Chase Corvin, MD, MBA, PGY-2, General Surgery
Project
The team adapted existing technology in patient rooms to facilitate effective interprofessional communication while maintaining social distancing and preserving PPE.
Impact
Using touchscreen communication consoles, rounding physicians signaled nursing when the team arrived at the bedside. The ongoing project aims to more efficiently provide treatment, decrease discharge delays and demonstrate effective teamwork to patients.
COMMUNITY-BASED ONLINE APPROACH TO PROVIDING HEALTH EDUCATION TO NON-ENGLISH SPEAKERS DURING THE COVID-19 PANDEMIC
Project lead: Amanda Zhang, MS4
Project
Student leaders at the Bridgeport Free Clinic implemented an online initiative to link patients to COVID-19 resources. Question and answer sessions with UChicago Medicine experts and a support group on a social media platform provided education to Chicago's Chinese-speaking community.
Impact
The 22 informational videos received more than 5,000 views and the support group grew to 500 members. Partnerships with other community-based organizations helped broadcast the videos and other content across the country.
Faculty mentors for the AMA's 2020 Health Systems Science Student, Resident and Fellow Impact Challenge included: Vineet Arora, MD; Julie Oyler, MD; Anita Blanchard, MD; Jonathan Lio, MD; Joyce Tang, MD; Maria Alcocer Alkureishi, MD; Wei Wei Lee, MD, MPH; and Karen Kim, MD.
Learn More About COVID-19