Skip to content
Meet Kovler Diabetes Center's first social worker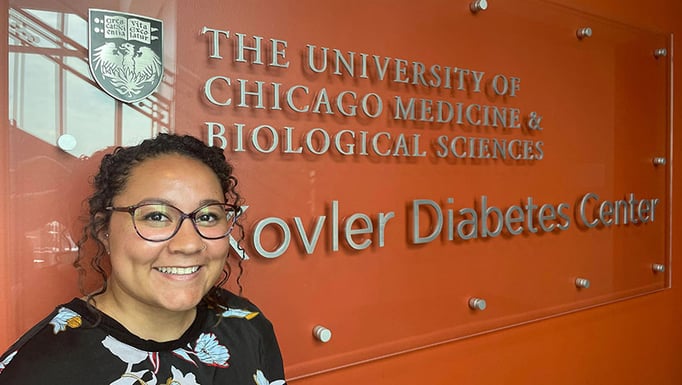 Taylor Mills, MSW, LSW
The Boyle Family Foundation has given the Kovler Diabetes Center a powerful new resource for helping our patients live well with diabetes and avoid complications: our first-ever social worker.
On June 1, 2021, Taylor Mills, MSW, LSW, began her work as the first social worker embedded within the Kovler Diabetes Center. Her role will be crucial. She will work with patients to address challenges like limited finances, lack of access to healthy food, and transportation issues that are preventing them from reaching their diabetes goals. She will help them enroll in MyChart to enable better communication with doctors, make sure they are seeing a diabetes educator, and enable them to access diabetes technologies.
"It will be really important to focus on patients who are having difficulty with adhering to treatment regimens — trying to find out the root causes in order to help them thrive with their chronic illness," Mills said. She also hopes to lay a foundation for a transition program to empower children and teenagers to take on more responsibility for their care as they become young adults.
Until now, our patients had access to social work services only when they were in the hospital or in the throes of an emergency. But a generous gift from the Boyle Family Foundation has provided the center with our own social worker to address the everyday challenges of living with diabetes.
It is a more proactive approach, says Peggy Hasenauer, executive director of the Kovler Diabetes Center — one focused on preventing crises instead of responding to them.
"We are moving toward a place in healthcare where diabetes is really an outpatient care model," Hasenauer said. "Most patients with diabetes need to be cared for and supported while they're at home and in between clinic visits. We're trying to help people manage the complexities of not just diabetes, but their daily lives and other conditions they have. The goal is to keep them out of the hospital."
Taylor Mills is working with patients to address challenges like limited finances, lack of access to healthy food, and transportation issues that are preventing them from reaching their diabetes goals.
Mills, who previously worked with hematology/oncology patients at Loyola University Medical Center, is thrilled to come to Kovler.
"It's been my dream to work with chronic illness, especially covering everything from pediatrics to adults," she said. "I am really honored to be a part of this team."
She knows what it's like to have a chronic condition. She has one herself — hemophilia A, a bleeding disorder that requires lifelong management — and is co-director of a summer camp for children with bleeding disorders.
"It's important to give people the resources to become more independent and advocate for themselves when they need to," Mills said. "That shows people that they have control over what they do — that they can do anything. That sense of empowerment is really important when it comes to a chronic illness."
Mills will partner with patients, physicians, and health and wellness team members such as diabetes educators, who are often the ones who hear, for example, that a patient stopped taking their medication because they couldn't afford it.
"There are a lot of affordability opportunities for patients, but they don't always have access to or knowledge about them," Hasenauer said.
Thanks to the center's new social worker, patients will have solutions to that problem, and many others, now.
Kovler Diabetes Center
UChicago Medicine offers a patient-centered, science-based approach for managing insulin-dependent Type 1 diabetes, complex Type 2 diabetes, gestational, pre-diabetes and monogenic diabetes.
Learn more about our expertise.