Skip to content
Making History Today: Dr. Kunle Odunsi
I think having role models is so critical for everyone. And from my own personal experience, I had role models, I had mentors that allowed me to navigate my career path. So I see myself as a role model, as well as someone who is willing to mentor and help other folks along the pipeline. I think it's very critical to identify role models very early on. And the more we can build a community of underrepresented minorities who are successful in science, in medicine, in cancer research, the more we can create more role models that will help build the pipeline.
When Kunle Odunsi, MD, PhD, joined the University of Chicago Medicine Comprehensive Cancer Center in March 2021, he made history as only the second Black director of a National Cancer Institute-designated Cancer Center in the 50 years since the National Cancer Act established the country's cancer centers program.
It was a major milestone in the history of U.S. Cancer Centers, in which UChicago Medicine has made its own mark as one of only two institutions in Illinois and 51 in the United States that the National Cancer Institute has designated as "comprehensive" for its innovative research and leading-edge treatments.
"For me, personally, this moment is a call to action to further address the challenges that we face in diversifying the cancer workforce and to address the challenges of cancer health equity and disparities — especially in our local community," said Odunsi, a nationally recognized physician-scientist. "It is with the highest sense of responsibility, dedication and humility that I take on the mantle."
Odunsi will play a leadership role in UChicago Medicine's recently announced plans for the city's first freestanding facility dedicated to cancer care and research. The $633 million, 500,000-square-foot cancer facility is scheduled to open to patients in 2026. Read more about the proposed cancer center.
Looking ahead, Odunsi is on a mission to further integrate UChicago's world-renowned cancer research with state-of-the-art treatments and build on its record of community outreach and education. He also hopes to make a lasting impact on what the next generation of scientists and physicians looks like.
"I would like to serve as a role model to young Black people who are interested in science from the earliest stages," Odunsi said. "We plan to further bolster our cancer research training and education activities to span all stages from elementary to graduate school, with a significant focus on underrepresented populations, especially those coming from our community."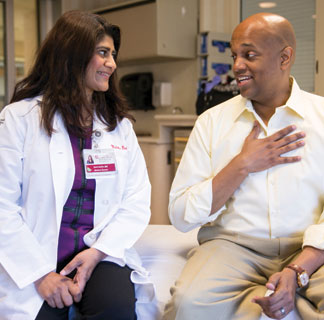 UChicago Medicine Comprehensive Cancer Center
UChicago Medicine is designated as a Comprehensive Cancer Center by the National Cancer Institute, the most prestigious recognition possible for a cancer institution. We have more than 200 physicians and scientists dedicated to defeating cancer.
Learn More About the Comprehensive Cancer Center
Community Outreach and Health Equity Articles