Skip to content
Study: CommunityRx helps patients gain confidence to find, navigate nearby health resources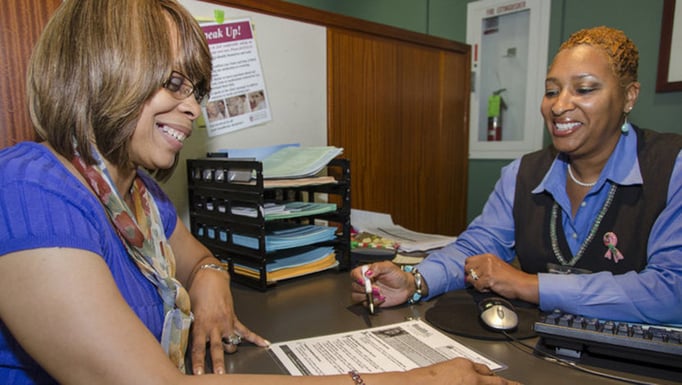 New research from the University of Chicago Medicine shows patients gain confidence in finding health resources in their community when exposed to an automated community resource referral information system called CommunityRx.
The data, published Feb. 21 in the American Journal of Public Health, suggest the program may have a role in improving public health. A second case study, published June 10 in the Journal of the American Medical Informatics Association also showed how the program can be used to help patients sign up for relevant research studies.

In this study, CommunityRx was used to automatically generate a personalized "e-prescription" called a HealtheRx for patients who visited a primary care clinic or the emergency department. By digitally reading information about the patient in the electronic medical record, CommunityRx connects patients with nearby community resources matched to their health and other needs. A person with diabetes could leave a checkup with a HealtheRx listing nearby places for free nutrition classes and low-cost foot care, while a caregiver who accompanied a person with dementia to the ER could receive information about low cost respite care and free caregiver support groups. Information about resources like food pantries and domestic violence supports were listed on every HealtheRx.

The recent real-world trial, supported by the National Institute on Aging, measured the effect of CommunityRx on mental and physical health-related quality of life, and self-efficacy or confidence in finding community resources to manage health. Self-efficacy is known to be a driver of health behaviors and outcomes. Researchers surveyed 411 publicly insured Chicago residents ages 45-74, split into intervention and control groups, between December 2015 and December 2016.

The percentage of intervention group participants who answered "somewhat confident" or "completely confident" in finding resources in their community to help manage their health after receiving a HealtheRx increased from 66 percent in a baseline survey to 80 percent after three months, more than doubling the rate of change in confidence measured in the control group. Each additional medical visit when a person could receive a HealtheRx was associated with an increase in confidence in finding resources, but the study found no impact on mental or physical health-related quality of life over a 3 month study period.

"This real-world study of a low intensity, automated community resource referral intervention shows that between 11 percent and 14 percent of people go to at least one place on their referral list and nearly half (48 percent) share the information with someone else. Patients who get information about community resources during a medical visit become a vector for spread of health-promoting information in their communities," said Stacy Tessler Lindau, MD, a professor of obstetrics and gynecology and medicine-geriatrics at the University of Chicago.
A case study published in June also tested how the HealtheRx prescription could include information on personalized research studies and clinical trials to encourage patients to enroll. During a one-year period from December 2015 to December 2016, HealtheRx prescriptions distributed at outpatient visits to adults with asthma or chronic obstructive pulmonary disease also encouraged them to sign up for a pulmonary research registry.

Lindau directs CommunityRx, which was launched in 2012 with funding from a $5.9 million Healthcare Innovation Award from the U.S. Center for Medicare and Medicaid Innovation (CMMI.) CommunityRx has generated more than 250,000 personalized HealtheRx prescriptions for an estimated 113,000 patients living on Chicago's south and west sides. More than 1,600 youth have been engaged in mapping community resources in Chicago and other regions.

"We want to know that connecting people to community resources during a medical visit ultimately improves health. For older adults with poorer physical health, this study suggests that even with a boost in confidence about how to find healthful resources, it will take longer than three months and possibly a more purposeful hand-off of the HealtheRx to see a direct health benefit," Lindau said.
Story updated with additional study from JAMIA on August 16, 2019.