Skip to content
University of Chicago physician-scientist wins top honor from ASTRO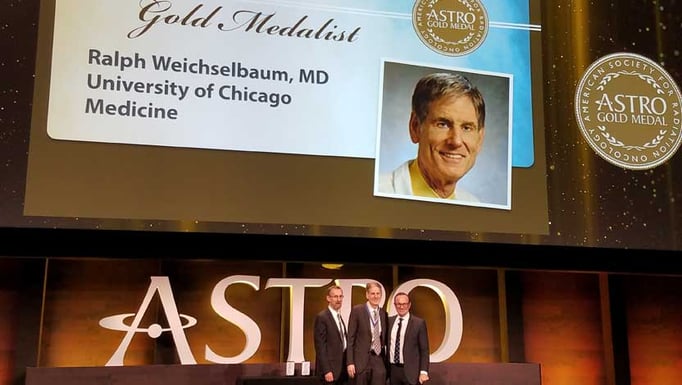 The highest honor bestowed by the American Society for Radiation Oncology (ASTRO) is for "revered members who have made outstanding contributions" to the field of radiation oncology. Winning the society's annual Gold Medal requires excellence in research, clinical care, teaching and service.
This year's medalists include Ralph R. Weichselbaum, MD, Professor and Chairman of the Department of Radiation and Cellular Oncology at the University of Chicago.
ASTRO: Award Presentation, San Antonio
Earlier this summer, the American Society of Clinical Oncology (ASCO) honored Weichselbaum as the 2018 recipient of the David A. Karnofsky Memorial Award. This honor goes to a cancer specialist who has made outstanding contributions to research, diagnosis or treatment. Award winners present the prestigious Karnofsky Lecture, one of the high points of the American Society of Clinical Oncology's annual meeting in Chicago.
It is rare for a physician or scientist to win both prizes. In the 50-year history of the awards only three physicians have received both honors: Henry Kaplan, from Stanford University, and Samuel Hellman and Weichselbaum, both affiliated with the University of Chicago.
Weichselbaum's career "exemplifies the role of the physician-scientist in oncology," according to ASTRO. "His contributions to our understanding of the biology of the radiation response and the role of radiation therapy in systemic disease are leading us to new and productive approaches," they added. "The goal is to help patients."
Additional winners of the 2018 Gold Medal were Patricia Eifel, MD, Professor of Radiation Oncology at the University of Texas MD Anderson Cancer Center, in Houston; and David Jaffray, PhD, Senior Scientist and Executive VP for Technology and Innovation at the Princess Margaret Cancer Centre in Toronto, Ontario, Canada.
From 1 to 850, and counting
Weichselbaum was born in Chicago, graduated from the University of Wisconsin in Madison, and attended medical school at the University of Illinois in Chicago. His first scientific publication, on the influence of the pineal gland on wound healing, was published March 27, 1975 in Nature.
After medical school, he did his residency at the Joint Center for Radiation Therapy at Harvard University. He later joined the faculty there, rising quickly to associate professor status. In 1984 he was recruited to the University of Chicago to become Professor and Chair of Radiation Oncology. He is now the Daniel K. Ludwig Distinguished Service Professor, Co-Director of the Ludwig Center for Metastasis Research, and Director of the Center for Molecular Oncology.
Weichselbaum's impact on radiation oncology has been enormous. He has published more than 850 academic papers or reports across multiple fields. His early work at Harvard described the response of tumor and normal fibroblast lines from patients with differing degrees of "radiocurability." This was one of the earliest attempts to develop a predictive radio-response assay. He and colleagues carried out some of the first studies assessing the genetic basis of the response to radiation, as well as some of the first studies of chemotherapy combined with radiotherapy for head-and-neck cancer.
Two New England Journal of Medicine papers by Weichselbaum and colleagues on patient decision-making were among the early ethics-related investigations. The authors focused on "risk posture," and its effect on how patients make difficult health care decisions. In one study they asked volunteers to choose (theoretically) between surgery for lung cancer, which carried a better long-term survival than radiotherapy but with the risk of immediate death, or radiation therapy which had little risk of immediate death but lacked the promising long-term survival of surgery.
The results demonstrated that decisions were based in part on age. Younger individuals with more years of life at risk were more "risk seeking" in their treatment decisions (surgery), whereas older individuals were more "risk averse" (radiotherapy). These results demonstrated that the treatment with the best long-term chance of cure was not the favored choice for all patients, and that physicians need to counsel patients in risk assessment.
In Chicago, Weichselbaum, his colleague Daniel Haraf, MD, professor of Radiation and Cellular Oncology, and Everett Vokes, MD, the John E. Ultmann Professor of Medicine and Radiation Oncology, developed a unique program in head and neck cancer that combined chemotherapy and radiotherapy while exploiting non-overlapping toxicities. Weichselbaum credits Vokes for innovations that greatly improved on early studies performed in Boston, and for developing the combinations of chemotherapy and radiotherapy that are standard of care for many cancers today.
Bringing doubters to belief
Weichselbaum's subsequent work over the past 25 years with Samuel Hellman, MD, the A.N. Pritzker Distinguished Service Professor emeritus and former dean of the Biological Sciences Division at the University of Chicago, articulated the concept of oligometastases. They defined it as patients with a limited number of metastases (tumors that have spread to a distant site) who might be cured with local or regional therapies. Weichselbaum and Hellman have improved understanding of the spectrum of the metastatic state from a few to many metastatic states, each requiring different therapeutic options.
Their initial hypothesis, published in 1995, 23 years ago, attracted widespread skepticism. But Weichselbaum and colleagues carried out an eye-opening clinical trial in 2005 using stereotactic radiotherapy to treat patients with oligometastases. Their success has been verified in at least five subsequent randomized trials. Importantly this approach "unveils the concept of a spectrum of metastasis from few to many requiring different therapeutic options," Weichselbaum said. The concept has changed the treatment and staging of several cancers.
Weichselbaum is conducting laboratory studies to define the molecular biology of the oligometastatic state. Using very large ablative radiation doses to treat oligometastasis, he and colleague Yang Xin Fu, MD, PhD, now a professor of pathology at the University of Texas, Southwestern, have identified a relationship between radiotherapy and the immune system which may account in part for the excellent results seen in the clinical trials of ablative radiotherapy for oligometastasis.
Thoracic surgeon also honored by ASTRO
Jessica Donington, MD, MS, a thoracic surgeon and professor at the University of Chicago, has been selected as the 2018 American Society for Radiation Oncology (ASTRO) Honorary Member. Donington received the highest honor ASTRO awards to distinguished cancer researchers and leaders in disciplines outside of radiation oncology, radiobiology or radiation physics, at an awards ceremony on October 23 during ASTRO's 60th Annual Meeting in San Antonio.
Donington has long supported collaborations between thoracic surgeons and radiation oncologists to provide lung cancer patients with the best care. As one of two surgeons on the guidelines committee, she was a key contributor to the recent ASTRO clinical practice statement on stereotactic body radiation therapy (SBRT) for early stage non-small cell lung cancer. Before coming to UChicago Medicine, Donington was an associate professor at the NYU School of Medicine. Before NYU, she was at Stanford University, where she collaborated on one of the earliest studies in the United States evaluating single-fraction SBRT in a phase I trial.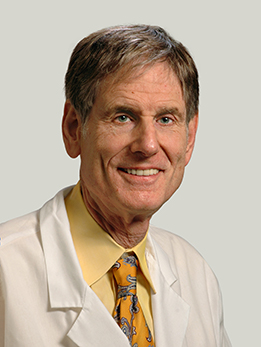 Ralph R. Weichselbaum, MD
Ralph R. Weichselbaum, MD, specializes in the potentially curative treatment of oligometastasis with radiation therapy. He serves as chair of the Department of Radiation and Cellular Oncology.
See Dr. Weichselbaum's profile