Skip to content
A sisterhood of cancer survivors lead each other on a path to advocacy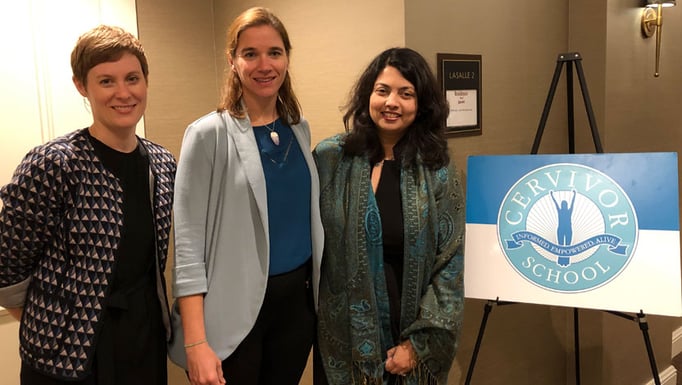 (Left to right) Marielle Fricchione, MD, Andrea Loberg, MD, and Nita Lee, MD, MPH, are some of the expert physicians who presented at an advocacy training for cervical cancer survivors.
More than three years after being diagnosed and successfully treated for cervical cancer, Paulette Apostolou still keeps cancer front and center in her life — by choice. As an ambassador for cervical cancer, Apostolou is always looking for opportunities to speak at universities, health fairs, hospitals and clinics, medical meetings and homeowners' associations, as well as to individual women anywhere who want to hear her story.
"There is such a lack of knowledge about cervical cancer, and the women who have it don't want to talk about it because of the stigma associated with this cancer," said Apostolou. The human papillomavirus (HPV), a common sexually transmitted infection, can cause cervical cancer — and a fear of being judged.
"I was 48 years old when I was diagnosed with cervical cancer and hadn't had a Pap test for 14 years because I didn't understand why I needed to be screened," Apostolou said. "I don't want other women to make the same mistake."
A woman sharing her personal story of cervical cancer can be much more motivating than a doctor giving a lecture on why screening is important.
Cervical cancer is much more common in the developing world than in the U.S., which is one reason it lacks the public awareness of, say, breast cancer. "There are 500,000 cases of cervical cancer worldwide annually, compared to over 13,000 cases here — although parts of Chicago have high rates of cervical cancer that mirror those in developing countries," said Nita K. Lee, MD, MPH, assistant professor of obstetrics and gynecology and a specialist in gynecologic oncology and surgery. "Cervical cancer is the most preventable cancer in the U.S. because we have good screening tests and the HPV vaccine, a cancer prevention vaccine that is extremely effective in preventing precancers of the cervix caused by nine high-risk HPV types."
The University of Chicago Medicine Comprehensive Cancer Center, through its Office of Community Engagement and Cancer Health Equity, is heavily involved in the national and international push to decrease cervical cancer and other HPV-related cancer incidence and mortality.
Yet fewer than half of U.S. teens have received the recommended HPV vaccine doses, and many women, like Apostolou, fail to get screened for cervical cancer. By the time a woman has symptoms, she may have late-stage cervical cancer, which kills more than 4,000 women in the U.S. each year. "We should be able to eradicate cervical cancer but, instead, we still have too many women — including young mothers — dying of this cancer, which means our current system has failed," said Lee, who is Apostolou's gynecologic oncologist.
Impressed with Apostolou's passion to prevent cervical cancer in other women, Lee began inviting her patient to speak with her at community health fairs, cancer-awareness events and on panel discussions, including the 2018 American Cancer Society Illinois HPV Roundtable, an HPV summit for community members, health providers and advocates. "A woman sharing her personal story of cervical cancer can be much more motivating than a doctor giving a lecture on why screening is important," Lee said.
By this time, Apostolou had become involved with Cervivor (cervivor.org), an international online networking and advocacy organization founded and run entirely by cervical cancer survivors. Cervivor provides online support, forums for sharing experiences and, importantly, trains survivors to be advocates in their own communities to promote screening, early detection and HPV vaccination. Apostolou had attended a two-day formal Cervivor School, where she honed her advocacy skills and knowledge about cervical cancer. Since 2014, Cervivor School, which is offered once a year at different cities in the U.S., has trained about 75 Cervivor ambassadors.
Apostolou's enthusiasm about Cervivor School convinced Lee to help support Cervivor School 2019 in Chicago last September. "The school provides a framework and support for these women to take their personal experiences with cancer and turn them into advocacy, which aligns with my work in helping cancer survivors achieve well-being and healthy lifestyles," says Lee. "The impact advocates have on individual women and in their communities is really remarkable. They destigmatize cervical cancer by showing that it can affect anyone."
Each of the Cervivor School new survivor "students" who attended the program in Chicago — including another patient from UChicago Medicine and international participants from Honduras and Australia —committed to becoming a Cervivor Ambassador. The group also included 10 graduates of previous Cervivor Schools, who helped coach the women on how to be effective advocates.
Besides being instrumental in bringing Cervivor School to Chicago, Lee recruited eight UChicago Medicine experts to give presentations. The first day focused on medical and emotional needs post-cancer, such as how bodies change as a result of treatment, and the roller coaster of emotions experienced by many patients. Radiation oncologists Yasmin Hasan, MD, and Anne McCall, MD, and nutrition expert Jill Bice, MS, RD, discussed the biological and physical changes related to surgery, chemotherapy and radiation therapy, and how to address long-term side effects. Amy Siston, PhD, clinical associate in the Department of Psychiatry, led a "girl talk" session about sexual function during and after cancer treatment and the importance of maintaining emotional intimacy in relationships with partners as part of healing.
Siston also led a session on transforming the negative emotions of cancer as a gateway to growth. "Avoiding anxiety, depression and sadness helps in the short term, but these feelings keep growing if they aren't expressed and can prevent women from experiencing pleasure, joy and happiness," said Siston. "Cervivor School allows women to get these feelings out in a safe group, where they feel supported and less isolated and alone."
Apostolou added, "For some women, Cervivor School is the first time they've talked about their cancer publicly. A sisterhood occurs at Cervivor School, and every time you stand up and tell your story, you feel empowered."
The second day of Cervivor School was spent acquiring the medical knowledge ambassadors need to educate their audiences about cervical cancer, such as screening guidelines, debunking myths about HPV, and what to know about HPV immunization. Andrea Loberg, MD, a gynecologist at UChicago Medicine and Friend Health – Hyde Park, gave up-to-date information on cervical cancer screening guidelines. Marielle Fricchione, MD, Immunization Program Medical Director, Chicago Department of Public Health, provided key details about HPV vaccine safety, efficacy and promotion.
Lee and Apostolou explained ways women can get involved, such as working with their doctors or local health care organizations to mentor fellow cervical cancer patients and engaging with their communities and legislators as informed advocates. Apostolou, now a member of Cervivor's leadership team, runs the organization's social networking site and is a peer mentor for other women with cancer treated at UChicago Medicine through the Gynecologic Oncology Woman to Woman peer mentoring program.
Apostolou knows firsthand the impact of the ambassadors' work. She has heard from women who got screened for cervical cancer after hearing her story, and a pediatrician who heard her talk said he will now strongly urge his patients to get the HPV vaccine.
Although Apostolou moved to Tennessee with her husband in May, she will come back to Chicago for follow-up visits with Lee and continue to mentor UChicago Medicine cancer patients online or by phone. And she's excited to advocate for cervical cancer prevention in her new community. "There is a lot of work to do here," she said. "People don't know me yet, but they will."