Skip to content
Pipeline programs inspire the next generation of cancer researchers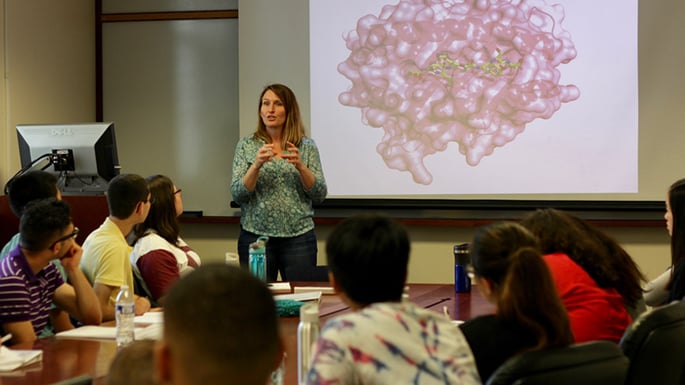 Erin Adams, PhD, mentors high school and undergraduate students who are interested in a career in cancer research.
A career in cancer research might conjure up images of a scientist peering through a microscope in search of the next breakthrough discovery. In reality, there are many different aspects of the job. So, what is it really like to be a cancer researcher and how does someone become one?
These questions are addressed by two summer cancer research training programs offered at the University of Chicago: Chicago EYES (Educators and Youth Enjoy Science) on Cancer and researcHStart. High school students and undergraduates can gain hands-on experience in cancer research.
The program targets students with backgrounds that are underrepresented in the sciences: racial/ethnic minorities, economically disadvantaged, first-generation college-bound or living with a disability.
Chicago EYES on Cancer also welcomes secondary science educators, who develop curricula based on their summer research experience for students in Chicago-area high schools.
Both programs were born out of the University of Chicago Medicine Comprehensive Cancer Center and provide program participants with the opportunity to deepen their knowledge of cancer science, broaden their awareness of career paths in the field and build mentoring relationships with leaders in the scientific community. This year, Chicago EYES on Cancer and researcHStart celebrate their sixth and fifth-year anniversaries, respectively.
Program impact on individuals
Through the programs, students and secondary school teachers can immerse themselves in basic, translational, clinical and population-based areas of cancer research. During their experience, they acquire invaluable lifelong research skills through rigorous laboratory training and benefit from targeted professional development training as they navigate through the program.
"Being able to get people from different backgrounds and place them in a program where they are provided with the opportunity to cultivate their laboratory, people and communication skills is important," said Erin Adams, PhD, Joseph Regenstein Professor of Biochemistry and Molecular Biology, and a faculty mentor. "It is crucial that they are instilled with confidence and are given the tools to know that there is a place for them."
In addition to establishing a strong foundation in research skills and experience in a professional work environment, students may also take advantage of collaborating with the wide array of team members in their respective research group.
There is a freshness to the students' perspective. There's no bias of how things work, so they challenge you.
"They see graduate students who are getting straight PhDs, medical fellows with MDs doing some research, they see people like me who are MD/PhD and doing some clinical and some research," said Lucy Godley, MD, PhD, professor of medicine in hematology and oncology, and a faculty mentor. "Even within a PhD they see some people doing pure bioinformatics, bench work, sometimes a little of both. It gives them role models or examples of what they could become in the future."
Teaching students teaches us
The research experience is only one aspect of Chicago EYES on Cancer and researcHStart. Another key element of these programs the ability for participants to network with various faculty and staff at the University of Chicago. Interestingly, this networking can actually lead to changes in the mentorship landscape for faculty mentors and graduate students. Hosting high school students, undergraduates and high school teachers in the lab provides a fresh perspective on research for faculty mentors, and graduate students benefit as well.
"It's really valuable for the graduate students in my lab to be mentors," said Patrick La Riviere, PhD, associate professor of radiology and a faculty mentor. "Graduate students are being mentored by me, but for them to mentor undergraduates and high school students themselves is exciting because they realize how far they have come, how much they know, and how much they can give."
The mentorship aspect of the program allows for a mutual exchange of information that aids both students and teachers, and faculty mentors and graduate students.
"You learn something when you teach it. I think for people in the lab to have somebody they're teaching is very instructive for them. It helps them be more organized, thoughtful," said Godley.
Students and teachers provide a unique perspective that propels research endeavors forward and compels one to consider new ways of looking at a research problem.
"There is a freshness to the students' perspective. There's no bias of how things work, so they challenge you. Sometimes the most difficult and challenging questions come from the person with the least experience because they ask the most open and broad questions that push research forward," Godley said.
The future of cancer research
For many decades, cancer researchers have been predominately male and white. However, programs like Chicago EYES on Cancer and researcHStart specifically include a more diverse mix of aspiring scientists, such as young women and men of color. Faculty mentors find that engaging underserved minority students in cancer research early on can be a force of positive change for future cancer research.
"Chicago EYES on Cancer made me think about the next generation of scientists coming up and how to help and train them," said La Riviere. "That is something I have internalized being part of the program. I am more aware of the need to increase diversity in our graduate training programs beyond these targeted training programs."
As Chicago EYES on Cancer and researcHStart celebrate new anniversaries, it is important to recognize the impact that programs such as these have on individual students and teachers. At the same time, these programs help graduate students and faculty mentors enrich their own cancer research experience. By training the researchers of tomorrow, they are improving the future landscape of cancer research.
Funding for Chicago EYES on Cancer is provided by the National Cancer Institute (NCI) through the R25 YES (Youth Enjoys Science) grant. The researcHStart program is funded through UChicago philanthropy. Partner institutions include the University of Illinois at Urbana-Champaign, the University of Illinois at Chicago, and Northwestern University.
More information about Chicago EYES on Cancer may be found here. More information about researcHStart may be found here.