Skip to content
Mobile units expand reach and accessibility for South Side communities to participate in research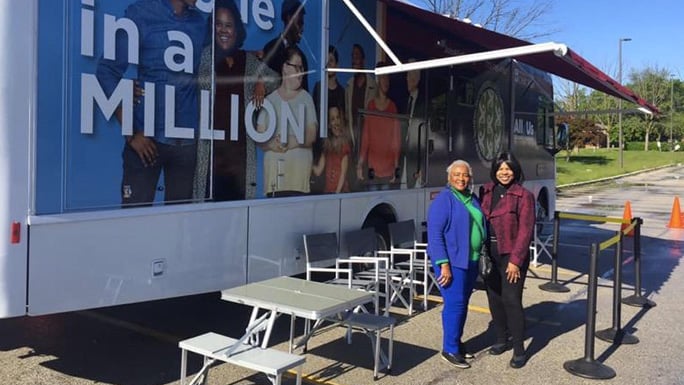 Community ambassadors Hazel Colar (left) and Janice Knox (right). The Institute for Population and Precision Health's mobile units will be used to recruit and enroll participants in All of Us and COMPASS trials as well as others down the road.
You may have seen it rolling through your neighborhood: a large, colorful vehicle resembling an RV boldly proclaiming "The Future of Health Begins with You." Inside, the vehicle looks remarkably similar to a doctor's office, with a waiting area, exam rooms, and a small lab for processing samples.
This is the first of two mobile research units operated by the Institute for Population and Precision Health (IPPH) at the University of Chicago. Their purpose is to enroll community participants in All of Us, a research program sponsored by the National Institutes of Health (NIH) that seeks to advance personalized health care. The goal of All of Us is to build a cohort of one million people who are willing to share information about their health, lifestyle and genetics to drive future medical breakthroughs. Over time, the data generated by participants will allow researchers to gain insights into how diseases develop and what can be done to prevent them.
UChicago is one of five institutions in the Illinois Precision Medicine Consortium tasked with recruiting participants for All of Us. The other institutions participating are Northwestern Medicine, the University of Illinois at Chicago, Rush University and NorthShore University HealthSystem.
We want what we learn, in everything from general health to cancer and cancer disparities, to be relevant to the population we serve.
However, UChicago is taking a unique approach to engaging participants. Instead of recruiting solely from the hospital campus in Hyde Park, the IPPH is bringing All of Us directly to Chicago residents and UChicago patients in the neighborhoods where they live. Using funds from the consortium's five-year, $51 million grant from NIH, the IPPH purchased a new mobile unit fully equipped for enrollment and data collection. Shahid Choudhry, PhD, an IPPH research manager, worked diligently with his team to ensure that the mobile units were ready for deployment to meet the research needs in the field. The new unit has been in the field since early April enrolling participants. A second mobile unit, donated by Comer Children's Hospital Pediatric Medical Mobile Program, is currently being refurbished and will be ready to roll out by mid-July.
In preparation for the launch of its first mobile unit, the IPPH initiated a year-long effort to develop relationships with community-based partners and ambassadors. These community ambassadors helped recruit participants to the study and bridge the digital divide for older residents who were less familiar with the iPad technology used in the All of Us consent and enrollment process. Brisa Aschebrook-Kilfoy, PhD, a research associate professor in the Department of Public Health Sciences and co-investigator at IPPH, says that these community partners were crucial in helping the IPPH open a dialogue about population and precision health with the diverse neighborhoods in the area it serves.
"Our hope is that together we can lay the groundwork for a new community-based research model that helps retain participants and ensures that communities historically underrepresented in biomedical research are represented in these newer programs," she says. "We want what we learn, in everything from general health to cancer and cancer disparities, to be relevant to the population we serve."
This is also true for COMPASS, or the ChicagO Multiethnic Prevention And Surveillance Study (COMPASS), which is being run concurrently by researchers at the University of Chicago Medicine Comprehensive Cancer Center. COMPASS is specifically designed to address disparities in disease incidence and mortality in Chicago, where there are higher rates of cancer and chronic diseases than in other parts of the United States.
COMPASS has already identified important differences in the distribution of certain risk factors: the rate of cancer screenings, for example, varies widely at the community level in Chicago. Based on this finding, future research efforts at UChicago Medicine and the Comprehensive Cancer Center can be directed to better understand this specific problem and work toward interventions that increase screening rates and ultimately improve cancer prevention efforts.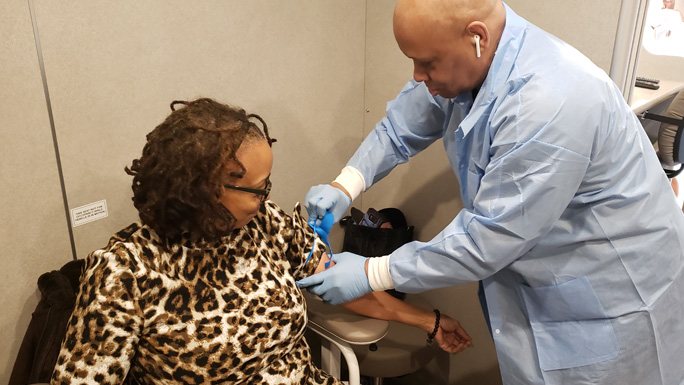 The IPPH mobile unit research program is recruiting for both All of Us and COMPASS, and eligible city residents are welcome to enroll in both studies simultaneously. Residents who sign up for either or both programs through the mobile units can expect their experience to be similar to a doctor's visit. The vehicles are equipped with stations where participants use an iPad to complete surveys on their health history, plus two exam rooms where phlebotomists can draw blood and record participants' height, weight, and blood pressure. Blood and urine samples are processed on the spot by research professionals in the onboard lab space.
The All of Us consent process and health surveys typically take about an hour to complete but can be finished ahead of time before coming to the mobile unit. The collection of biospecimens and biometric data onsite takes about 30 minutes, and participants are compensated for their time with $25-75, depending on whether they enroll in one or both of the research programs. Anyone 18 or older can join All of Us, while COMPASS is recruiting participants over 35 years.
Although neither study provides medical treatment, participants will have access to some information about their health generated in the course of these research programs. However, Habibul Ahsan, MD, MMedSc, director and principal investigator at the IPPH, says that "eventually, we hope to offer medical care on the units as a service to the communities with which we partner."
In the long term, all data gathered through the All of Us Research Program will be anonymized and encrypted before becoming available to the wider research community via an online data platform. The NIH has established different levels of access for the data: only vetted researchers will be able to view anonymized data from individual participants, but members of the general public will be able to examine the data in aggregate, enabling its use for educational purposes and in citizen science initiatives.
Because both All of Us and COMPASS are designed as long-term studies, it will be many years before their full impact on precision healthcare is felt. In the meantime, Chicago residents can seek out the mobile units in their neighborhoods, knowing that they are helping build some of the most ambitious and diverse biomedical datasets to date. "By contributing to these datasets, participants are helping to improve the health of their own community and taking part in the advancement of scientific research," says Ahsan.
"We're excited to bring these initiatives into the community, thereby making it easier and more convenient for Chicago residents to participate," adds Aschebrook-Kilfoy. "Our hope is that the mobile units will help us facilitate a more inclusive approach to population precision medicine, and make sure that all the communities we serve have a seat at the table."
To find out more about the studies and how to enroll, please visit the All of Us and COMPASS websites.