Skip to content
Metastatic kidney cancer clinical trial keeps jazz pianist playing on
Metastatic kidney cancer clinical trial keeps jazz pianist playing on
Billy Foster is an accomplished jazz pianist. He is also a cancer survivor. More than a decade after surgery for stage 1 kidney cancer, Foster's disease recurred and metastasized, or spread, to his lungs.
"It was quite frightening because the initial diagnosis was that if they couldn't find anything to corral this then in a couple years I would not be around," said Foster, who also teaches music and hosts the Billy Foster Jazz Zone on WGVE 88.7 FM.
Foster, a resident of Indiana, came to the University of Chicago Medicine, where he underwent a second surgery and was put under observation for a year.
"I had to believe that we were going to fight and that we were going to conquer the disease," said his wife, caregiver and fellow musician Renee Miles-Foster. "We wanted to make sure we got the best care possible."
Foster was put on the drug sunitinib, which is a type of targeted therapy and a standard treatment for advanced kidney cancer. Sunitinib works by blocking angiogenesis -- the growth of new blood vessels to prevent tumor growth. Unfortunately, the initial treatment for Foster's metastatic disease with sunitinib was not optimally effective and by 2008 his cancer had spread to his liver and brain.
Foster's care team enrolled him in an experimental clinical trial of a drug called linifanib, and he also began seeing Russell Szmulewitz, MD. The drug worked and Foster's disease remained stable until 2012 when one of his liver tumors began to grow. He successfully underwent a chemoembolization procedure to kill the single growing tumor with interventional radiology, and remained on linifanib without further disease progression until 2013 when the drug was discontinued.
At that time, Szmulewitz switched Foster to a similar medication called axitinib, which had just been approved by the Food and Drug Administration (FDA). Foster's disease has been completely controlled by this medication and he has been on it ever since.
"What we're trying to do is transition these stage 4 illnesses into chronic diseases that can be managed with medications over years as was the case with Mr. Foster," Szmulewitz said. "Even though it's stage 4, and it has been for nearly a decade, it's managed like any other advanced chronic illness, like diabetes or high blood pressure or heart disease, with medications that have kept it stable in a non-life threatening stage."
Kidney cancer, said Szmulewitz, is often caught early when a patient is undergoing imaging for another reason. However, despite early treatment, the disease can resurface years later. Conventional kidney cancer is called clear cell, but Foster's is the more aggressive papillary variant. There are no true standard treatments for papillary kidney cancer and Foster's robust response to treatment is unusual and promising.
"There are studies ongoing that are combining medications like axitinib with immunotherapies, so that's something that we look forward to seeing in the future," Szmulewitz said.
"To have that outlet was tremendously important," Foster said. "It's a creative outlet. I'm not sitting around thinking that I have cancer all day long. I have other things that I'm involved in. Plus I think that music itself is a healing force." His wife agrees. "You can call it the power of music how it heals, how it soothes, how it relaxes a person," she said.
Szmulewitz has been careful to ensure that medications don't impact Foster's ability to play piano. He also credits Miles-Foster with providing the support needed to help her husband continue to share his music with the world.
"She's a pretty impressive advocate for him," Szmulewitz said. "I think that her energy has helped him stay positive, stay active and continue with his music."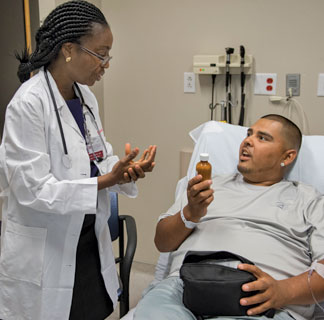 Participate in a Cancer Clinical Trial
UChicago Medicine cancer experts are actively conducting clinical trials of new screening methods and treatments for cancer, including breakthrough approaches to harnessing the immune system to fight cancer. As a recognized leader in phase I and other early-phase clinical trials, our physician-scientists are creating new cancer treatment methods that later become the standard of care elsewhere.
Find a cancer clinical trial