Skip to content
Lung cancer survivor's uplifting journey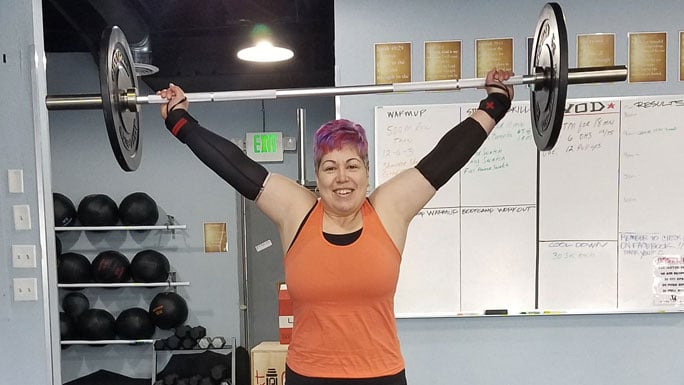 In June 2014, Juanita Segura, then 46, developed a persistent wheeze.
An active participant in CrossFit, a healthy eater and non-smoker, the Indiana resident consulted with her doctor, who diagnosed her with asthma and prescribed an inhaler. The wheeze soon turned into a horrible cough. By October 2014, Segura couldn't complete a sentence without coughing. A pulmonary specialist prescribed a steroid, but Segura's condition only got worse.
In November, she went to the local emergency room and received an unexpected diagnosis: stage 3b adenocarcinoma, a type of non-small cell lung cancer.
The first thing that came to Segura's mind upon diagnosis were her five children. "I looked at the nurse and I said, 'I have five kids. You mean I'm never going to see my youngest daughter graduate high school, or get married? I'm not going to be there for their college graduations?' That's when I broke down," she recalled.
Despite her fears, Segura was determined: "I knew then I had a choice. I could either get angry and bitter and be negative, or be positive and strong and fight this."
Segura and her family traveled from Indiana to a treatment center in northeast Illinois. There, she underwent genetic testing and began a regimen of chemotherapy and radiation in early December. In the meantime, she awaited her genetic test results. When they arrived in late January, the results revealed that Segura's cancer was ALK-positive, a genetic mutation that makes the standard treatment she was receiving less effective.
"If my little story can save two or three people or give them hope so they can fight, too, then I'm happy."

Though non-small cell lung cancer is the most common type of lung cancer, only about 5 percent of those diagnosed have the ALK-positive mutation. The mutation is most often seen in non-smokers who have the adenocarcinoma subtype, according to the American Cancer Society.
Frustrated by the delay that led to a seemingly unnecessary cycle of chemo/radiation, Segura turned to a medical center in a different state for a second opinion. There, doctors told her she should seek treatment in her own backyard at the University of Chicago Medicine Comprehensive Cancer Center, whose lung cancer experts had a reputation as being among the best in the country.
Her first appointment gave her hope and reassured her that she had come to the right place.
"My dad died of cancer, and he went to the University of Chicago's hospital 15 years ago," she said. "I'll never forget how well they treated my dad; they fought and fought and tried everything to save him. They gave him additional time so he could meet my 15-year-old. She was born, and my dad died a week later."
At UChicago Medicine, Segura began treatment with crizotinib, a protein kinase inhibitor. After about three months on the drug, the tumor in her lungs disappeared. However, her doctors discovered the cancer had spread to her liver. Segura was put on the drug ceritinib, an ALK inhibitor for metastatic non-small cell lung cancer. Within three more months, the spots on her liver had shrunk significantly.
Segura continues to take ceritinib for maintenance therapy. UChicago Medicine oncologists are leading the way in investigating targeted therapies for ALK-positive patients. This effort involves several open and upcoming clinical trials, including one that combines an ALK inhibitor with immunotherapy.
It is important to get genetic testing as a first step because this information significantly impacts the ability to generate the best and most personalized treatment plan.
Segura continued her CrossFit workouts during her treatment, and has since opened up her own CrossFit gym in Griffith, Indiana, where her story inspires others. An active member of the LUNGevity Foundation, Segura helps organize events to advocate for lung cancer patients and raise money for research.
In November 2016, Segura shared her inspiring story on the Dr. Phil show and traveled to New York for interviews with more than two dozen media stations."I want, not only lung cancer survivors, but all cancer survivors to know there is hope," she said. "If my little story can save two or three people, or give them hope so they can fight too, then I'm happy."
You can follow Juanita's journey on Facebook by liking her page: https://www.facebook.com/juanitafightslungcancer/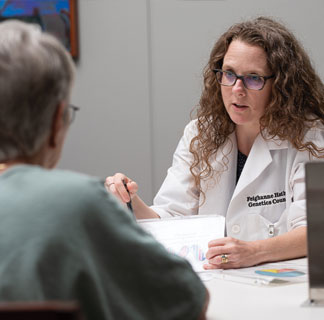 Cancer Risk and Prevention
The UChicago Medicine Comprehensive Cancer Risk and Prevention Clinic is dedicated to identifying and caring for individuals who have an increased risk for cancer due to family history, medical and genetic factors, and/or lifestyle influences.
Learn about cancer risk and prevention services