Skip to content
Improving prostate cancer diagnosis with MRI 'risk maps'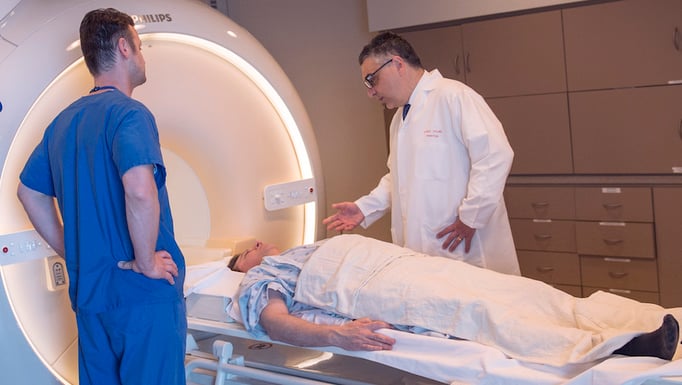 Prostate cancer is the most common cancer among American men yet current diagnostic tools, including PSA (prostate-specific antigen) screening, cannot tell the difference between prostate tumors that are life threatening and those that are indolent, or slow growing. To spare patients from undergoing unnecessary, invasive prostate biopsies and aggressive therapy, as well as to reduce overall healthcare spending, the medical field needs better diagnosis methods.
Toward that end, physicians and researchers at the University of Chicago Medicine are seeking new ways to arrive at a definitive diagnosis for prostate cancer. Experts are exploring the use of magnetic resonance imaging (MRI) as a non-invasive tool for imaging cancer in the prostate because of its high soft-tissue contrast and ability to view images in multiple planes. By providing highly detailed images of the prostate, MRI can provide unique functional and biologic information not available with other imaging technology.
The co-leaders of the Comprehensive Cancer Center's Advancing Imaging Program, Aytekin Oto, MD, MBA, professor of radiology and surgery, and Gregory Karczmar, PhD, professor of radiology, recently led a prospective study assessing whether their novel MRI technique can diagnose prostate cancer accurately.

Oto, Karczmar, and colleagues obtained preoperative images from 22 patients with prostate cancer using hybrid multidimensional MR imaging, a new imaging technique that provides quantitative information on tissue composition. The patients then underwent surgery to remove their prostate, known as radical prostatectomy, and the extracted tissue was placed on slides, with the areas of the tumor marked by a pathologist.
The MR images were analyzed based on the three components that make up prostate tissue: the lumen, the epithelium, and the stroma. The researchers chose these parameters because they are clinically relevant; the presence of prostate cancer is often characterized by an increased volume of epithelium and a decreased volume of lumen.
By obtaining quantitative measurements of the volumes of each tissue component, the researchers were able to create a map showing the tumor's location in the prostate. By assigning values to the volumes of tissue composition, they were also able to predict the tumor's aggressiveness. To evaluate how accurate these maps were, the researchers compared the MRI scans with the pathology slides of confirmed cancer and found that the results matched closely.
We need to tailor our MR technique so that our patients don't need to undergo unnecessary biopsies or treatment.
The study findings, as reported in a research paper published in Radiology, conclude that prostate tissue components can be measured noninvasively by using hybrid multidimensional MR imaging and have the potential to improve the diagnosis of prostate cancer and determine its aggressiveness.
"MRI has been used to guide biopsy in prostate cancer, but our goal is to be able to use MRI to obtain diagnostic information about prostate cancer noninvasively," Oto said. "We are excited by the idea of these risk maps serving as a 'virtual biopsy' that can help patients avoid needle biopsies and false negative test results in the future."
He adds that there is potential to translate the MRI technique for risk-mapping other cancers, such as breast and liver cancers, but more studies are needed to understand the tissue composition of other cancers.
"We need to tailor our MR technique so that our patients don't need to undergo unnecessary biopsies or treatment," he said.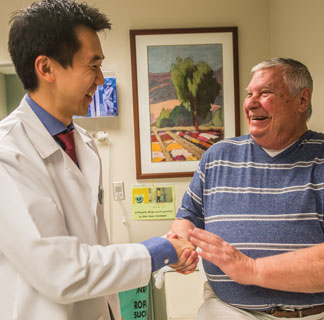 Prostate Cancer Care
The UChicago Medicine prostate cancer care team is highly skilled in the most up-to-date, technologically advanced methods for the diagnosis and treatment of prostate cancer. We offer the full range of treatment options, including robotic surgery, clinical trials of new therapies, sophisticated radiation oncology care, genetic testing for hereditary risk factors and more.
Prostate Cancer Care Services