Skip to content
Cancer clinical trials office recruits career opportunities for military-affiliated community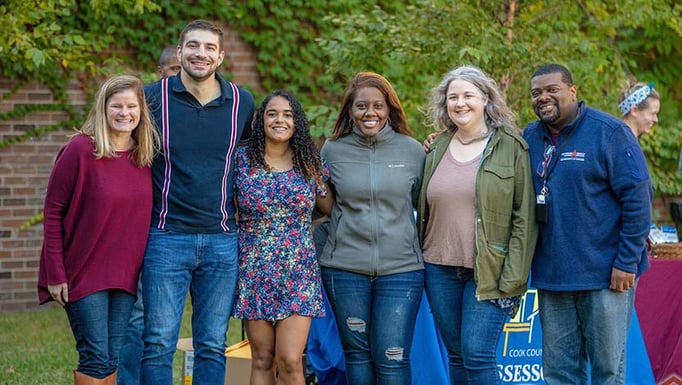 Pictured from left to right: Lauren Wall, Jacob Morris, Jessica Morris, Raven Edgeworth-Smith, Amanda Spratt, and Terrell Odom.
Life after military service is a time of transition for service members and their families. Some of the major challenges include finding a home, moving a family and beginning a new career that matches their skills and experience.
A unique partnership between the U.S. Department of Defense and the University of Chicago connects these individuals with opportunities that ease the transition from active duty to civilian life. The conduit for this partnership is the
Office for Military-Affiliated Communities (OMAC)
, which welcomes, supports and grows the veteran and military-affiliated community at the University of Chicago through resources, events and programming.
One of those programs,
SkillBridge
, offers opportunities to gain civilian work experience through internships, apprenticeships and industry-specific training. The program was launched by the University of Chicago Office of the Provost's Equal Opportunity Programs in October 2021 and has since helped 17 transitioning service members with the next steps in their careers.
"The OMAC SkillBridge program allows transitioning service members to get a start on their civilian careers by providing internships and employment opportunities to enhance the skillsets of these heroes before they transition back into the civilian lifestyle," said OMAC Director
Terrell Odom
. "The University of Chicago is able to leverage the unique skills, perspective and experiences of our nation's finest — it's a win-win situation."
Odom is a veteran himself, having served in the U.S. Navy as a hospital corpsman onboard naval ships, hospitals and alongside the U.S. Marines. He witnessed firsthand the difficulty of transitioning from the military to civilian life.
He works with partners in various academic and administrative units across the campus, medical center and lab affiliates to take advantage of the SkillBridge program.
The University of Chicago Medicine Comprehensive Cancer Center (UCCCC)
is one of those partners. Odom has been working with
Lauren Wall, MS
, Senior Director of the
UCCCC Clinical Trials Support Office (CTSO)
, to match qualified SkillBridge interns with positions related to clinical research.
Many veterans, transitioning service members and their spouses have experience in operations and logistics or have served as military medics, medical scribes and medical interpreters. These skills could qualify them for career opportunities within the field of clinical research.
Clinical trials investigate new ways to detect, prevent or treat disease. They are an integral part of all medical research, especially for cancer, a complex group of diseases that require new and improved approaches for prevention, screening, diagnosis and treatment. As one of only two cancer centers in Illinois designated by the National Cancer Institute, the UCCCC is a national leader in conducting cancer clinical trials.
Clinical Trials Support Office
The CTSO provides the infrastructure to support the activation and ongoing oversight of cancer clinical trials at UChicago Medicine. Through centralized services, the CTSO provides support for regulatory, clinical research operations, data management, staff supervision and training, financial management, safety event reporting and ongoing training and education for clinical researchers. Most importantly, their primary responsibility is to protect the rights, safety and welfare of patients who consent to a clinical trial.
"Highly trained and motivated service members' expertise and skills directly translate to the talent we seek in clinical researchers," Wall said. "To run complex multidisciplinary oncology trials, you need individuals who can perform under pressure, learn new skills and concepts quickly, understand the value of accountability and respect the importance of following procedures and protocol."
In the short time they have worked together, Odom and Wall identified several talented SkillBridge interns to join the UCCCC clinical research workforce.
Real-Life Examples
U.S. Army veteran Jacob Morris and his wife, Jessica, are both building up clinical research experience in the CTSO as a clinical research coordinator and data entry manager, respectively.

In addition, Morris is pursuing his educational goals as a Graduate-Student-At-Large in January 2023. He will focus his education on the cross sections of humanities and healthcare.

"We are extremely grateful to the University of Chicago, specifically OMAC and the Biological Sciences Division for assisting us with this difficult part of transition," he said. "Not only were they attentive and compassionate to our transition needs, they also continue to show support. We were able to close on our first home and basically establish a footprint in Chicago without the hassle and headache that many other transitioning families endure."

Hyunjoon "Joon" Choi, a U.S. Army veteran, is another beneficiary of the SkillBridge program and partnership with the CTSO. As a compliance regulatory manager, he assisted with ensuring that the University complies with regulations related to human subject participation in clinical trials. Like Morris, he accepted a full-time position after his internship period.
"I finished my undergraduate studies in 2017, and applying to medical school after serving four years in the Army has been a challenging process," Choi said. "The SkillBridge program offered through OMAC allowed me to bridge that gap and strengthen my application by giving me invaluable experiences in clinical research, which is relevant to my future career in medicine."
Geony Yoo has had a similar experience. The U.S. Army sergeant plans to apply to medical schools after his service. Through OMAC, he found an internship position at the CTSO that put him closer to his personal and professional goals.
"While working as a clinical research data manager, I was able to broaden my perspective for the field of cancer research," Yoo said. "I believe that this experience undoubtedly made me a stronger medical school candidate."
Yoo has since accepted a full-time position as a data manager within the UCCCC Developmental Therapeutics Program.