Skip to content
Cancer ResearcHERS: Women Fighting Cancer
ResearcHERS: Women Fighting Cancer
[MUSIC PLAYING] What does it take to outsmart cancer? Research.

It's been revolutionary to have women-led research teams.

I lead a team of 10 researchers. We identified a key gene that's mutated in blood cancers.

My mentor, Dr Janet Rowley, proved the genetic basis of cancer. I built on her research and made new discoveries that led to new treatments that helped put patients into remission.

In the last 20 years, we have made significant progress. There are now five drugs that we can use to target breast cancer. And some of his drugs also are involved in ovarian and prostate cancer.

Diversity exists within cancer. And so why not have the same type of diversity and inclusion in scientists?

We're looking at the specific types of cancer that shows up in women of African descent.

I'm investigating why certain chemotherapies aren't working to treat triple negative breast cancer.

This is a really exciting time to be involved in cancer research because there's been a lot of breakthroughs.

The pace of cancer discovery is more rapid than ever before. And it's an irony that, at this time, there is limited government funding for cancer research.

A number of my peers have had to close their laboratories because they were unable to obtain NIH funding.

And young women researchers are at a disadvantage. Women are awarded smaller first time NIH research grants than men, $41,000 less annually.

The American Cancer Society has created a new initiative to fund women-led research.

Because we need to keep these young women investigators engaged and supported.

At a critical time in my career, the American Cancer Society gave me funding.

They've funded me at two key points in my career. The first time was as a junior investigator and the ACS enabled me to launch my laboratory.

The Researchers Initiative will allow us to fund the many women who have the kind of energy, excitement, and intellect to finding treatments and cures for cancer.

I'm hoping to find a cure for leukemia.

I'm hoping to use genetics to help patients live longer and better lives.

There's always a question to ask. And having a grant allows me to continue to ask those questions.

The American Cancer Society Researchers Initiative is a unique opportunity to invest in promising young women investigators.

Because that's the next generation that we're all here to support.

We've been given the gift of time. And so we want to ensure that we're investing, not just our time, but our talent, and yes, our money in finding ways to find cures and hope.

Together we'll find a cure.

[MUSIC PLAYING]
We're proud the American Cancer Society features UChicago Medicine cancer scientists in this video about ResearcHERS, an effort to support female cancer researchers and to inspire the next generation of women in science.
Learn more and donate to Illinois ResearcHERS
UChicago Medicine cancer researchers featured in this video include:
Michelle Le Beau, PhD, Arthur and Marian Edelstein Professor of Medicine and Director, University of Chicago Medicine Comprehensive Cancer Center
Megan McNerney, MD, PhD, Assistant Professor of Pathology
Olufunmilayo I. Olopade, MD, FACP, Walter L. Palmer Distinguished Service Professor of Medicine and Human Genetics and Director, Center for Clinical Cancer Genetics & Global Health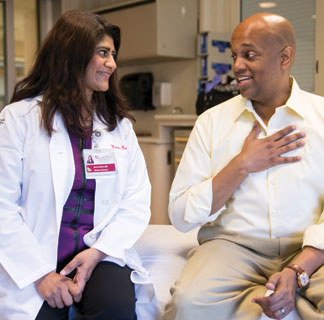 UChicago Medicine Comprehensive Cancer Center
UChicago Medicine is designated as a Comprehensive Cancer Center by the National Cancer Institute, the most prestigious recognition possible for a cancer institution. We have more than 200 physicians and scientists dedicated to defeating cancer.
Learn More About the Comprehensive Cancer Center