Skip to content
$10 million gift from AbbVie Foundation to support Comprehensive Cancer Center Director and advance research initiatives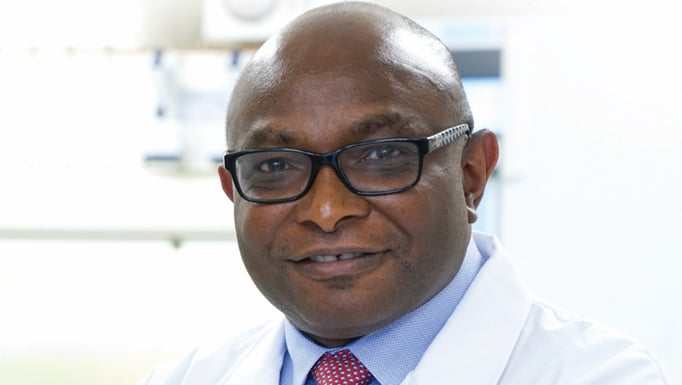 A $10 million grant from the AbbVie Foundation will support scientific and educational activities at the University of Chicago Medicine Comprehensive Cancer Center under the leadership of a newly appointed Cancer Center director. A portion of the grant will also establish a permanent endowment, which will continuously support the work of the center for years to come.
Kunle Odunsi, MD, PhD, who joined UChicago Medicine on March 1, 2021, will be named the AbbVie Foundation Director of the Comprehensive Cancer Center. He also serves as Biological Sciences Division dean for oncology and professor of obstetrics and gynecology at the University of Chicago.
A nationally recognized gynecologic oncologist, Odunsi focuses his research on understanding the mechanisms of immune recognition and tolerance in ovarian cancer and translating these findings to immunotherapy clinical trials. Odunsi pioneered the development of antigen-specific vaccine therapy and "next generation" adoptive T-cell immunotherapies to prolong remission rates in women with ovarian cancer.
"The AbbVie Foundation's generous grant will provide our Comprehensive Cancer Center leadership with the resources necessary to advance cancer research and care through the ongoing pursuit of innovative investigation and development of novel cancer therapies that have the potential to improve the lives of people affected by cancer," said Kenneth Polonsky, MD, dean and executive vice president for medical affairs at the University of Chicago.
By supporting the director's vision, the AbbVie Foundation's grant will empower Comprehensive Cancer Center leadership to act strategically in key areas, such as establishing cross-campus collaborations, discovering and advancing novel therapies, recruiting new faculty, retaining exceptional fellows, and promoting community outreach and engagement.
"The University of Chicago Medicine Comprehensive Cancer Center is a scientific and educational leader in their field," said Claudia Carravetta, Vice President, Corporate Responsibility and Global Philanthropy, AbbVie. "Dr. Odunsi's vision and strategic leadership of the Comprehensive Cancer Center will ultimately help impact the lives of millions dealing with cancer."
Renowned for its breadth of research, as well as its depth of extensive expertise in areas such as immuno-oncology, hematological malignancies, and the epigenetics of cancer, UChicago Medicine's Comprehensive Cancer Center is one of 51 NCI-designated comprehensive cancer centers in the country. With its location on Chicago's South Side, the center is committed to serving communities that are disproportionately affected by cancer and partnering with local organizations to increase access to care.
In December 2020, AbbVie donated $8 million to reduce healthcare disparities on Chicago's South Side through the creation of the University of Chicago Medicine's Urban Health Initiative's Liaisons in Care (LinC) program.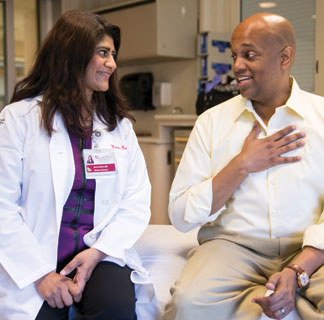 UChicago Medicine Comprehensive Cancer Center
UChicago Medicine is designated as a Comprehensive Cancer Center by the National Cancer Institute, the most prestigious recognition possible for a cancer institution. We have more than 200 physicians and scientists dedicated to defeating cancer.
Learn More About the Comprehensive Cancer Center